Each year, the Caldecott Medal is awarded to the children's book that best showcases the skill and innovation found in the world of children's book illustration. Today we are taking a look at writer and illustrator Nonny Hogrogian, who was not just the recipient of the 1966 Caldecott Medal, but the 1972 medal as well. Throughout her career, Hogrogian has not only written and illustrated books for herself, but has illustrated numerous books for other writers. She has also helped shape the world of children's literature from behind the scenes too with her work as a production assistant and editor. Let's take a look at Hogrigian's incredible life and career as we continue our Caldecott Medal Winning Illustrators Series:
Who is Nonny Hogrogian?
Nonny Hogrogian was born in 1932 in the Bronx, New York. She displayed an interest in art at a young age, trying to copy her favorite illustrations from the books in her grandfather's library. She was well-known at her school for being able to copy Disney comics, which brought her some schoolyard fame. She planned to go to an art high school but was not accepted. Instead, she taught herself various mediums and techniques with help from an aunt who had attended art school in France and took courses when she could. She tried to go to art college, but struggled with entrance exams and instead ended up at Hunter College where she studied art, following it up with graduate coursework in illustration at the New School. She earned some money illustrating greeting cards but failed to make the life she wanted for herself as an artist. In 1958, she took a job as a production assistant at Thomas Y. Cromwell Co, where she was eventually assigned her first children's book to illustrate, King of the Kerry Fair. It was a career she hadn't imagined for herself, but one that proved to be a place where her artistic talent could shine. She won the Caldecott medal in 1966 for Always Room for One More and again in 1972 for One Fine Day.
Examining Hogrogian's Artistic Style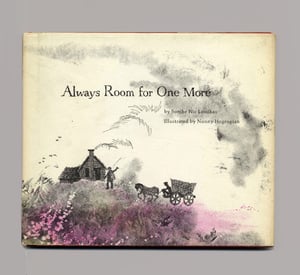 Much of Hogrogian's work is wood cuttings, a skill she learned by taking a course on the medium at the New School. She took to the format almost immediately, making it the main component of her illustrator's toolbox. While woodcutting makes up the bulk of her illustration work, she also uses pen chalk, charcoal and watercolors, both separately and in combination. She is noted as saying that while woodcutting is one of the oldest ways to make a picture, she prefers to let the book dictate what type of style uses to portray the story. To her, some books call for a funny style while other call for something softer, like in her combination of watercolor, chalk, and crosshatching techniques in her illustrations for Always Room for One More.
Where else have you heard of Hogrogian?
Hogrogian has illustrated numerous books for Newbery winning author Sorche Nic Leodhas, including Always Room for One More. The books she both writes and illustrates are often times adaptations of fairy tales, though some of them are not as popular in America as Grim's Fairy Tales. She has adapted numerous stories from Russia, Ireland, and Armenia, where her family is from, as well as a critically acclaimed version of the story of Little Red Riding Hood titled The Renowned History of Little Red Riding Hood.

Collecting Hogrogian
Always Room for One More
Always Room for One More by Sorche Nic Leodhas earned Hogrogian the Caldecott Medal in 1966. This Scottish folk take tells the story of a man who lives in a small house with his wife and tell children but on a stormy night, makes way for every weary traveler that comes by his house. This take of generosity is beautifully illustrated using a variety of mediums and is sure to please both children and adult collectors alike.
One Fine Day
Written and illustrated by Hogrogian, this retelling of an Armenian fairy tale tells the story of a fox who has his tail cut off by an angry farmer. He sets out to make things right and earn back his tale by engaging in a series of trades to get what he needs to appease the farmer. One Fine Day won the Caldecott Medal in 1972.
The Contest: An Armenian Folktale
Hogrogian's book The Contest: An Armenian Folktale was named a Caldecott Honor book in 1977. This story of two robbers both engaged to the same girl is a must-have for those looking for Hogrogian books to add to their shelves. Not only is the illustration excellent, but the story is also written by Hogrigian and the fairy tale is one from her own culture and childhood.