Every year, the Caldecott Medal is awarded by the Association for Library Services to Children, a division of the American Library Association. The committee reviews children's books published throughout the year and selects one book whose art exemplifies the best of American illustration. To be named winner of the Caldecott Medal is a massive achievement and often comes as a sign that the book is destined to be loved by generations of children. These distinguished books are sought after by both children and collectors, and they occupy well-loved places on numerous shelves. Continuing our ongoing Caldecott Medal Winning Illustrators Series, let's take a closer look at 1948 Winner, Roger Duvoisin.
Who Is Roger Duvoisin?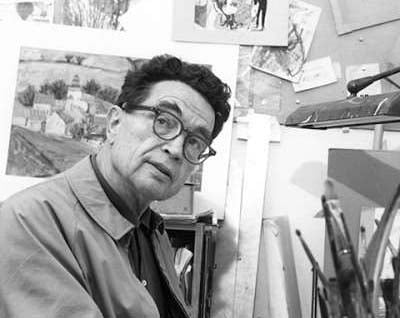 Roger Duvoisin was born in 1900 (sometimes listed as 1904) in Switzerland. Duvoisin grew up in an artistic family. His father was an architect while his grandmother painted enamel. With their encouragement, he studied illustration at École des Arts et Métiers and the École des Beaux-Art in Paris.
After graduation, he worked as a scenery and mural painter, then in the field of textile design. It was a textile design job that eventually led him to move to the United States in 1927. In New York he began to illustrate magazines. He published his first book, Donkey-Donkey in 1934. In 1938 he became an Amerian citizen and published his second book, And There Was America. Duvoisin worked as a children's book illustrator and writer for the rest of his life, publishing many of his own books but also frequently illustrating and collaborating with others. He won the 1948 Caldecott Medal for White Snow, Bright Snow and was a runner-up for the Hans Christian Anderson Award.
Examining Duvoisin's Artistic Style
Duvoisin frequently focused on animals as the subject of his work, portraying them in bold colors with bold lines. His work often has a great sense of movement that greatly adds to the characterization of the animals that populate his stories. While Duvoisin's books often employ the bold, colorful style common in mid-century artwork, he also experimented with other styles. Some of his illustrations are reminiscent of paintings with clear brushstrokes while others are composed of collages.
Why Else Have You Heard of Duvoisin?
Besides writing numerous children's books of his own, Duvoisin also was a frequent collaborator with others. While his best known collaboration is for the Caldecott winning White Snow, Bright Snow by Alvin Tressett, he also collaborated with numerous other writers. One of his most famous collaborations was with his wife, Louise Fatio, whose Happy Lion series remains in print and popular over fifty years after its publication. Duvoisin also frequently contributed cover art for the New Yorker.
Collecting Roger Duvoisin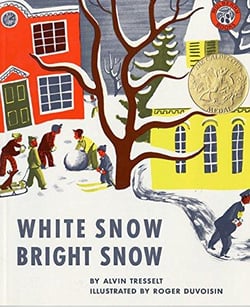 White Snow, Bright Snow by Alvin Tresselt
This charming book by Alvin Tresselt earned Duvoisin the Caldecott medal in 1948 and focuses on a beautiful snow day. The book contrasts the reactions of the parents, who go about the normal business of their day and see the snow as an annoyance and the children, who face the snowy day with a sense of wonder and adventure. Tresselt was a frequent collaborator of Duvoisin's and is also well known for The Mitten and Rain Drop Splash.
The
Petunia

Series

Several of Duvoisin's most popular and charming books are set on a small farm that's home to a goose named Petunia. Petunia is precocious, smart, and most importantly, a good friend. Petunia stars in eight of Duvoisin's books, including one book, Our Veronica Goes to Petunia's Farm, which features another of his beloved character, Veronica the Hippopotamus.
Donkey-Donkey
Donkey-Donkey was published in 1934 and was Duvoisin's first published book. The story focuses on Donkey-Donkey, who holds back his long ears in shame because he is embarrassed of how they look. He questions all the animals on the farm about what makes ears beautiful and their answers never apply to him, he gets very sad until a little girl visits the farm and complements him. While the book was originally released with black and white illustrations, it was reissued in 1940 with full color illustrations. It was out of print for nearly twenty-five years, but Knopf reprinted the color version, bringing this book back to the shelves of today's children.