The Caldecott Medal was first awarded in 1937 and in the years since, it has honored some of the best and and most innovative artists working in the field of children's literature. For collectors, Caldecott Medal books are some of the most sought-after picture books. Likewise, these titles serve as a guidepost for parents searching for quality books to purchase for their children. Continuing our series on Caldecott Medal winners, we turn our attention to illustrator Thomas Handforth.
Who is Thomas Handforth?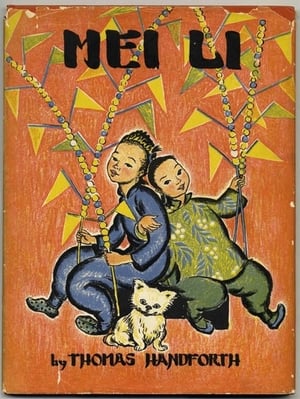 Thomas Scofield Handforth was born in Tacoma, Washington in 1897. His interest in Asian art began at a young age when a great-uncle gave him One Hundred Views of Mt. Fujiyama by Hokusai. From there, Handforth began sketching dragons and scenes from various places across the Asian continent in his sketchbook. In fact, upon learning more about different symbols and beliefs across the continent, he was able to connect the Chinese Yin Yang symbol that represents the universe to one of his earliest childhood memories of walking over a moon bridge over a pond in a park in his native Washington. The Yin Yang reminded him of the image of the arc of the bridge's reflection forming a complete circle with the arc of the bridge. From there, his interest in art grew.
He dropped out of the University of Washington after one year to travel around the world and draw. Eventually he turned his attention to etching and created a buzz among American art collectors. His etchings drew the attention of the Macmillan children's division director, Louise Seaman Bechtel, who arranged for him to illustrate his first and second children's books, Toutou in Bondage by Elizabeth Coatsworth, which was set in Marrakesh, and Tranquilina's Paradise by Susan Smith, which was set in Mexico, both of which were locations where he had previously lived. Neither of these books made a lasting impact.
It wasn't until he received a Guggenheim Fellowship to China that he achieved real literary success. During his stay, he became inspired by the world around him and the people in the courtyard near his home, which resulted in the publication of Mei Li, which he both wrote and illustrated. Mei Li won the Caldecott Medal in 1939.
Examining Handforth's Artistic Style
Handforth is well known for his etchings which brought him attention in the art world, but he was also considered to be an expert in Asian art at the time. Much of his works were inspired by Asian art even before he began living in China during his Guggenheim fellowship.
In the first two books he illustrated, he stuck with his favored medium, etching, but when he was traveling and seeking to write his own book, Mei Li, he began to feel that the spirit of China could not be expressed to his satisfaction with etchings.
To better capture how he saw Beijing, Handforth taught himself lithography. He purchased a lithograph with the goal of putting together a book to feature his pictures of his neighbors. He saw a picture book as the ultimate way of achieving this goal. He planned to continue both etching and lithography and to write and illustrate further books but he sadly passed away in 1948, just nine years after winning the Caldecott Medal.
Why else have you heard of Handforth?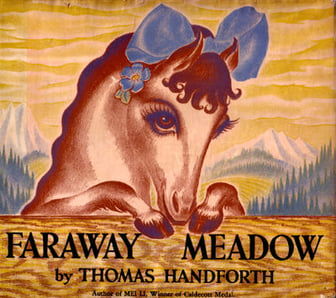 Unfortunately, due to his early death of a heart attack at the age of 51, Handforth did not write other books besides Mei Li and Faraway Meadow, a book about a horse that was not well received. As previously mentioned, however, he did illustrate two other books that have each slipped into relative obscurity: Toutou in Bondage by Elizabeth Coatsworth and Tranquilina's Paradise by Susan Smith. Collections of his etchings, drawings, and lithographs are housed at the Portland Art Museum and the Smithsonian American Art Museum, but they are not on view at either museum at this time.
Collecting Handforth
Thomas Handforth only wrote one book and illustrated two others which makes collecting this illustrator somewhat of a challenge. One could always seek out original sketches or prints of his etchings and lithographs from private collectors, but those hoping for books will find very little available. However, if you are building a collection of Caldecott winners, here is some more information about Mei Li as well as Toutou in Bondage.
Mei Li
Handforth's Caldecott-winning work has only seen three print editions. The first is the original 1938 hardcover, then came a 1946 edition, and finally a 1955 edition. The hardback editions feature dust jackets and are bound in orange cloth with gilt lettering. First editions of this book that retain the dust jacket sell for up to $2,500.
Toutou in Bondage by Elizabeth Coatsworth
This book about a small dog's adventures in Mexico is author Elizabeth Coatsworth's second book for children and Handforth's very first experience as an illustrator of children's books, making it an interesting collectible. The book was not overly successful and only saw one print run in 1929. The book features a dust jacket, and the cloth binding is illustrated with a tree and the silhouette of the dog Toutou. This book is definitely more interesting to those hoping to collect Handforth illustrations rather than collectors hoping for valuable books or books with great importance within the history of children's literature.