Each year, thousands of children's books are published in America to the delight of parents and children alike. While many of those books are wonderful, an ALA committee comes together each year to honor the best illustrated books of the year. The most innovative books are nominated for the Caldecott Medal. In 1969, The Fool of the World and the Flying Ship, illustrated by Uri Shulevitz was awarded the Caldecott Medal. Join us as we continue our Caldecott Winning Illustrators Series by examining Shulevitz' long and honored career:
Who is Uri Shulevitz?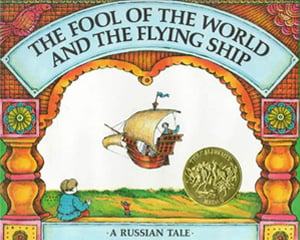 Uri Shulevitz was born in Warsaw, Poland, and lived his earliest years under the shadow of World War II. His art was greatly influenced by these early experiences, which included a bomb destroying the stairwell of the apartment building where his family lived. His family eventually fled to Turkestan, then France, before settling in Israel, where Shulevitz grew up and served in the Israli Army. He moved to New York as a young man to study paining. Shulevitz worked for years as an illustrator for a Hebrew book publisher and as a freelance illustrator. He entered into the world of children's book illustration after an editor viewing his freelance portfolio suggested his art style might be a good fit. He published his first children's book, The Moon in My Room, in 1963. Throughout his career, he has been awarded the Caldecott Medal, three Caldecott Honors, a Guggenheim Fellowship, and a bronze medal at the Leipzig International Book Exhibition.
Examining Shulevitz's Artistic Style
Often working with paint or ink, Shulevitz exhibits a playful use of color in his children's illustrations. He often relies on a stylized or exaggerated anatomy, such as long limbs, beak-like noses, and overly-large mustaches. There is a sense of playfulness with his illustrations that suit his own original stories and the folk tales he often illustrates. He also has had paintings in numerous exhibitions, including his series War and Peace inspired by his experience surviving the blitz when Nazi Germany bombed his home town of Warsaw, Poland.
Where else have you heard of Shulevitz?
Besides his Caldecott winning book, The Fool of the World and the Flying Ship, three of Shulevitz's other books have been named Caldecott Honors. He has illustrated dozens of books, both written by himself and on the behalf of other writers. He also paints prolifically. His paintings have been seen in one-main shows as well as group exhibitions in New York City galleries as well as galleries all over the country, as well as in Japan and Israel.
Collecting Shulevitz
The Fool of the World and the Flying Ship by Arthur Ransome
In 1969 Shulevitz was awarded the Caldecott Medal for his illustrations for Arthur Ransome's The Fool of the World and the Flying Ship, a retelling of a Russian folktale. The book tells the story of a fool who leaves his parents home with hopes of marrying the princess, whose father has promised her to anyone who can bring him a flying ship. The fool meets an old man with whom he shares his food and the man tells him where he can find wood to make a flying ship but also tells him he must offer everyone he comes across a ride. He kindly offers rides to numerous men with special abilities. The abilities come in handy when the king, unwilling to give his daughter to a peasant, assigns him outrageous tasks that he is able to complete with the help of his traveling companions. The fool and princess fall in love and marry and the fool ends up being considered very clever by the members of the court. Shulevitz's use of color and lines enhances the fairy tale feeling of this folk story about cleverness and the importance of kindness.
Snow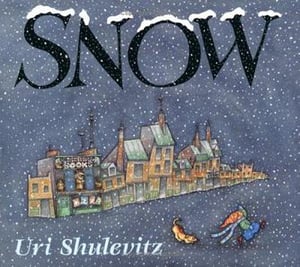 Shulevitz both write and illustrated Snow, which was named a Caldecott Honor Book in 1998. This story shows a gray and sleepy town where nobody believes the forecast of snow will amount to much of anything, except for one little boy. While the story starts out with a dull, gray city, as the snow piles up, the illustrations become more colorful and warm, creating the appearance of a cheerful winter village. Shulevitz's depiction of light to help warm the snowy scenes makes this Caldecott Honor recipient a worthy addition for anyone looking to read more from Shulevitz.
How I Learned Geography
Shulevitz's 2008 book, How I Learned Geography, was named a Caldecott Honor Book. The book transforms one of Shulevitz's childhood memories of World War II into a semi-autobiographical story. The book shows a family living on Asian steppes, having fled their war-torn country. The father is send to bring home supper, but brings home a map one night instead. The mother is angry that there is no food, but the young son finds necessary nourishment in the brightly-colored illustration and the knowledge that there is a world beyond the war that has taken up most of his young life and the entirety of his memory. This book is a must-have not only for its illustrations, but also for the insight it offers into the interior life of Shulevitz himself.