Each year, the Caldecott Medal is awarded to the best example of children's book illustration. Today, we take a look at 1970's winner, William Steig, who not only had a massively successful career later in life as a children's book writer, but also was wildly successful in his first career as a cartoonist. Keep reading as we continue our Caldecott Winning Illustrators series with Willaim Steig:
Who is William Steig?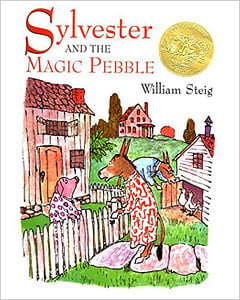 William Steig was born in Brooklyn, New York, in 1907. He became interested in art and literature at an early age and was encourage by his parents, both Jewish immigrants from Austria. Due to considerable intelligence, he graduated high school at the age of fifteen. Though he did pursue some advanced education (including a shockingly short five days at the Yale School of Fine Arts), Steig never formerly completed his university education. For much of his career, Steig worked as a cartoonist, publishing nearly three thousand cartoons in publications such as the New Yorker. He didn't turn his attention to children's books until he was in his sixties. He published his two children's books in 1968, CBD! and Roland the Minstrel Pig in 1968. The next year, he published Sylvester and the Magic Pebble, which was awarded the Caldecott Medal. Throughout his career, several of his other books were named Caldecott Honor books. Throughout his career, he also published two Newbery Honor books, was a finalist for the National Book Award, and was nominated as both a writer and illustrator for the international Hans Christian Anderson Awards. He passed away in 2003.
Examining Steig's Artistic Style
Steig's cartoons and art books often utilized simple line drawings to convey emotion. His children's books are, by nature, more complex. Steig often uses animal characters and often times, his illustrations are quite purposely ugly, like in Shrek! and Rotten Island, which both involve characters reveling in their ugly, rottenness. Notably, his protagonists are often mice because he felt that children, also being small, could easily relate.
Where else have you heard of Steig?
Longtime subscribers of the New Yorker might recognize Steig's work in the thousands of cartoons he drew for them, which continue to be reprinted today. His cartoons and drawings have been collected in thirteen books for adults. One of his most popular characters, Poor Pitiful Pearl, had her own doll line in the 50's and 60's. The dolls are sought-after collectors items today. Beyond his award-winning books, Steig is most likely best remembered for his final book, Shrek!. This book is, of course, the inspiration for Dreamworks' massively popular film series, Shrek.
Collecting Steig
Sylvester and the Magic Pebble
No Steig collection would be complete without Sylvester and the Magic Pebble. This book was his third published work for children and won the Caldecott Medal in 1970. It tells the story of a young donkey, Sylvester, who finds a magic pebble that can grant wishes. When he accidentally wishes that he be turned into a rock to escape danger, the pebble falls off his new rock-body and he is unable to wish himself back into a donkey. The rest of the book follows his attempts to become a donkey again while his parents search anxiously for him. Sylvester and the Magic Pebble was banned for a time because the policeman in the story are pigs, even though every character in the book is an animal of some sort.
Doctor De Soto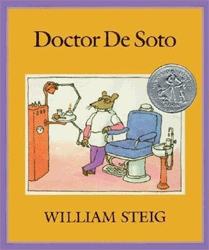 Doctor De Soto won the National Book Award in 1982 and at thirty-two pages long, is one of the shortest books to ever win the award. In this story, Dr. De Soto, a mouse, runs a dental clinic with his wife. His goal is to alleviate pain for all patients who come in the door, with the exception of animals that eat mice. He takes pity on a fox one day and finds himself having to think of a way to outsmart the fox and escape being eaten when he returns to have get his gold tooth. The book is worth collecting for the joy of seeing Dr. De Soto's intricate pulley system for treating larger patients alone.
Shrek!
While not necessarily his most popular book, Shrek! is a must-have for any Steig collection due to its enduring legacy. The book was adapted into a film by Dreamworks Animation. The Shrek series of movies is a massively popular and enduring part of pop culture. Though the book does have some differences from the storyline of the movie, both collectors of children's books and lovers of the film series are sure to delight in discovering those differences as well as seeing the original designs of these beloved characters.