"I'd rather travel with that old portly, hearty, silly, boisterous, good-natured sailor...than with any other man I've ever come across."
- Mark Twain, of Captain Edgar "Ned" Wakeman
Samuel Langhorne Clemens, better known by his pen name Mark Twain, met Captain Edgar "Ned" Wakeman in 1866 aboard the Americas, after already having heard much about him. Twain found Wakeman a most amicable traveling companion, and the celebrated sea captain would live on in a number of Twain's books, most notably Captain Stormfield's Visit to Heaven.
Wakeman Proves a Colorful Character
By the time Twain encountered Wakeman, he'd already had years of maritime adventures, surviving a tiger bite, sailing through cyclones, and killing a man who attacked him with a knife in Havana. He'd witnessed duels and smuggling along the Tabasco River. In one notable episode, Wakeman took control of the New World after the Sheriff tried to seize it to pay the owner's debts. Wakeman claimed the crew needed to remove rust from the engine and fled to Panama.
The captain realized how much money he could make taking immigrants from Panama to San Francisco (at least $300 per person, a considerable sum in those days) and arrived in San Francisco on July 11, 1850. Though Wakeman's maritime career included interludes to try his hand at farming and gold mining, he spent the majority of his life on the high seas.
Twain noted that Wakeman "knows how to tell his stirring forecastle yarns, with his strong, cheery voice, animated countenance, quaint phraseology, defiance of grammar, and extraordinary vim in the matter of emphasis and gesture, he makes a most effective story even out of unpromising material." On March 18, 1874, Twain wrote to his brother Orion about Wakeman, identifying him as the captain who had hanged a crew member for killing a Negro man and telling Orion that he was to help Wakeman edit and "share the profits" in his memoir. Twain promised to write the introduction and get the book published. (View the entire letter over at the Mark Twain Project.)
Seeds of Twain's Final Published Work
Wakeman unfortunately would not live to see the publication of his memoir. Log of an Ancient Mariner was published in 1878, three years after he passed away. In the meantime, Twain had campaigned for Wakeman's financial relief in 1872, and the Captain died in relative poverty despite Twain's best efforts. Though Wakeman's memoir is relatively unknown, his character lives on in Captain Stormfield's Visit to Heaven. The work has fascinated both Twain scholars and rare book collectors since its publication.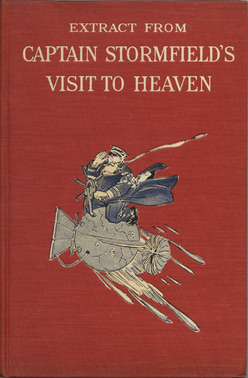 Twain likely started Captain Stormfield's Visit to Heaven in 1868, almost immediately after Wakeman told him a story about having seen heaven. By about 1873, Twain seems to have had about 40,000 words written. He shared the draft with WD Howells, who urged Twain to publish the manuscript as it was.
Instead Twain decided to turn the story into "a burlesque of The Gates Ajar," a popular novel written by Elizabeth Stuart Phelps in 1868. The book was quite sentimental--and extraordinarily popular. Phelps rejected conventional notions about heaven, such as angels' finding fulfillment in prayer and reading scripture. And while he expressed disdain for The Gates Ajar, Twain actually adopted many of Phelps' ideas for his own book.
Over the next three decades, Twain would repeatedly return to Captain Stormfield's Visit to Heaven. Sometimes he'd add to it, but he always put it down again, perhaps unsure what direction to take. Twain's notes indicate that he considered having Stormfield visit Hell, a truly Dantean touch. Twain also worked his friend Joseph Twitchell into a few chapters as the character "Peters." Twain's wife, Olivia, apparently admired the story, but she also found it blasphemous. It's possible that Twain put off publication due to Olivia's objections. That didn't stop him from reading parts of the tale to friends.
The Many Versions of 'Captain Stormfield'
In February 1906, Twain mentioned Captain Stormfield's Visit to Heaven during his autobiographical dictation and recounted Wakeman's own tale of visiting heaven. Not long after, Twain submitted part of the work to Harper's Magazine. Editor George Harvey actually rejected it for being "too damn godly." But he changed his mind and published two excerpts, in December 1907 and January 1908.
In October 1909, Harper's published Extracts from Captain Stormfield's Visit to Heaven as a Christmas gift book. Editors managed to stretch the short work to a whopping 121 pages with illustrations. It would be the last of Twain's books published during his lifetime. Meanwhile, Twain never supervised the publication of the entire manuscript, and it's difficult to date his various emendations.
These factors resulted in a number of inconsistencies among the different versions of the work. For example, in the first edition of Extracts, Captain Stormfield's first name is Eli. But in the first full posthumous version, he's Captain Ben Stormfield.
In 1952, Dixon Wecter prepared a fuller version of Twain's last work. It appeared in Reports from Paradise. Wecter attached the first two "chapters" to a previously unpublished piece called "Letter from the Recording Angel." Then in 1970, Ray D Browne published a still fuller version in Mark Twain's Quarrel with Heaven: Captain Stormfield's Visit to Heaven and Other Sketches.

Collecting Lessons from Captain Stormfield
Twain has long been an important figure for collectors of rare books, and all the variants of Captain Stormfield's Visit to Heaven are surely fascinating to any Twain collector. The title also offers us a few lessons in rare book collecting.

Lesson #1: Pay Attention to the Dust Jacket.
Dust jackets (sometimes called dust wrappers across the pond) were first used in the nineteenth century. At first, they were simply papers wrapped around the book to protect it until it was sold. They were almost always discarded. By the end of the century, however, publishers realized that the dust jacket represented valuable commercial space: it could be used to advertise the book itself or other publications. Dust jacket "blurbs" started appearing more frequently around 1910; the original dust jacket to Excerpts (1909) includes a brief blurb, making it an early example of this emerging practice. Thus the dust jacket may be considered significant unto itself, even apart from the book it contains.
More important to most collectors, however, is the relative scarcity of the dust jacket. Consider that the earliest dust jacket in the British Library's collection dates from 1919. Why not earlier? Early modern dust jackets were hardly ever printed on high-quality paper because they simply weren't meant to last. Therefore copies of Extracts that have their dust jackets can command much higher prices on the market, even if those dust jackets aren't in perfect condition.
Novice collectors should also be aware of facsimile dust jackets, that is, those that are modern reproductions of the originals. While they're an appealing way to cover and protect your books, they're also significantly less valuable than originals. Thus it's important to learn how to identify facsimile dust jackets if you're going to collect modern first editions. It's exceedingly common to encounter facsimile dust jackets if you collect, say, Edgar Rice Burroughs (indeed, a whole cottage industry has emerged for reproducing Burroughs dust jackets). The creators of these dust jackets make they easy for amateurs to identify. In other instances, however, one will need a trained eye--and fingers--to differentiate between the original and the reproduction.
Lesson #2: Know Your Points of Issue.
Prior to 1900, it was hardly uncommon for publishers to make changes to a book between printings. These differences, often minute, are called points of issue. They might include changes to words in the text itself, the number of pages, or even the binding material used. In some cases, the dust jacket might even contain points of issue, such as a specific price or advertisement. The most common points are typographical errors that the printer fixes between printings--or, in older books, even mid-print run.
These points of issue matter because they assist collectors in quickly and accurately identifying a book's edition. For example, an experienced Mark Twain collector would know that Captain Stormfield's first name is Eli in the first edition, but Ben in subsequent editions. Thus a simple check of the text would help you decide whether a book was in fact a first edition or a later printing. Note that there are often multiple points of issue, especially for books published before the twentieth century.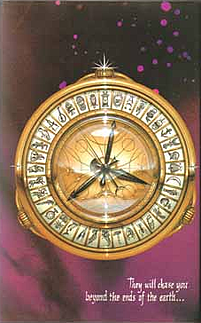 As you build your collection, you'll want to familiarize yourself with the points of issue for the books you're pursuing for your collection. The more points of issue you can gather, the more confident you can be in your purchases. The first edition of Philip Pullman's Northern Lights, for instance, offers multiple clues. First, the first-state dust jacket says "Point" on the jacket spine. Secondly, the price listed is $12.99. And third, "7-9 Pratt Street" appears on the rear flap. If you're interested in adding this book to your library, knowing these three points of issue can assist in finding an unidentified first edition, or in determining whether a purported first edition is actually worth the price.
Learning points of issue begins with diligent research. You'll want to procure the definitive bibliography or bibliographies that pertain to your collecting interests. Those who focus on children's literature would be lost without Baumgarten's Children's and Illustrated Books, 1880-1970. And collectors of Umberto Eco rely on Contursi's Umberto Eco: A Bibliography of First and Important Editions. Often collectors of rare books realize that one bibliography is simply not enough. A Mark Twain collector would want not only a copy of the exhaustive Bibliography of American Literature by Jacob Blanck (a collector's item unto itself), but also author-specific bibliographies.

Lesson #3: Venture Beyond the High Points.
Rare book collectors refer to an author's major works as the "high points." Think Twain's Huckleberry Finn and Tom Sawyer, or Charles Dickens' A Christmas Carol. Both these authors produced an extensive body of work, yet collectors tend to focus on only a few famous titles. Collectors and dealers alike have noted a definitive trend toward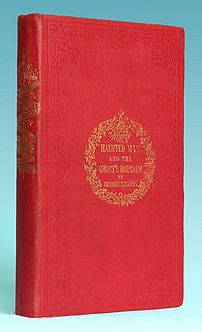 building high point collections, that is, collections that only include an author's or authors' major works. This inclination is perfectly natural; after all, we collect what we know and love, and people are much more likely to have encountered A Christmas Carol than, say, The Haunted Man and the Ghosts's Bargain, even though both were Dickens Christmas stories.

New collectors often start with the titles they already know. But delving more deeply into your specialization is often where the most engaging challenges lie! The process of educating yourself about an author's full body of works usually proves quite fascinating. You'll discover those obscure or scarce titles that will truly add depth and value to your collection. And they'll give you something to hunt for at book fairs!
Another important reason to venture beyond the high points: the overall value of your collection. In the world of rare books, the whole may be greater than the sum of its parts. A truly complete single-author collection that includes lesser titles and related ephemera could actually have more value than the price of the individual books it contains, merely for the fact that it's complete (or even close; some would argue that a collection is never totally complete).
Have other questions about how to get started in collecting rare books? You'll find plenty of information in our Collector's Resources. We invite you to peruse our collection of first edition guides, collector's checklists, and more! And please let us know if there's another collecting guide you'd like to see.