In June 1914, AC McClurg & Co published the first book edition of Edgar Rice Burroughs' Tarzan of the Apes. The story had previously appeared in pulp magazines, but the book edition was quite a hit. It brought Burroughs new attention as an author, paving the way for 24 more Tarzan books, along with other science-fiction and adventure series.
Burroughs was certainly a prolific author, and many of his stories appeared in multiple formats. Meanwhile, his tales continue to capture our hearts and imaginations. Thus Burroughs has long been a popular focus among collectors of modern first editions and science fiction. Building a Burroughs collection offers an interesting case study in some important issues that may face all collectors of modern firsts.
The Importance of Bibliography
New collectors soon learn that an authoritative bibliography should be their best friend. A bibliography provides a comprehensive list of all publications relevant to a specific collecting area, such as a single author.The bibliography also outlines points of issue, that is, the items that help a collector differentiate a first edition from other subsequent editions.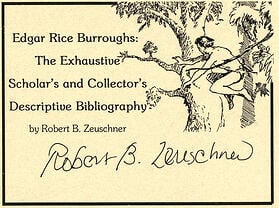 In some cases, a first edition may be determined by a look at the copyright page. But the practice of clearly indicating first editions is a relatively recent practice in the world of publishing. Some examples of points of issue for Edgar Rice Burroughs books include the following:
A first edition of Tarzan of the Apes can be spotted because the font on the bottom of the copyright page is different than in subsequent editions.
The Son of Tarzan bears a dedication page only in subsequent printings; it was not included in the first edition.
The weight of the paper used for the first edition of Thuvia, Maid of Mars differs from the weight of the paper used in subsequent editions.
Any book from Grosset and Dunlop or AL Burt is not a true first edition, though it will bear the same publication date as the true first edition.
In some cases, points of issue will refer to the book's dust jacket. Experienced collectors know the importance of the dust jacket, which can add incredible value to a book! It's quite rare to find many Edgar Rice Burroughs books with their original dust jacket (especially Tarzan of the Apes, the story that started the series that almost didn't exist).
How to Spot a Facsimile Dust Jacket
The result of this shortage of dust jackets: a market for facsimiles. Facsimile dust jackets have gained popularity, particularly among collectors who cannot afford the extremely high prices of first editions with dust jackets. The introduction of facsimile dust jackets to the rare book market has created a challenge, particularly for new collectors; it can sometimes be difficult to distinguish between facsimiles and the real thing.
Facsimile dust jackets can be an attractive option for multiple reasons. They're an appealing way to protect your book, helping to recreate the appearance of the original. They also make the book look newer. The problem is that in some cases, facsimile dust jackets have entered the market as the genuine article. Some collectors simply may not realize that they've purchased a facsimile. And unscrupulous sellers may take pains to strategically damage facsimiles and eliminate indications that they're not the real thing, then wear and repair the facsimile dust jacket.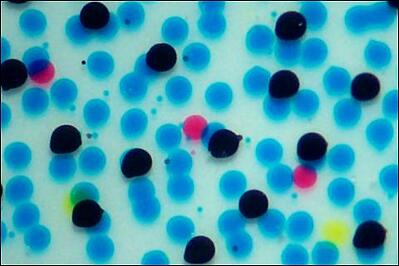 Ultimately, spotting facsimile dust jackets comes down to handling and examining many, many books and gaining an intimate knowledge of the books you collect. It's also useful to understand printing techniques. The first technique used for printing facsimile dust jackets is ink jet printing, which is much more common because it's cost effective. With ink jet printing, ink dots are sprayed evenly on the paper. Density of dots varies based on the intensity of the color. Ink jet printing also uses four different colors of ink (or sometimes eight) to create the full range of pigments. Under a magnifying glass, these dots and the various ink colors are clearly visible (see the image above, printed on glossy paper).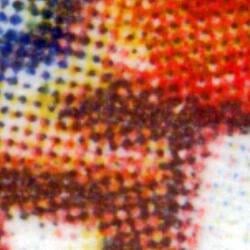 Commercial dust jackets were not printed with ink jet, but with letterpress or offset printing. With both these techniques, large blocks of solid color are either attained by using paper in that shade, or by applying a single spot color of ink directly to the page. Under the magnfying glass, items printed with these techniques may have a sort of rosette pattern (see left) which cannot be duplicated with an ink jet printer.
Commercially printed facsimile dust jackets are printed in much larger quantities and have been circulating longer than their ink jet counterparts. The first mass produced dust jacket was created in 1974 by New Jersey collector and publisher Garry de la Ree. He asked the publisher of HP Lovecraft's The Outsider for a new dust jacket for his book (it was--and sometimes still is--customary for publishers to grant these requests). But there were no extra dust jackets for that title, so de la Ree decided to make his own using a photographic image. Though it's slightly out of focus in some areas, de la Ree's reproductioin is outstanding.
Usually there will be visual cues to indicate a commercially printed facsimile. Most publishers of facsimile dust jackets directly state somewhere on the jacket that it's a facsimile. If that's absent, there are still a few other ways you can differentiate between a facsimile and an original:
Most commercially printed facsimiles are made using photographs of the original. If there were chips or other damage to the photographed jacket, those will show up in the facsimile. Look for "blank spots" where the original jacket had chips--leaving nothing but white space to scan.
Paper manufacturers have begun adding fluorescent optical brightening agents to paper. The result: newer paper will glow under a black light, while older, original paper will not because it lacks those brightening agents.
Newer paper also tends to have a smoother texture and lighter weight. The more dust jackets and books you handle, the more easily you'll be able to identify newer paper versus old, just by touch.
It's important to note that reputable dealers will be up front with you about whether a dust jacket is a facsimile--and many of them won't even sell books with facsimile jackets. Should you have a question about the authenticity of a dust jacket, don't be afraid to ask!