Prolific author Stephen King has remained a favorite writer for decades, and interest in his work shows no sign of waning. Though primarily recognized as a horror author, King slides among genres, appealing to lovers of science fiction, the American Western, and others. It should be no surprise, then, that King is a popular figure among collectors of modern first editions. Building a single-author collection around King's vast oeuvre offers multiple valuable lessons for book collectors of all specializations.
Lesson #1: Scarcity breeds demand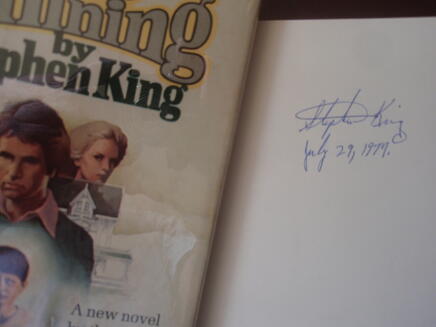 The incredible role of scarcity is one that novice book collectors often have trouble grasping at first. But the Dark Tower series aptly illustrates how scarcity drives value. King originally published Dark Tower: Gunslinger in five parts in The Magazine of Fantasy and Science Fiction, from 1977 to 1981, under the editorial supervision of Edward L Ferman. As King built a name for himself, early collectors clamored for these magazine issues, which now become increasingly difficult to obtain in collectible condition each year.
Then in 1982, fantasy small press publisher Donald M. Grant printed the Gunslinger stories together in one volume. The first print run of 10,000 copies⁠—quite low for a King book⁠—primarily went to specialty science fiction and fantasy bookshops; larger retail bookstores had to special order it for interested customers. Rumors circulated among King fans that a new book was available, and in 1984 Grant bowed to demand and printed another 10,000 copies of the book.
When Grant published Dark Tower II: The Drawing of the Three he agreed to a slightly larger print run of 30,000 copies, partially because King believed the Dark Tower books would appeal only to a small portion of his readers. He was wrong. By the late 1980s, demand for the Dark Tower books had reached a fever pitch, and King finally agreed to publish Gunslinger and subsequent books in the series in both trade paperback and mass market formats. Though Stephen King collectors of course obtain copies of these editions, the Grant editions remain the most valuable because of their scarcity.
Lesson #2: Remember what's in a name
King's first documented use of a pseudonym was in 1972, when he published "The Fifth Quarter" in the men's magazine Cavalier under the nom de plume John Switchen. The story finally appeared under King's own name in the 1993 anthology, Nightmares and Dreamscapes. The magazine where the story first appeared has become quite desirable among collectors of Stephen King books.

King would go on to use a much more famous pseudonym: Richard Bachman. He lent the name to five novels: Rage (1977); The Long Walk (1979); Roadwork (1981); The Running Man (1982); Thinner (1984). King did as little marketing as possible for the Bachman books, eager to determine whether his own fame had merely been a lucky accident. Thus the Bachman books had much smaller print runs; the fifth, Thinner, sold 28,000 copies in its first run.
King had planned to publish Misery under Bachman's name, but a bookstore clerk named Steve Brown discovered the connection. It was then declared Bachman had died of "Cancer of the Pseudonym," but that didn't stop King from publishing two more novels under Bachman's byline: The Regulators (1996) as a companion to Desperation; and Blaze (2007). Both these titles obviously had much larger first print runs, since they were attributed to the legendary horror writer.
After the shooting at Heath High School, King announced that he'd let Rage go out of print, for fear that it might inspire a similar tragedy in the future. For a while it was still available in The Bachman Books in the United Kingdom, though subsequent editions didn't include the novel. It's become relatively scarce and is available in fewer different editions than other King works. At any rate, Rage and the other Bachman novels remind us that we must thoroughly research any author we choose to collect because they may have published under other names. A relevant bibliography is absolutely instrumental in this process.
Lesson #3: Go beyond books
Collectors of Stephen King often find themselves moving beyond works strictly by King. For example, no King collection is complete without Prime Evil, an anthology of thirteen stories by contemporary masters of horror and published by Donald M Grant. And including comic books in a King collection is a no-brainer; King contributed to Heroes for Hope Starring the X-Men along with a number of other noted authors. Proceeds were donated to combat famine in Africa. King also wrote the introduction to Batman No. 400, expressing his preference for Batman over Superman. Marvel has issued comic book adaptations of a number of King's works, and King started writing American Vampire for DC Comics in 2010.
Avid collectors will add the Ramones tribute album We're a Happy Family to their collection, as King wrote the liner notes. King also wrote a musical called Ghost Brothers of Darkland County with John Mellencamp, and truly dedicated collectors will want to obtain a copy of the playbill from Atlanta's Alliance Theatre, where the play debuted in 2012.
But how does one collect, for instance, the digital novella Riding the Bullet (2000), or King's unfinished serial novel, The Plant, which was published only online? Perhaps even more difficult: how does one add "Ghosts," a forty-minute music video King did with Michael Jackson, to one's personal library?

King's diverse body of work invites collectors to think creatively about how to address an author's whole body of work when some of that work is not available in printed form. In some cases, this means that your collection will include the expected ephemera, such as artifacts from Rock Bottom Remainders concerts. But a really complete Stephen King collection might also include electronic files, DVDs, and audio recordings.
Lesson #4: Consider authorial inspirations
One interesting way to add depth to a single-author collection is to consider the author's inspirations. King often discusses his inspirations and writing process, making him an excellent example. He recounts the day that he was browsing the attic with his older brother and found a paperback copy of H.P. Lovecraft's The Lurker in the Shadows. King says, "I knew I'd found home when I read that book." That paperback, with its striking illustration of a demon lurking in a recess under a gravestone, would make a wonderful addition to a Stephen King collection.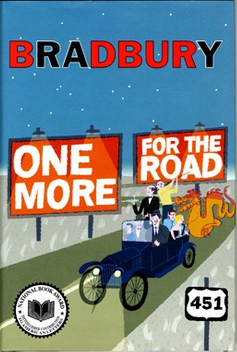 Meanwhile King has named Richard Matheson "the author who has influenced me most as a writer." He's also said, "Without Ray Bradbury, there is no Stephen King." Other influences include Shirley Jackson, whose The Haunting of Hill House King quotes at the beginning of Salem's Lot, and Bram Stoker. And King repeatedly alludes to Robert A Heinlein's book The Door into Summer in his novel Wolves of the Calla.
King's own Philtrum Press published an edition of Don Robertson's novel, The Ideal, Genuine Man in 1987. King wrote in the novel's forenote, "Don Robertson was and is one of the three writers who influenced me as a young man who was trying to 'become' a novelist (the other two being Richard Matheson and John D. MacDonald)." Certainly that volume (and the others from Philtrum Press) should find their way into a Stephen King collection.