"for what else is there
but books, books and the sea,
verandahs and the pages of the sea,
to write of the wind and the memory of wind-whipped hair
in the sun, the colour of fire!"
-- Derek Walcott, Collected Poems 1948-1984
Caribbean writer and Nobel Prize in Literature winner Derek Walcott passed away early this morning. He was 87 years old. We thought we'd take a moment today to celebrate Walcott's life and influence.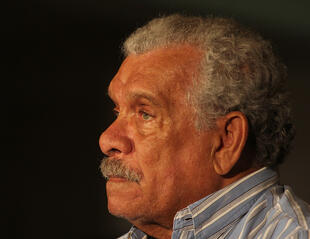 Derek Walcott was born on January 23, 1930 in Castries, St. Lucia in the West Indies. His father died in his early 30s, leaving Walcott's mother, a teacher and lover of the arts, to raise him, his twin brother, Rodrick, and their sister, Pamela.
When Walcott was 14 years old, his first poem was published in The Voice of St. Lucia with the help of his mother. By the age of 19, he had self-published two volumes of poetry. Walcott attended the University of the West Indies on scholarship and published another book of poetry in 1951.
Following his graduation, he moved to Trinidad where he worked as a critic, teacher, and journalist. He founded the Trinidad Theatre Workshop in 1959. Walcott took great interest in colonialism and post colonialism in the Caribbean. His book, In a Green Night: Poems 1948-1960 granted him worldwide recognition for his research and writing on historical content, the beauty of the Caribbean, and his rich language.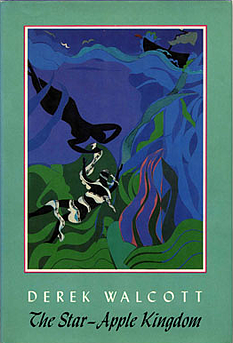 In 1970, he published both the play Dream on Monkey Mountain and his notable autobiographical essay, What the Twilight Says. What the Twilight Says comments on art and theatre in the West Indies and the issues artists face in the absence of national identity due to post-colonization. Dream on Monkey Mountain describes a journey of discovering the meaning of culture and the importance culture plays in self. Dream on Monkey Mountain helped to set the world stage for postcolonial dramatists.
During his play's first year of publication it was produced on the NBC television network and the following year, Walcott was awarded an Obie for Best Foreign Play. In 1972, he was awarded an Officer of the Most Excellent Order of the British Empire (OBE) for his writings.
Upon moving to the United States in 1981, Walcott was hired at Boston University where he taught literature and writing and founded the Boston Playwright's Theatre—a small, professional theatre devoted to sponsoring writers and their plays in the Boston area. In that same year he was granted a "Genius" Award from the MacArthur Foundation for his extraordinary usage and grasp of the English language and his ability to forward this understanding to his readers.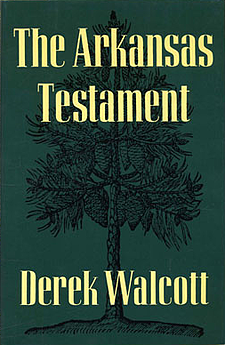 His epic poem Omeros (1990) is considered to be his greatest literary achievement and was named one of The New York Times Book Review's best books of 1990. His poem greatly reflects Homer's Iliad; however, contrary to Homer's Greek warriors and gods, Walcott depicts the Trojan War as fought by Caribbean fishermen. Walcott's brilliance shines through in his eloquent way of drawing beauty to the everyday life of the Caribbean.
In 1992, Walcott became the first Caribbean writer to be awarded the Nobel Prize in Literature. The Nobel committee presented Walcott with this award "for a poetic oeuvre of great luminosity, sustained by a historical vision, the outcome of a multicultural commitment".
Walcott's voice will surely live on, and we can all be thankful for his influence and the beautiful works he produced in his lifetime.
*Portions of this article were first published in 2015. *Image source.