The work of Charles van Sandwyk is a delight for all book lovers, but especially enthusiasts of fine press, children's literature, and exceptional illustrations. Recalling an earlier age, his artwork portrays whimsical animals, fairies, and elves in unique, and sometimes magical settings. As a child, van Sandwyk immersed himself in the works of J. M. Barrie, Beatrix Potter, and J. R. R. Tolkien. These influences are evident in his own creations, as is his admiration for classic illustrator Arthur Rackham. Take a moment to delve into the world of Charles van Sandwyk. Be enchanted.
How to See Fairies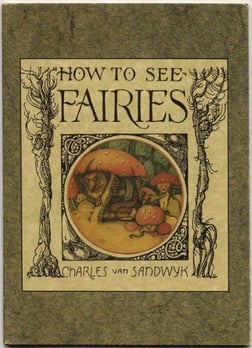 Charles van Sandwyk's imagination is on full display in How to See Fairies. He's been fascinated with the subject of fairies from a young age, and the way in which he's thought out the world of the fairy folk is so intricate, readers are pulled right in. French flaps,16 hand-sewn pages with drawings and illustrations in full color.
"So often when I sleep at night my dreams are overladen with vision of the fairy folk, led by a tiny maiden. They dance upon my furrowed brow till I have all but woken, and this is what they say to me, in words so softly spoken..."
Strange Birds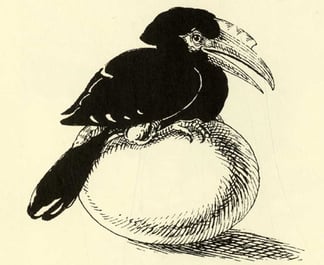 Strange Birds is the first book written and published by van Sandwyk. He starts out by saying "Let me tell you about all the birds that I know. " The book goes forth from there, telling van Sandwyk's story about many exotic birds, from the Three-Wattled Bellbird to the Hornbill and the Toucan.
This book is very scarce. It's a stunning first edition/first printing with French flaps in Very Fine condition. 20 hand-sewn pages, published by the author himself, with black and white printed illustrations. Signed by Charles van Sandwyk on the copyright page. One of 1,000 total printed copies. See more.
Pocket Guide to the Little People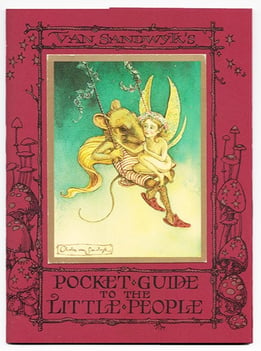 Charles van Sandwyk loves the little people, or fairies, as is evidenced in How to See Fairies. In this pocket guide, he writes:
Your equipment to identify the fairy folk: A large leaf to hide under. A listening device to pick up tiny sounds. A magnifying glass to keep them in your sight. The surest path to the realm of the Little People is the one taked with gentle steps and an open heart. For the fair folks are full of nature's wisdome - they can sense a human heartbeat from a mile away.
This particular book has a maroon cover with printed illustrations, gilt highlights; wraps over single stitched signature. It is signed by author Charles van Sandwyk opposite the title page, and is a very rare collectible. See more.
Sketches from the Dream Island of Birds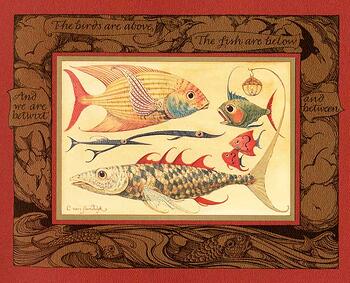 The sketchbook belonging to Charles Van Sandwyk traveled through a dream - and returned with many tales to tell. This volume received the Gold Award in 2006 from the International Gallery of Superb Printing to Contact Printing, North Vancouver, BC in Recognition of Excellence for superb craftsmanship. See more.
I Believe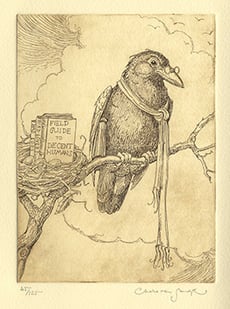 A signed edition, limited to 125 copies in Very Fine condition. Hand-sewn pages, drawings and illustrations in full color by Charles van Sandwyk, printed on laid paper. Published in Vancouver by Savuti Press in 2012, I Believe includes two of van Sandwyk's poems, "Fortress on the Hill" and "I Believe" as well as "A Hidden Thought".

"A book's not shy to face the world - with open heart - like sails unfurled."
The Fairies' Christmas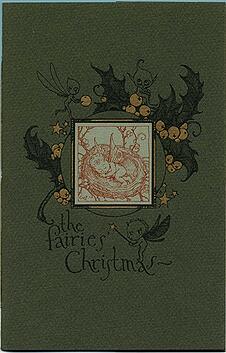 Issued by Heavenly Monkey as their Christmas 2001 book, it tells the story of a Christmas a boy spent with his grandfather and their encounter with a gathering of fairies. "When I was a boy, it was a long, long time ago. I lived with my grandfather who was a very old man, but in our hearts we were exactly the same age. Life was more simple."
8 hand-sewn pages, four tipped-in illustrations in full color and french flaps. Burgundy stiff paper wrappers with title in black and gilt. Typography by Robert R. Reid and letterpress printed by David Clifford at Black Stone Press. Editorial assistance by Rollin Milroy.
Will o' the Wisps

Meant "for little hands", this miniature accordion book is filled with fanciful and fairy-like creatures. Included is a hand-written colophon page by Charles van Sandwyk. Limited to 35 numbered copies. Accordion-folded page book closed with a band. Accompanied by a leaf cutout of marbled paper. See more.