It is a world of sheer magic where fairies caper, pirates menace, and mermaids beguile. For visiting children, the danger of adulthood is cast away and replaced with adventures and marvels. Since its invention over a century ago, Neverland, created by Sir James Matthew Barrie in Peter Pan, has captured the imagination of children and adults alike. Although Neverland and its occupants seem entirely fanciful, Barrie was inspired by a number of true people and events.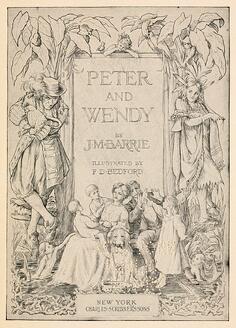 Peter Pan had its genesis during a crisis in Barrie's childhood. At the age of six, Barrie's older brother died in a skating accident, traumatizing the entire family. Overcome with grief, Barrie's mother withdrew from family life and neglected her remaining children. Barrie began impersonating his dead brother to attract the attention of his mother. He wore his brother's clothes and imitated his brother's characteristic whistle. Barrie's internal anxiety took on a physical manifestation in psychogenic dwarfism: a growth disorder caused by acute emotional stress. As an adult, Barrie reached only 4'10". The rejection he experienced from mother caused Barrie to view adulthood with negativity and suspicion. His mother's fixation on her dead son—who she imagined to be a boy forever—was the idea that Barrie later developed into the character of Peter Pan. Barrie, with his small stature and distrust of adults, was also a prototype—whether consciously or not.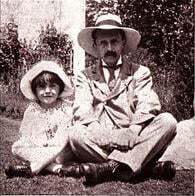 Only much later did these initial concepts came to fruition. A successful writer in his mid-thirties, Barrie met three of the Llewelyn Davies boys in 1897 while walking his dog in London's Kensington Gardens. The boys were originally attracted to Barrie's dog—a giant Saint Bernard—but they were soon charmed by Barrie's stories and antics. Before long, Barrie became a family friend. The five boys—George, John, Peter, Michael, and Nicholas—called him "Uncle Jim" and the entire Davies family joined Barrie on vacation. There, the boys played an imaginary pirate game that Barrie memorialized in a set of photo albums.
Barrie entertained the two oldest boys with stories about their brother, Peter. He told them that before being born, babies were birds and parents barred nursery windows to prevent their newborns from flying away. Barrie claimed that Peter would one day fly away so that he could be a boy forever. If a boy or girl died, Barrie said, Peter would come back and take them away to Never Never Land. George, upon hearing this, exclaimed, "Dying must be an awfully big adventure!" Barrie immortalized these words in Peter Pan.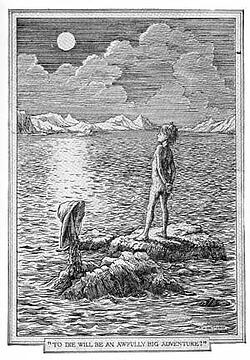 Barrie named characters from Peter Pan directly after the Llewelyn Davies boys. He named Peter Pan after Peter Llewelyn Davies although he later took pictures of Michael dressed as the same character. Barrie named George, John, and Michael Darling after George, John, and Michael Llewelyn Davies, respectively. The youngest boy, Nicholas, was a baby when Peter Pan was first performed on stage in 1904. However, in later editions of the play as well as in the novel, Barrie gave Michael Darling the middle name "Nicholas."
The story of Barrie and the Llewelyn Davies boys has a melancholy end. The boys' father, Arthur, died of cancer in 1907 when the oldest boy, George, was only fourteen years old. Their mother, Sylvia, also died of cancer three years later. Sylvia named four guardians for the boys, Barrie among them. Barrie provided financial support for the five boys until they were grown and remained their friend and protector for life. The story of Barrie and the Llewelyn Davies boys has been dramatized in the BBC miniseries, The Lost Boys (1978), as well as in the movie Finding Neverland (2004), starring Johnny Depp and Kate Winslet.