Christmas is a magical time for children. School is out of session, the possibility of snow lends a sense of excitement to every cold day, treats and presents are never far off, and the season is filled with the warm comfort of tradition. This year, we invite you to take a look at some of the best Christmas books to gift to children. Maybe you can start a new tradition of your own by giving a book that comes to hold an important place in a child's holiday celebration. From The Night Before Christmas to a few more unusual titles, here are some books sure to make any child's eyes light up on Christmas morning. In fact, with twelve books on this list, you might as well get one for every day of Christmas.
The Night Before Christmas by Clement Clark Moore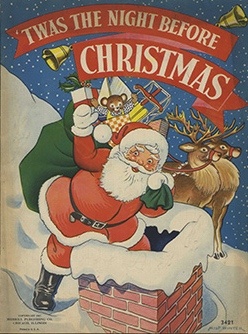 Perhaps the quintessential Christmas story, no child's collection of Christmas books would be complete without a copy of The Night Before Christmas. Consider Niroot Puttapipa's version featuring beautiful paper cutout silhouettes for a different art style than children might be used to when it comes to this classic poem.
The Nutcracker by E.T.A. Hoffman, Illustrated by Maurice Sendak
This classic Christmas story of the nutcracker, the Mouse King, and the Sugarplum Fairy comes to life with illustrations from legendary children's book author Maurice Sendak of Where the Wild Things Are fame. Sendak's illustrations are unique and different from many editions of this book. His familiarity with the story as set designer for the Pacific Northwest Ballet's production of The Nutcracker make this book a beautiful twist on a classic, ideal for children who likely already have a familiarity with his signature art style.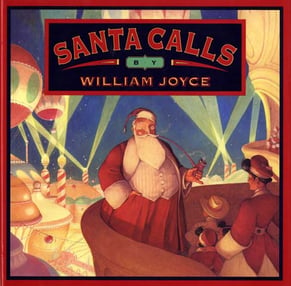 Santa Calls by William Joyce
Written by William Joyce, author of A Day With Wilbur Robinson, Santa Calls tells the story of three children called upon by Santa Claus himself to help him defeat an evil army of dark elves. This unusual Christmas story is sure to capture the imagination.
Hark! A Christmas Sampler by Jane Yolen
Hark! by Jane Yolen features a collection of classic short poems, stories, and songs for children paired with cute illustrations. The variety in this book makes it an ideal gift, as there is quite a bit of content in one book. The songs included in the book feature sheet music easily played on piano or other instruments children might be learning.
When Santa Fell to Earth by Cornelia Funke
Perhaps the most non-traditional entry on this list, When Santa Fell to Earth by Cornelia Funke is perhaps best suited for middle grade readers. It tells the story of an evil takeover of the Christmas Council. One of many Santas, Nicholas Goodfellow, tries to bring Christmas back to its roots and turn it away from the moneymaking scheme it had become. Two children, an invisible reindeer, a handful of elves, and a couple of Christmas angels join him in his quest.
Eloise at Christmastime by Kay Thompson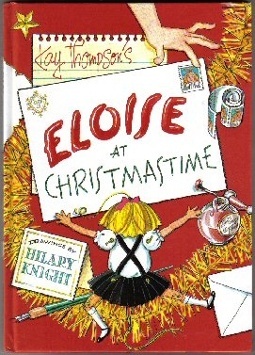 The beloved children's book character, Eloise, features in this classic book, Eloise at Christmastime by Kay Thompson. Children are sure to be delighted by the Plaza Hotel at Christmas. This book might pair well as gift with the next entry on our list as they are both illustrated by Hilary Knight.
A Christmas Stocking Story by Hilary Knight
A Christmas Stocking Story is a charming little book detailing a stocking mix up where animal friends receive the wrong presents from Santa and make a game of getting every gift to the proper animal. Written and illustrated by Hilary Knight, illustrator for the famous Eloise series, this book's first and second editions are equally desirable, though the second edition cover features an illustration of the elephant reading the book to the other animals that might appeal to younger children more than the first edition cover which is a portrait of the animals with a Christmas wreath.
The Best Christmas Pageant Ever by Barbara Robinson
The Best Christmas Pageant Ever by Barbara Robinson tells the story of the Herdman children, a family so wild that even the teachers don't know what to do with them. When the Herdmans all end up with starring rolls in the annual Christmas pageant, the whole town learns the true meaning of Christmas. This chapter book is ideal for older children to read themselves or might make a nice gift for younger children whose parents can read it to them chapter by chapter.
The Jolly Christmas Postman by Allan Alhberg
This amazing book follows the Jolly Postman as he goes about his route delivering mail to the famous fairy tale characters. The best part of the book is that it include envelopes with removable letters and cards.. Each letter features different art and handwriting. This book has been delighting children since its' release in 1991. Consider its predecessor, the award-winning The Jolly Postman.
Room for a Little One by Martin Waddell
Room for a Little One by Martin Waddell features beautiful illustrations of farm animals weathering a long night in the stable. Kind Ox welcomes in a variety of animals saying there is always room for a little one. Eventually, the animals make room for another little one when Mary gives birth to the baby Jesus in the stable. The story of Jesus' birth from the animals' point of view makes this a lovely addition to a child's Christmas collection.
'Twas the Evening of Christmas by Glennis Nellit
Written with the same rhyme scheme as The Night Before Christmas, this retelling of the nativity story is sure to delight children who are already familiar with the poem's familiar cadence. Featuring beautiful illustrations by Elena Selivanova, this book presents a new twist on the classic Christmas story.
The Twelve Days of Christmas by Hilary Knight
Hilary Knight's second entry on this list is The Twelve Days of Christmas, an adorable twist on the classic song featuring Bedelia the bear. When Bedelia's friend Ben gives her more Christmas gifts than she knows what to do with, she uses them to create a surprise for all their friends. This book focuses on generosity and is a great gift idea for children.