Canadian writer and illustrator Charles van Sandwyk is best known for his charming and whimsical limited-run books. The quality of each hand-made production makes van Sandwyk's work appealing to collectors and casual readers. His attention to detail with carefully crafted illustrations and an eye toward depicting natural and imaginary beings gives his work an ethereal quality ideal for adults and children alike. Van Sandwky was born in South Africa in 1966. Here, he developed his love of nature and drawing as he practiced sketching the beautiful creatures that call the area home. His family moved to Canada when he was just eleven years old. During this time, he discovered two of his other great influences: JRR Tolkien and Arthur Rackham. He continued to practice drawing, and his style evolved further due to mentorship from his art teachers. Three, in particular, helped him find his path by teaching him calligraphy and printmaking, while another gifted him an antique printing press. He went on to study graphic design at Capilano College. One of his greatest inspirations is Fiji, a place that had been for him an endless source of peace, happiness, and creativity. He produces most artwork there, working closely with his friend Waisiki Doughty, who helps hand-make van Sandwyk's books. Today we take a closer look at some of the most beautiful works of art from van Sandwyk for those interested in beginning a collection.
Pocket Guide to the Little People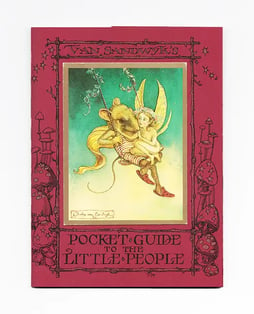 Your equipment to identify the fairy folk: A large leaf to hide under. A listening device to pick up tiny sounds. A magnifying glass to keep them in your sight. The surest path to the realm of the Little People is the one taken with gentle steps and an open heart. For the fair folks are full of nature's wisdom - they can sense a human heartbeat from a mile away.
Van Sandwyk's Pocket Guide to the Little People is one of his earlier works. Featuring a maroon cover and gilded detailing, this small book is a charming read and a beautiful keepsake.
The Fairies' Christmas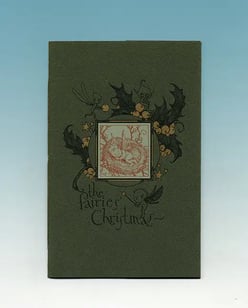 It was a long, long time ago when I was a boy. I lived with my grandfather, a very old man, but we were the same age in our hearts. Life was more simple.
The Fairies' Christmas recounts a boy's holiday with his grandfather in which they stumble upon a fairy celebration and join in the revelry. Several versions have been reprinted, but van Sandwyk's edition features eight hand-sewn pages and four illustrations.
How to See Fairies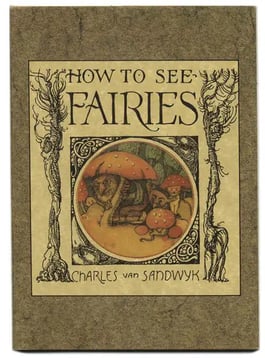 When the sky has fewer stars than the night before, you know that the lamplighter's been at work- mixing stars and luminous dew to paint the glow on fireflies.
How to See Fairies is a collection of poems, stories, pen and ink and watercolor illustrations showcasing fairies and their animal friends. The original features French flaps and sixteen hand-bound pages, though a hardback version is available from Smithmark. Folio Society has also released a version.
Strange Birds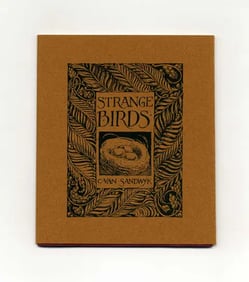 Let me tell you about all the birds that I know.
Strange Birds is van Sandwyk's first publication. Handmade versions of this book are twenty pages in length and feature black and white illustrations of the birds he grew up seeing in South Africa as well as the birds he came to know and love on his beloved island of Fiji.
Sketches From a Tropic Isle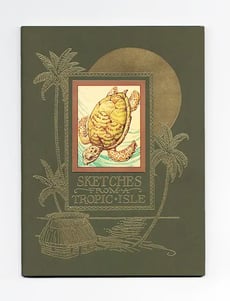 How may I speak of my island home so you can know my love for her?
Would it be hard to believe that a man could belong to his land and she to him?
My youthful cup, which once brimmed with pride and wisdom,
has been emptied of everything but this very love.
Sketches From a Tropic Isle is van Sandwyk's ode to Fiji. Inspired entirely by nature on the island, this twenty-page book features illustrations and hand-lettering.