Collecting the works of Nobel Prize in Literature winners is a great way to focus one's collection. Nobel laureates are the best-of-the-best, so a collection full of their works is one way to guarantee exceptional titles. Today, we'd like to focus on information about the work of three German-language Nobel Prize in Literature winners from the early part of the twentieth century: Theodor Mommsen, Rudolf Christoph Eucken, and Paul Johann Ludwig von Heyse. For more about our previous Nobel laureate spotlights, see the end of the post.
Theodor Mommsen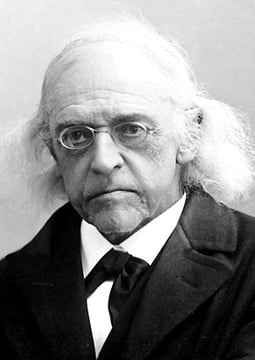 Theodor Mommsen won the Nobel Prize in Literature in 1902—one year before his death. The Nobel committee stated of Mommsen that he was "the greatest living master of the art of historical writing." His style has been described as both acutely scientific but with the appeal of a novel. Anyone with an interest in history should pay Mommsen some attention.
His seminal work, A History of Rome was cited specifically by the Nobel committee as exemplifying the great art of historical writing. It's still referenced by scholars and students of history today, further solidifying its author's influence. As such, A History of Rome makes for a good starting place for a discussion of Mommsen's greatest works. The book was first published in three volumes in 1854, 1855, and 1856. The intention was always for there to be five volumes; however, a fourth volume was never completed by Mommsen, or some say it was lost in a house fire—no one knows for sure. However, there is an interesting tale of how a fourth volume came to be. In 1980, lecture notes from two of Mommsen's students were found by Alexander Demandt in a Nuremberg used bookstore and compiled to form a fourth volume, published in 1992. Let this be a lesson to all of us to look closely in attics and old bookshops for treasures! A fifth volume of A History of Rome was published in 1885.
Mommsen's A History of Rome was translated into English by William P. Dickson and first published by Richard Bentley and Son in London in 1862. Fair copies of the original English translation sell today for around $500. Textbook copies of Mommsen's History of Rome are easy to find, and if you're looking for such a book The Folio Society and Charles Scribner have each published a version.
Moving on from A History of Rome, another Mommsen title of note is The South Italian Dialects, or in German, Die unteritalischen Dialekte, which featured information on the European dialects of ancient Italy, Latin notwithstanding. This book was very important from a literary history standpoint in that it allowed for thorough study of language in historical sources. Copies published in 1850 by Georg Wigand in Leipzig will cost a collector $1,500 - $2,000.
A collection of Mommsen's work was published by Weidmann under the title Gesammelt Schriften, or Collected Writings, in the early part of the twentieth century. Early copies of the nine volumes of this collection will cost nearly $1,000.
Rudolf Christoph Eucken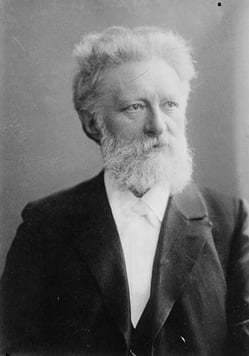 Rudolf Christoph Eucken won the Nobel Prize in Literature in 1908, "in recognition of his earnest search for truth, his penetrating power of thought, his wide range of vision, and the warmth and strength in presentation with which in his numerous works he has vindicated and developed an idealistic philosophy of life." Unlike Mommsen's A History of Rome, one of Eucken's works in particular was not cited when he received the Prize. However, several of his titles merit a collector's attention.
Eucken was a philosopher and published most of his works as essays. His trademark style included ongoing revisions, so throughout his lifetime, his works went through numerous editions. Many of his essays are now compiled into groups of selected works. According to the Nobel Prize biographical on the writer, some of Eucken's most famous titles include Geistige Stromungen der Gegenwart (1908), which translates to Main Currents of Modern Thought, and Die Lebensanschauungen der grosser Denker, which was first published in 1890 and translates to The Problem of Human Life as Viewed by the Great Thinkers from Plato to the Present Time. As many as seven editions of the text were published in German up until 1907, and The Problem of Human Life was translated into English by W. Hough and Boyce Gibson and published in 1909.
Early editions of Eucken's essays aren't readily available; however, certain essays and copies of his collected works—in both hardcover and paperback format—are easy to come by, though not necessarily of extreme value. That being said, if you're in the business of collecting the works of philosophical thinkers, Eucken's works should be on your shelf. He wrote prolifically about ideas such as ethical activism, education, and the way in which spirituality must combine with social issues of the times in order for solutions to be found.
Paul Johann Ludwig von Heyse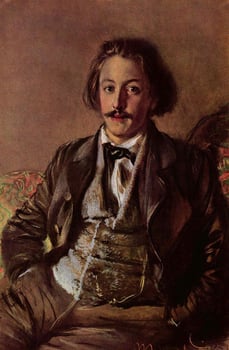 The final German Nobel Prize in Literature winner we'd like to spotlight is Paul Johann Ludwig von Heyse. Heyse won the Prize in 1910 for the "consummate artistry, permeated with idealism…" in his works. Heyse was a prolific writer, and penned hundreds of short stories, as well as poems, plays, novels, and essays. According to Thomas Christensen's book, River of Ink: An Illustrated History of Literacy, one of the judges on the Nobel panel said of Heyse that "Germany ha[d] not had a greater literary genius since Goethe."
Despite garnering the praise of the Nobel committee in the early part of the twentieth century, Heyse is not often heard of today. For a collector looking to acquire works pertaining to German Nobel Prize winners, or for one interested in Heyse, that means a couple of things. First, items such as letters, cards, etc. that are written on by Heyse are valuable collectibles. Depending on the item, it can cost anywhere from $75 to $300.
An original edition of Heyse's complete works was published in 1872 and another in 1901. Since then, it has been republished numerous times. Most recently, you can find a 2015 version of Gesammelte Werke published by ReInk Books for around $25.
Interested in learning more about collecting German Nobel laureates? Click below:
Thomas Mann
Herta Müller
Gerhart Hauptmann
Günter Grass
Nelly Sachs
Hermann Hesse