Legendary author Doris Lessing was born in Iran in 1919 to British parents. She spent much of her early life in what is now Zimbabwe. She left school at thirteen to work as a telephone operator and a nursemaid before her first marriage. After the dissolution of her second marriage, she moved to London with her youngest child, leaving her older two with their father. In London, she continued her study and pursuit of the socialist movement. She published her first novel one year later. Throughout her life, she published over fifty novels, as well as plays, poetry collections, essays, and memoirs. While she remained dedicated to social change, feminism, and anti-racism, she later moved away from her Marxist, leanings. She was offered damehood but rejected the offer as an objection of the empire. She was awarded the Nobel prize in 2007. She passed away in 2013 at the age of ninety-four. Join us today as we explore some of the best books by Doris Lessing.
The Golden Notebook
Do you know what people really want? Everyone, I mean. Everybody in the world is thinking: I wish there was just one other person I could really talk to, who could really understand me, who'd be kind to me. That's what people really want, if they're telling the truth.
Lessing's ambitiously-structured The Golden Notebook tells the story of Anna Wulf by showcasing the works she writes in different colored notebooks, yellow for a novel about her failed romance, red for her experience in the Communist Party, black for her experience in South Rhodesia, blue for her diary, and her attempt to tie them all together thematically in a golden notebook. Notable for its' structure, the novel brings together anti-war and anti-Stalin messages as well as a look at the feminist movement, which at the time of publication in 1962, was in its early days. Time Magazine named it one of the best English language novels since 1923 in 2005.
The Grass is Singing
Loneliness, she thought, was craving for other people's company. But she did not know that loneliness can be an unnoticed cramping of the spirit for lack of companionship.
Lessing's first novel, the critically acclaimed The Grass is Singing, centers around society's response to the murder of a mentally unwell white woman by her employee, a crime brought on by her violent act against him. The murder aggravates the already churning racial tensions in what is now Zimbabwe.
Prisons We Choose to Live Inside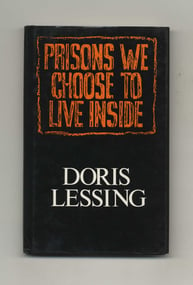 Anyone who reads history at all knows that the passionate and powerful convictions of one century usually seem absurd, and extraordinary, to the next. There is no epoch in history that seems to us as it must have to the people who lived through it. What we live through, in any age, is the effect on us of mass emotions and of social conditions from which it is almost impossible to detach ourselves. Often the mass emotions are those which seem the noblest, best and most beautiful. And yet, inside a year, five years, a decade, five decades, people will be asking, "How could they have believed that?" because events will have taken place that will have banished the said mass emotions to the dustbin of history.
Prisons We Chose to Live Inside is a collection of essays initially presented as lectures in the CBC Radio Massey Lecture Series. The essays present the central theme that the current generation of young people (the series was released in the 1980s) know more about themselves than any previous generation yet fail to use this knowledge of humanity to better it, instead falling back on mass emotion, brutality, and authoritarianism instead of embracing individual thinking.
The Fifth Child
She knew the cost, in every way, of a family.
The Fifth Child is an urban gothic horror story depicting the lives of a happy couple with four children being changed by the birth of a fifth child, Ben, within whom the entire family sees the root of everything terrible in their lives, disrupting the myth of their perfect family. The reader slowly realizes that the true horror is the family's response to Ben, who the rest of the world perceives quite differently than the rest of the family.
Ben in the World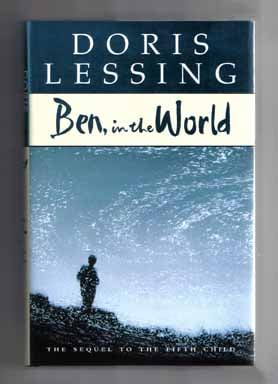 Teresa too, must be feeling oppressed by the rich clever world where people could leap off into air under umbrellas and feel safe, because their lives had always been safe.
Ben in the World, the tragic sequel to The Fifth Child follows Ben who is now estranged from his unhappy family and struggling to find a place in the world where he can belong. Though he finds several friends throughout the story, he is always haunted by his parents' assertions that he isn't human. Upon finding what he believes to be proof that he isn't human and is totally alone, Ben ends his life.