James Patterson is nothing if not a producer. His literary output is astounding, and the publishing schedule he sticks to is rigorous one (we've written more about his methods here). Patterson began his career in journalism. An avid reader, eventually he was turned on to the suspense and thriller genre through authors like William Peter Blatty and Frederick Forsyth. Thinking he could take a stab at writing such books, Patterson set about writing his first novel, The Thomas Berryman Number. After much rejection, Little Brown Books picked up Patterson's debut book.
Since then, Patterson has gone on to write hundreds of other titles. His inventory spans multiple genres including his well-known thriller series, stand alone thrillers, romance novels, and even books for teens and children. Today, we're highlighting several Patterson titles that are worthwhile additions to collectors of his work or fans of modern-day literary giants in general.
The Midnight Club

One of Patterson's stellar works of stand-alone fiction, The Midnight Club is the story of a crazed, elusive killer, a journalist, and an unorthodox police detective. Of the book, Patterson has said, "The Midnight Club is the novel I wrote just before Along Came A Spider [the first in the Alex Cross series, see below]. I'm certain that both Alex Cross and Sampson originated in ideas I had while writing this story. It's one of my favorites." Read more >>

The Big Bad Wolf

While Patterson is a renown author for many reasons, his Alex Cross series is one of his most recognizable literary contributions. The series contains over twenty titles, one of which is The Big Bad Wolf. In this book, the ninth in the series and the first to feature Cross in his role as an FBI Agent, readers are taken on a high stakes journey as Cross works to stop a sex trafficking ring. Read more >>

Miracle on the 17th Green

Miracle on the 17th Green is a collaboration between Patterson and Peter de Jonge. Patterson worked with de Jonge (and others) on several occasions. Their efforts here produced a tale about love and how the course of one's life may just be disrupted by a miracle. Read more >>

Hide and Seek

A popular singer and songwriter who everyone believes killed her first husband to get out of an abusive relationship is now the main suspect in the death of her second husband, a popular athlete. Did Maggie Bradford really commit these murders? Find out in Patterson's twisty, stand alone novel, Hide and Seek. Read more >>

When the Wind Blows

When the Wind Blows is the precursor to The Lake House. The two of these books function as their own set; however, they inspired the Maximum Ride series. When the Wind Blows is the story of a veterinarian, an FBI agent, and children with wings who are being kept in a cruel environment. Interested? Read more >>

4th of July

Written in collaboration with Maxine Paetro, the fourth book in Patterson's Women's Murder Club series, 4th of July follows 1st to Die, 2nd Chance, and 3rd Degree in detailing the escapades of Lindsay Boxer, a San Francisco Police Detective and member of the Women's Murder Club. Boxer finds herself on trial after a police shoot-out. To take her mind off of it, she begins working informally on a string of murders taking place in Half Moon Bay. Read more >>
Interested in reading more about James Patterson? See below!
Born on March 22, 1947, James Patterson is an incredibly prolific author who mostly specializes in thrillers but also dabbles in the non-fiction, young adult, and romance genres. However, before he became a best-selling author with more than 95 titles under his belt, he worked in advertising.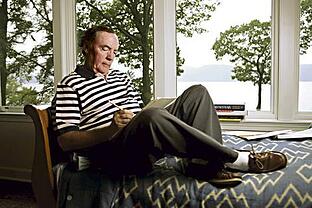 Born and raised in Newburgh, New York, Patterson moved with his family to Boston following his senior year of high school. There he got a job working as an aide at McLean Hospital in Belmont. Due to his night and weekend shifts, Patterson ended up with a plethora of time, in which he began to read in earnest. He developed into something of a literary snob, almost exclusively reading works by such authors as Jerzy Kosinski, Jean Genet, and Evan S. Connell.
However, after Patterson graduated from Manhattan College with a degree in English, he decided to forgo graduate school at Vanderbilt University and instead moved to New York City and got a job as a junior copywriter at J. Walter Thompson. While working there he began to read commercial books, things like The Exorcist and The Day of the Jackal, and his eyes were opened to books for the masses. Patterson said, "I always felt I could write a reasonable literary novel, but not a great one. Then I thought, I can do this. I understand it, and I like it." So Patterson began working on his first novel. He spent nights and weekends hard at work on his typewriter to produce The Thomas Berryman Number, which after much rejection he finally sold it to Little Brown Books for $8,500. Read more >>