"To be true to ourselves, we must be true to others." ~Jimmy Carter, Inaugural Address, January 20, 1977
Today, we celebrate Jimmy Carter's 95th birthday. In honor of his life and efforts as president and human rights activist, we thought we'd republish our most recent post on Carter and his written works.
Do you have a collection of books by U.S. presidents? Or, are you interested in Nobel Peace Prize winners, twentieth century history, or human rights? If you've answered "yes" to any of these questions, the works of Jimmy Carter should be on your radar.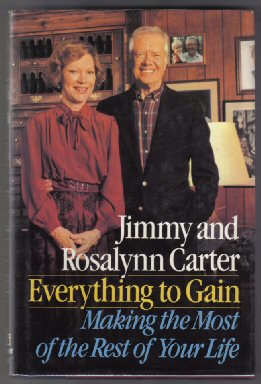 James Earl Carter, Jr. was thought by many to be a surprising pick when he was elected the 39th President of the United States in 1976; he narrowly beat out incumbent Gerald Ford. However, Carter used his four years in the oval office (and the years beyond) to make an impact. Whether he had a positive or negative impact during his presidency depends on who you talk to. He pardoned Vietnam War evaders on his second day as President. By 1980 as his term neared its conclusion, he was navigating the Cold War waters, leading the international boycott against the Russian-hosted Summer Olympics, dealing with the Iran Hostage Crisis, and facing the nuclear power plant accident at Three Mile Island. He was beat out for re-election by Ronald Reagan.
Following his presidential tenure, Carter opened the Carter Center with the goal of advancing human rights. He earned the Nobel Peace Prize in 2002 for what the committee described as his "untiring effort to find peaceful solutions to international conflicts, to advance democracy and human rights, and to promote economic and social development." Carter served diplomatically beyond his presidency, partaking in peace talks with North Korea and working with Nelson Mandela as part of The Elders—an independent group of leaders focused on human rights and bringing peace to troubled regions.
Below find a selection of titles by Jimmy Carter. Topics covered range from his childhood to his presidency to his work in the years since.
Keeping Faith: Memoirs of a President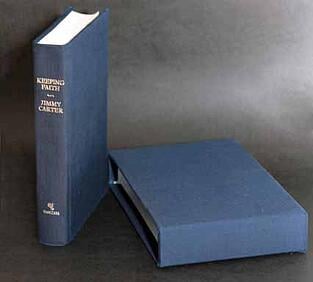 In this book, Jimmy Carter shares from the journal entries he kept while president of the United States. Indeed, he made it a habit to keep a sort of diary while in office, and from his jots, this book was born. As a result, it's an honest and fascinating look at the struggles he faced and his feelings as president. The first edition of Keeping Faith was published in 1982 by Bantam Books, and a hardcover limited edition of 2,500 was released with navy blue cloth covered boards. These copies are signed by President Carter as "Jimmy Carter" on the limitation page. A limited edition was released by Easton Press, as well.
Everything to Gain by Jimmy and Rosalynn Carter
Written by the president and first lady, this book is a candid look at life after their time in the White House. They share the challenges they faced as they transitioned back to normal life, and the ways in which they were able to overcome and renew their commitment to each other and to the life they wanted to live. The first edition of Everything to Gain was published by Random House in 1987. Signed copies will sell for several hundred dollars, more if the copy is an association copy.
The Nobel Peace Prize Lecture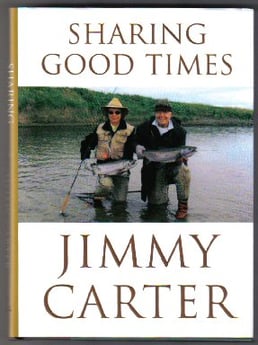 The Nobel Lecture was delivered by Jimmy Carter on December 10, 2002, at the ceremony in Oslo, Norway, where, as mentioned above, he received the Nobel Prize for Peace. The text from his Nobel Lecture is surely a worthwhile addition to any collection of past presidents and/or Nobel laureates. Published by Simon & Schuster, signed copies of The Nobel Peace Prize Lecture will sell for around $200.
Sharing Good Times
In this book, Jimmy Carter relays his feelings about what matters in life: family, friendships, exploring the outdoors, and finding new adventures. Sharing Good Times was first published in 2004 by Simon & Schuster. Rare copies can be found signed by both Jimmy Carter and his wife, though collectors will pay more for Rosalynn's signature along with Jimmy's signature. Easton Press also issued a special collector's edition of Sharing Good Times in 2004.
To honor our former president on his birthday, why not pick up a copy of one of his written works to read or add to your collection. Happy birthday, President Carter!