The 2016 Nobel Prize in Literature winner was announced today at 1:00p.m. local time in Sweden. The winner is American musician Bob Dylan "for having created new poetic expressions within the great American song tradition".
Born in Duluth, Minnesota, Dylan spent much of his life in New York. He is best known for the music he created in the 1960s and the significant influence it had on popular culture. He explored themes of social condition, politics, and religion, and his songs like "The Times They Are a-Changin'" (1963) and "Blowin' in the Wind" (1959) earned him national renown. Along with being a prolific musician, Dylan is also an actor, screenwriter, and artist. He published an autobiography in 2004 titled Chronicles which details his life in New York. Congratulations to Bob Dylan!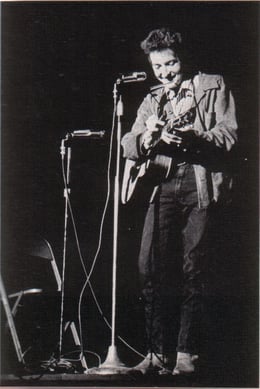 In honor of today's Nobel Prize announcement, let's take a look at the past five Nobel Prize in Literature winners and explore some of the highlights of their illustrious careers, as well as some of the collecting points for their most popular titles.
Nobel Laureates: 2011-2015
Svetlana Alexievich (2015)

Svetlana Alexievich won the Nobel Prize in Literature "for her polyphonic writings, a monument to suffering and courage in our time". Ukrainian born, but residing in Belarus at the time her award recpetion, Alexievich is most known for "documentary novels" where she uses a journalistic lens to shed light on political corruption, specifically in the Soviet Union. Her first book, War Does Not Have a Woman's Face (1985), set the standard for all that she later wrote. More information>>

Patrick Modiano (2014)

Patrick Modiano won the Nobel Prize in Literature in 2014 "for the art of memory with which he has evoked the most ungraspable human destinies and uncovered the life-world of the Occupation". Indeed, his books have a universal focus on the German occupation of France during World War II. He grapples with concepts of idenitity as well as memory. His first book, La Place de l'Étoile, was published in 1968 when Modiano was only 22 years old. It has recently been translated and published in both German and English, earning the author numerous awards. More information>>

Alice Munro (2013)

Alice Munro won the Nobel Prize in Literature in 2013 and was cited as a "master of the contemporary short story". High praise from the Nobel committee, indeed, but it is not without merit. The winner of countless Governor General Awards and Giller Prizes, Munro's debut collection was Dance of the Happy Shades (1968) and thirty years later she continued to produce wonderful stories in The Love of a Good Woman (1998). More information>>

Mo Yan (2012)

Chinese author Mo Yan, "who with hallucinatory realism merges folk tales, history and the contemporary", won the Nobel Prize in Literature in 2012. Yan employs magic realism throughout his prose, and is the author of short stories, novels, and essays. One of his most widely known works (especially in the west) is the novel Red Sorghum Clan. He also earned acclaim for his The Republic of Wine and Life and Death are Wearing Me Out, the latter of which he wrote in just under a month and a half. More information>>

Tomas Tranströmer (2011)


Tomas Tranströmer won the Nobel Prize in Literature in 2011 "because, through his condensed, translucent images, he gives us fresh access to reality". His collection of poems, 17 Dikter is a triumph. And the first edition of this collection is a highly sought after collectible. For a good taste of Tranströmer's style, we'd also recommend looking into his collction 20 Poems which was translated by Robert Bly. More Information>>
Svetlana Alexievich image By Peter Groth - Own work, CC BY 3.0
Mo Yan image By Johannes Kolfhaus, Gymn. Marienthal - [1], CC BY-SA 3.0