Donald Barthelme is best known for his surreal and postmodern short fiction and novels which he published from the 196os through the 1980s. His style has been described as concise and humorous and he as a master of irony and form. His father disapproved of the postmodern attitudes Barthelme's works embody to the extent that his novels, The King and The Dead Father, are inspired by their strained relationship. In his lifetime, he published four novels and over one hundred short stories.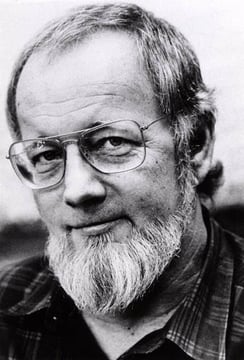 Barthelme was born in Philadelphia in 1931. His family moved to Houston two years later. He began writing at a young age, winning a Scholastic Writing Award for a short story he wrote when he was in high school. He went on to study journalism at the University of Houston where his father was a professor of architecture, and he worked for The Houston Post.
After two years of school, he was drafted into the Army and was deployed to Korea, narrowly avoiding the Korean War as the Korean Armistice Agreement was signed the day he arrived. While in the army, he served as the editor for an army publication and for the Public Information Office. When his military service was over, he returned to Houston. While he continued to work for The Houston Post and to take classes, he never finished his degree.
Over the course of his career, Barthelme taught at at several universities, including the College of the City of New York, where he served as Distinguished Visiting Professor. He helped establish the creative writing program at University of Houston, where he worked closely with his student, author Thomas Cobb, whose doctoral dissertation eventually became the novel Crazy Heart. The novel's central character was partially based on Barthelme and was portrayed by Jeff Bridges in the movie by the same name.
Barthelme's work is characterized by a plotlessness that relies more on absurd situations and the beauty of language to progress the story. In his 1983 essay Not-Knowing he said:
"Art is not difficult because it wishes to be difficult, but because it wishes to be art. However much the writer might long to be, in his work, simple, honest, and straightforward, these virtues are no longer available to him. He discovers that in being simple, honest, and straightforward, nothing much happens: he speaks the speakable, whereas what we are looking for is the as-yet unspeakable, the as-yet unspoken."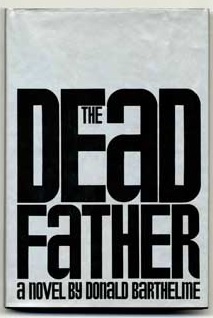 His fiction embodies this idea, somehow exploring and giving voice to the unspoken aspects of humanity by illuminating what we all know about living but do not have the ability to vocalize.
Barthelme's The Dead Father further illustrates his ideas. Inspired in part by his relationship with his father, he uses the absurd idea of a group of people hauling a being somehow both alive and dead, the "Dead Father," across the land toward his burial site. The novel explores ideas of fatherhood, what it means to be a son, and procreation. Many critics view The Dead Father as an allegory for God and language. The critically acclaimed novel is a good illustration of the overall flavor of Barthelme's work, and it also includes (as a chapter) a story previously published in The New Yorker titled "A Manual for Sons."