Over the last several weeks, the staff at Books Tell You Why have been working hard to create the guides and ebooks requested by you, our readers. When you ask for something, we listen. Through your feedback, we've learned that readers want more than blog posts about rare books and collecting. They want high-quality, in-depth ebooks that they can download and peruse at their leisure. We are happy to announce that we've produced several such guides and they are available to any of our readers free of charge. More are on the way. Don't see what you're looking for? Let us know. Many of our best ideas have come from readers like you.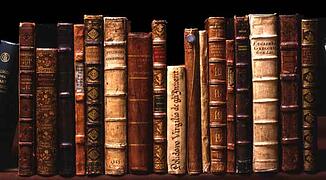 What ebooks and guides do we offer? Check the list below for a complete listing:
1. Guide to Rare Book Care
The Guide to Rare Book Care offers a great framework for mastering the basics of: shelving and storing rare books, maintaining ideal environmental conditions, dust jackets & facsimile dust jackets, reading your rare books: why or why not, storing and preserving ephemera, proper handling techniques, and preventing and repairing fire damage.
2. Book Restoration Guide
The Book Restoration Guide offers a great overview for learning the basic principles of rare book restoration. Learn how to prevent and reverse foxing, banish "old book smell," win the battle against bookworm, banish ghosts and shadows, and learn some of the terms and simple principles of care for your books collection.
3. Caldecott Collector's Guide
The Caldecott Collector's Guide reveals how to begin or expand a Caldecott collection of lasting value, including a brief history of Randolph Caldecott and the Caldecott Award, a synopsis of each winning book with cover illustration, a checklist format for tracking your collection, and first edition identification guidance for most titles.
4. Newbery Collector's Guide
The Newbery Collector's Guide offers a useful framework for creating a first-class collection of Newbery Award-winning titles. Learn the history of John Newbery and the Newbery Award, read a synopsis of each winning book and see the cover illustration, use a checklist for tracking your collection, and gain first edition identification guidance for most titles.
5. First Edition Identification Guides:
The First Edition Identification Guides are essential tools for collectors trying to identify first editions published by specific publishers. Find out more about the history of these renowned publishers, famous books they published, and the significance of the print-number line.
6. Legendary Author Collector Pages:
Read biographies and articles about legendary authors and browse a selection of their collectible books on the following pages:
Don't see what you're looking for? Just leave a comment with your suggestions below: