Today we celebrate Edgar Allan Poe, master of the short story and inventor of detective fiction. Although best remembered for his sinister tales and mysteries, during his life Poe was known for his scathing literary reviews. Poe lived most of his life on the brink of poverty and was the first well-known American author to live solely on his writing. Although his work initially received mixed reviews, Poe has since emerged as one of America's most beloved writers.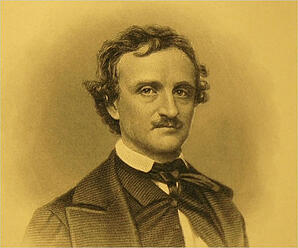 Poe was the son of traveling actors, born in Boston on January 19, 1809. Orphaned at the age of three, he was raised by a wealthy tobacco merchant, John Allan, and his wife in Richmond, Virginia. Allan intended Poe to follow his footsteps as a businessman and southern gentleman, but Poe had ideas of his own. Emulating his hero Lord Byron, young Poe wrote poetry on the back of Allan's business papers. By the age of thirteen, he had composed enough poems to publish a book. However, Allan followed the advice of Poe's headmaster and refused to allow the publication of Poe's work. This was the first of many disputes between Poe and his guardian.
Poe began studying at the University of Virginia in 1826. He excelled in his classes although soon left the university for financial reasons. Since Allan had provided Poe with less than a third of the money required for his educational expenses, Poe began gambling to earn money. He accumulating debt instead and left school impoverished. Upon his arrival back home, Poe discovered that his fiancée had become engaged to another man. This event only magnified his anger toward his guardian and precipitated a total break with Allan. In 1827, Poe left Richmond and enlisted in the army. The same year, Poe published his first book, Tamerlane and Other Poems, at the age of eighteen.
Two years later, the death of his foster mother, Frances Allan, led to a brief reconciliation between Allan and Poe; following this event, Allan helped Poe gain admittance to the West Point Military Academy. However, Poe's career at West Point was short lived. Infuriated that Allan had remarried without informing him, Poe wrote a letter to his guardian outlining all the many wrongs he had suffered and vowing to get himself expelled from West Point. Eight months later, Poe fulfilled this promise and with the help of his former classmates published another book.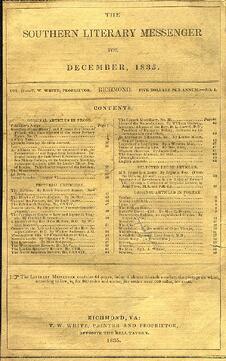 Poe turned to his father's relatives for help and found a new foster mother in his aunt, Maria Clemm. Poe published several short stories and began work as an editor of the Southern Literary Messenger. Due to Poe's thrilling stories and scathing literary reviews, the Messenger became the most popular magazine in the South. Poe was fearless as a critic, often attacking both the author and his work. James Russell Lowell described Poe as "the most discriminating, philosophical, and fearless critic upon imaginative works who has written in America." Poe's favorite victim was Henry Wadsworth Longfellow, whom he viewed as a preachy plagiarist.
On September 22, 1835, Poe married his first cousin, Virginia Clemm. Although she was only thirteen years old to Poe's twenty-six, it was by all accounts a happy marriage. Poe continued to eke out a living by writing for various magazines. In 1839, he published his first book of short stories, Tales of the Grotesque and Arabesque to mixed reviews. He was paid with only 25 free copies of the book. In 1842, Poe's wife began suffering from tuberculosis. Poe decided to move to New York City in hope of improving their financial situation.
His poem "The Raven" was published in the Evening Mirror on January 29, 1845. The poem, considered Poe's best, explores the themes of death and loss and was likely inspired in part by the failing health of Poe's wife. Despite earning only $9, "The Raven" made Poe a household name and enabled him to demand higher pay for his writing.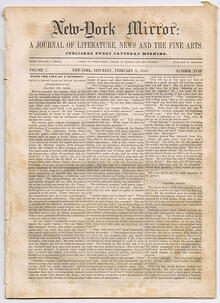 In 1847, Poe's wife died at the age of 24. Poe was inconsolable and his health began to deteriorate. He began traveling across the country giving lectures but his behavior became increasingly erratic. Just two years later, a passerby found an incoherent Poe wandering the streets of Baltimore. He was taken to the hospital where he died a few days later, on October 7, 1849. During his hospitalization, he was too delirious to explain how he came to be so ill and why he was wearing someone else's clothes. The night before his death, he reportedly called out for "Reynolds," although no one knows to whom he referred. His medical records and death certificate have all been lost, but newspapers reported that he died from "congestion of the brain." The real cause of Poe's death remains a mystery, however.
Following Poe's death, writer Rufus Griswold published a scathing obituary and biography about Poe. Griswold was angry over the criticisms Poe had made during his life and sought to ruin his legacy. He portrayed Poe as a deranged drunkard and womanizer who, though gifted, led a troubled life. These descriptions long shaped the public view of Poe but only increased the popularity of his works. Griswold's assertions have now been entirely dismissed. and Poe has become one of the America's legendary authors.