This week we celebrate Edward St. John Gorey, born February 22, 1925. "He was a cartoonist in the widest definition and a major illustrator in the smallest," said friend Alexander Theroux. "Edward was one of the few people I ever knew who did exactly what he wanted." Gorey published over 100 books and illustrated dozens for other writers, including Charles Dickens, T. S. Eliot, Edward Lear, Muriel Spark, John Updike, and H. G. Wells. He was a regular contributor to The New York Review of Books, and illustrated every anniversary cover between 1978 and 1998. Editor Barbara Epstein described his drawings as "beautiful, ravishing."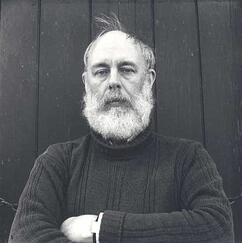 Gorey was born in Chicago to Helen Dunham and Edward Gorey. His parents divorced when Gorey was 11 years old, but remarried when he was 27. Gorey inherited his artistic ability from his maternal great-grandmother, Helen St. John Garvey, a popular greeting card writer and artist. A talented youngster, Gorey taught himself to read and draw by the age of three. Although he studied one semester at the Art Institute of Chicago, Gorey received no other formal art training.
After high school, Gorey joined the army in 1942. He spent most of World War II as a clerk at the Dugway Proving Ground in Utah where the government experimented with poison gas. He attended Harvard University in 1946 and graduated four years later with a degree in French literature.
Gorey began illustrating book covers for the Art Department of Doubleday and published his first work, The Unstrung Harp, in 1953. Andreas Brown, owner of the famous Manhattan bookstore, Gotham Book Mart, first brought Gorey into the public eye. "It became the central clearing house for Mr. Gorey, presenting exhibitions of his work in the store's gallery and eventually turning him into an international celebrity," wrote Mel Gussman in The New York Times.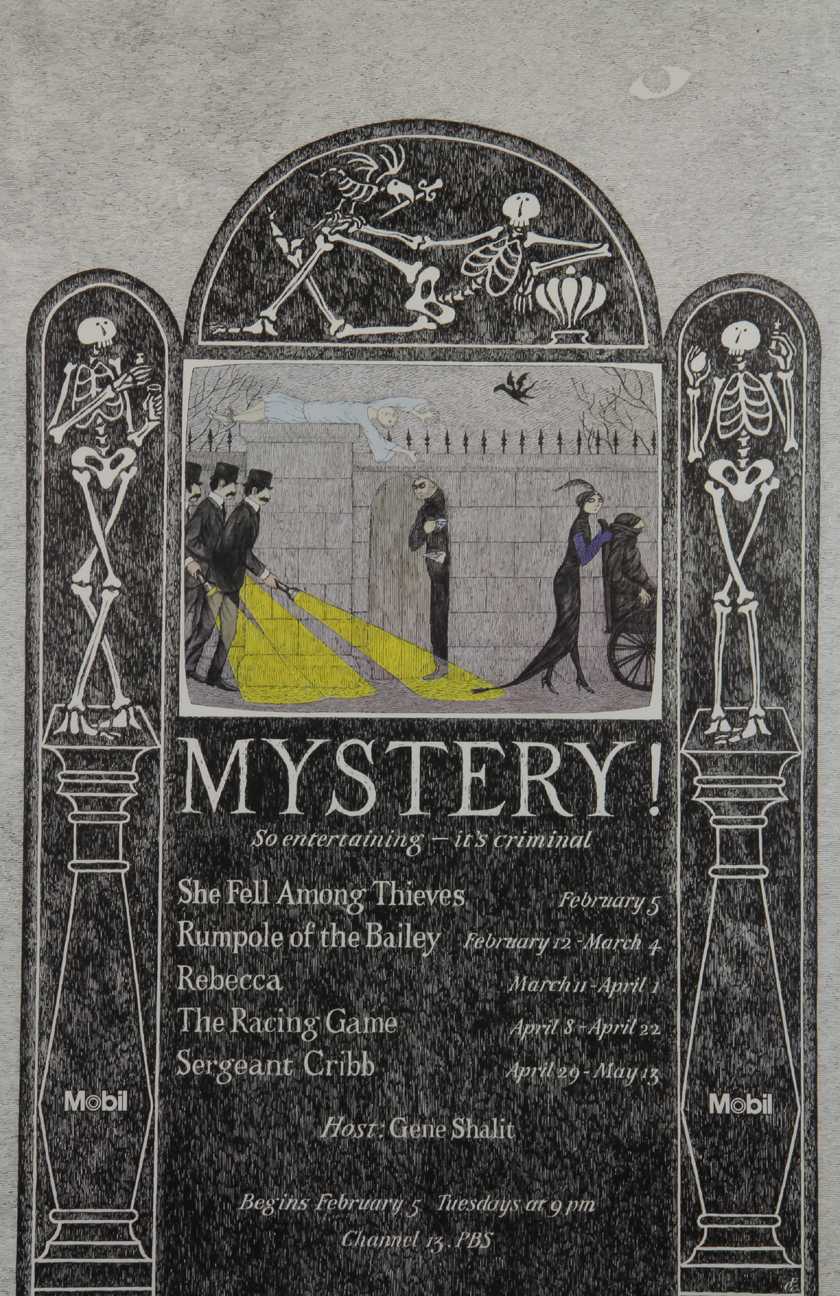 Gorey described his work as "literary nonsense" and was quoted in The Boston Globe saying, "Ideally, if anything were any good, it would be indescribable." Given these sentiments, his books are appropriately difficult to classify. Sometimes found in the humor or cartoon sections of bookstores, other works such as The Object Lesson are acclaimed as serious surrealist art. Some of his books are wordless, others are the size of matchboxes. Most are set in Victorian or Edwardian times with grim storylines. Writer Edmund Wilson described Gorey's work as "equally amusing and somber, nostalgic at the same time as claustrophobic, at the same time poetic and poisoned." Gorey is perhaps most well-known for his animated introduction to the PBS series, Mystery!.
Although called a recluse by some, Gorey attended every performance of the New York City Ballet for nearly thirty years. "He was a very poor hermit," said Theroux. "Goth people would flock over there [to his house]… But he was always very accessible, and people would always stop over to see him." Gorey died in 2000 and left the majority of his estate to a charity benefiting cats, dogs, and other species including bats and insects.