Have you met Eloise? If not, allow me to introduce you. Eloise is a precocious little lady. She lives with her nanny and her pets - a dog and a turtle - at The Plaza Hotel in New York. Eloise is spunky and mischievous, and she spends her days adventuring in and around the hotel when she's not traveling. Eloise is the epitome of a know-it-all, because, at six years old, she of course, knows it all. Her escapades are detailed in her own words over the course of four classic children's books.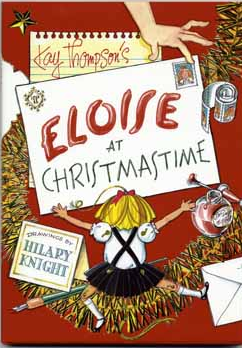 Eloise is the brain child of author Kay Thompson. She first created the character of Eloise after arriving late to the set of a Williams Brothers production where she was working. In a high-pitched, childish voice, she apologized and went on to explain, "I am Eloise. I am six." Thus, Eloise was born. Her coworkers developed their own personalities and took up the charade. The drama of Eloise and friends played out on set as a humorous way to pass the time. That was 1949. It wasn't until 1955 that the rest of the world was introduced to the self-proclaimed "city child," Eloise.
Thompson's first Eloise book is titled Eloise: a book for precocious grown ups. She followed that up with three others including Eloise in Paris, Eloise at Christmastime, and Eloise in Moscow. There isn't a dull moment in any of Eloise's tales, as she brings the fun and frenzy with her wherever she goes.
The Eloise stories make perfect gifts for book enthusiasts. The original books were limited to 250-300 copies each and are a timeless addition to any collector's library. Likewise, the stories are appealing to readers of all ages. Eloise at Christmastime, for example, is bursting with the spirit of the season. The story gives readers a humorous escape into the mind of a young child as she navigates the shimmer and sparkle of the holiday. We observe Eloise scribbling "Merry Christmas" throughout the hotel, wrapping and distributing gifts, and meddling in her own unmatched ways.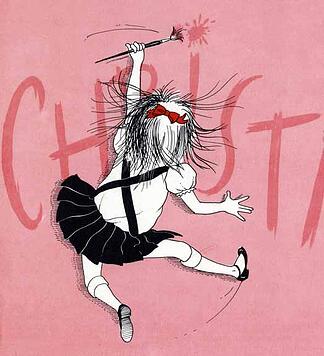 Thompson employs an interesting sort of writing style in Eloise at Christmastime, making it all the more intriguing of a read. She includes bits of gibberish and rhymes throughout the text, which aren't seen in the other books. Still, like all the Eloise stories, Thompson said that she listened to what Eloise had to say and then wrote it down verbatim. Clearly, the Christmas season had its effect on Eloise, and this book will spread the merriment to anyone who picks it up this holiday.
All the Eloise tales are impeccably illustrated by Hilary Knight, and his pictures make them even more enchanting. As the American Artist described, "Eloise, as Knight has drawn her, is the perfect image of a precocious little girl, naughty yet lovable." Knight created an inerrant face to match Eloise's priceless personality.
Some of Knight's illustrations and sketches that didn't make it into the original Eloise books, as well as extra information and photos of Thompson, can be found in The Absolutely Essential Eloise. This book, which also includes the original Eloise story, was published a year after Thompson's death in 1999.