During World War II, Ernest Hemingway was determined to be a spy. He spoke to no less than four governmental entities on the matter. Three were American: the American embassy in Cuba, the Office of Naval Intelligence (ONI), and the Office of Strategic Services (OSS). One was Russian: the NKVD, a forerunner of the KGB. He accepted positions from three—the American embassy in Cuba, the ONI, and the NKVD—and worked simultaneously for the Americans and Russians from 1941-1943.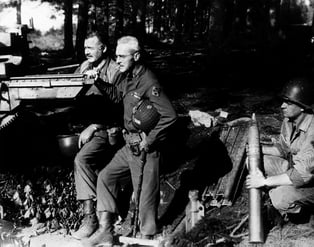 His involvement with these agencies began prior to the United States' participation in World War II. Hemingway was living with his third wife, Martha Gellhorn, in Finca Vigia, Cuba. They had collected an eclectic group of friends ranging from writers and artists to sailors and prostitutes. Despite Hemingway's disdain for government officials, he became friends with Spruille Braden, the U.S. ambassador to Cuba, and Robert Joyce, Second Secretary for the embassy.
During 1942, Braden and Hemingway created an informal intelligence service in Cuba—nicknamed "the Crook Factory." This organization—composed of six full time operatives and twenty undercover agents—was intended to monitor fascist sympathizers, discover communists, and identify Nazi spies. The FBI deeply resented Hemingway's work, seeing the Crook Factory as an amateur group that infringed on its jurisdiction. Moreover, they became concerned over Hemingway's investigation of Cuban officials, fearing repercussions if the Cuban government discovered his work.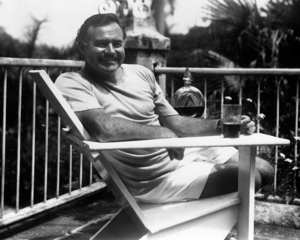 Despite its efforts, the Crook Factory failed to uncover any spies or useful information. Toward the end of 1942, Hemingway stepped down as leader and met with Braden and the ONI to propose a new idea. He would trawl along the Cuban coast in his boat, the Pilar. He and his crew would search for German submarines and attack the U-boats with bazookas, machine guns, and grenades. ONI representative, Col. John Thomason, agreed to supply Hemingway and his boat but made his doubts about the mission clear. Hemingway and his crew navigated Cuban waters from 1942 to 1943. During that time, they spotted one U-boat but it sailed away before they could approach. Hemingway tired of the scheme by 1944 and traveled to France as a war correspondent.
Simultaneous to his intelligence work with the ONI and the Crook Factory was his involvement with Russia's NKVD. The NKVD, or the People's Commissariat for Internal Affairs, was a direct predecessor of the KGB. NKVD operative, Jacob Golos—also handler of such notorious spies as Julius Rosenberg and Elizabeth Bentley—recruited Hemingway in early 1941. After their meeting, Golos reported that Hemingway was cooperating on "ideological grounds" and would help in any way possible. Hemingway was given codename "Argo;" he met with NKVD operatives four times between September 1943 and April 1945.
Despite his willingness to assist the NKVD, his association with them ended in nothing. Much like his time with the Crook Factory and the ONI, Hemingway accomplished little. His NKVD file summarized his record thus, "Our meetings with 'Argo' in London and Havana were conducted with the aim of studying him and determining his potential for our work. Through the period of his connection with us, 'Argo' did not give us any polit. Information [sic], though he repeatedly expressed his desire and willingness to help us."
Upon reviewing Hemingway's intelligence career, it is unclear whether he was an enthusiastic but incompetent spy or whether he dabbled in espionage for his own ends. His political beliefs were ever complicated and uncertain. Hemingway went so far as to say, "All the contact I have had with politics has left me feeling as though I had been drinking out of spittoons."