Mark Twain, the father of American Literature, captured the limelight of his age in a way that no writer has since. The stories that surround him are the stuff of myths and legends. His influence as America's greatest "funnyman" has lasted for over a century. Twain's relationships are just as interesting as Twain himself. From presidents to inventors, Twain brushed shoulders with many of history's giants. Today, we explore some of Twain's many famous friendships.

Friend of the Stowes and

Nikola Tesla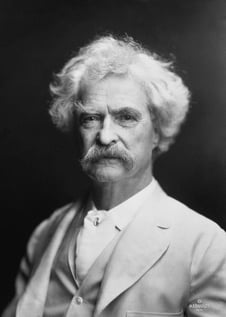 One of Mark Twain's good friends and neighbors was Harriet Beecher Stowe, who wrote Uncle Tom's Cabin. In fact, Harriet's brother, Thomas Beecher, performed the ceremony at Twain's wedding. Her other brother helped Twain to negotiate publishing terms. Twain was interested in the reaction to Stowe's book and hoped that he could replicate the success with The Innocents Abroad. Twain would later come to defend Stowe during the Byron Scandal.
Twain was also good friends with the inventor and visionary Nikola Tesla. Tesla had admired Twain's work for a long time, crediting it with saving him from depression while he was bedridden. Twain and Tesla met sometime in the 1890s and remained friends until Twain's death in 1910.
Championing Helen Keller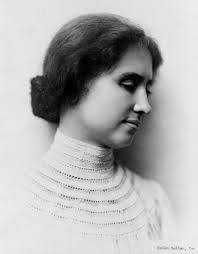 One of the people who left the most lasting impression on Twain was Helen Keller. Twain and his friend and editor, William Dean Howells, met Keller when she was fourteen. He wrote that, "She is fellow to Caesar, Alexander...Homer, Shakespeare, and the rest of the immortals. She will be as famous a thousand years from now as she is today." Twain was interested in Keller's uncanny ability to "see into things," as opposed to most people who had the gift of sight but could only stare at the world around them. He went so far as to secure funding for her higher education.
Keller, who had financial difficulties, passed the entrance exam for Radcliffe College. Twain wrote to the wife of the Standard Oil magnate Henry Rogers. Twain asked for the other chiefs of Standard Oil to come together and sponsor Keller's education. Instead, Henry Rogers decided he would personally pay for all of Helen Keller's college. It wasn't the last time Twain would come to Keller's rescue.
One of Helen Keller's "friends" tried to involve her in a scheme that Keller wanted no part of. The friend tried to convince Keller to leave college and start a school for afflicted children. The friend would gather the finances for the school. Keller's friend also insisted that the institution they would found embodied the will of God. Twain filled in for Mr. Rogers at the meeting where the friend hoped to secure funds for the endeavor. Twain rebuked the friend saying, " I couldn't help wondering how she got every detail of the divine idea right when there were no written instructions." The dispute ended there.
Sticking Up for Ulysses S. Grant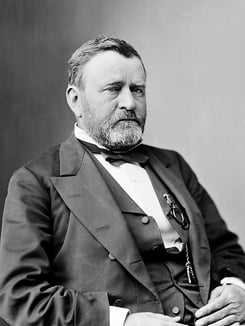 Twain wasn't just Helen Keller's champion. Twain also saved U.S President and General Ulysses S. Grant from financial ruin. Grant and Twain first met when the former was still president. Twain was one of the few individuals who could make Grant break his rigid character and laugh. After his term in office, Grant ran into financial troubles. Ferdinand Ward, one of the greatest swindlers in American history, was one of Grant's colleagues. He had developed a Ponzi scheme and invested Grant's money in it. When the scheme collapsed Grant lost everything. In order to recuperate his losses Grant began writing his memoirs as well as publishing articles; however, Grant did not have much confidence in his writing. It was around this time that Grant was also diagnosed with throat cancer. Dying and broke, Grant's family would have been left in ruin if not for Twain.
Twain overheard the editor of Century magazine talking about the articles Grant had been writing. When Twain heard that Grant was paid $500 for each article he was stunned. Twain considered it a massive insult to the former president. Twain went to Grant and looked at the contract that had been drawn up for his memoirs. The deal offered Grant 10% of the royalty and half the profits of the book. Twain told Grant that the deal was absurd and offered him a much better contract through his own publishing house. Eventually Grant agreed to Twain's offer, although he was reluctant to take an advance because he was scared Twain would lose out on the deal. Five days after finishing his memoirs Grant succumbed to throat cancer. His memoirs became an instant bestseller and at 75% net royalties, made his family around $450,000, firmly reestablishing the fortune they had lost.