Whether you fancy the trick or the treat, Halloween may perhaps be the most polarizing holiday. Ask any Halloweener why they're not quick to don a pirate get-up or nurse uniform and the answer is usually the same: "I don't know what to dress-up as."
Mummy? Cowboy? Prisoner? Political figure of the day? For a reader with a voracious imagination, these well-worn paths offer very little appeal and only heighten the anxiety about choosing the best costume to wow friends at your Halloween party.
But this year, literary Halloween-goers can rest easy and indulge in a little more candy or that second cup of punch as below you'll find some DIY costume ideas inspired by some of the most well-known characters across a wide spectrum of American letters that will be the envy of the most ambitious of the costumed kind, but will also be great conversation starters as you gab with party-goers about your favorite books and the characters that populate them.
Ishmael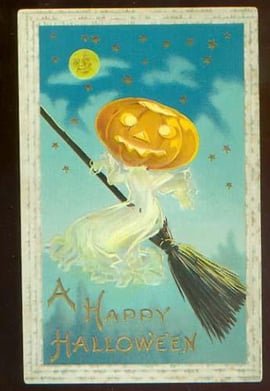 To start small, a costume of the narrator in Herman Melville's American classic Moby Dick (1851) requires the least amount of organization and work to create. A quick stop at your local office supply store will no doubt yield a wealth of options for the ubiquitous 'Hi, my name is…' nametag. Simply scribble ISHMAEL in the space provided, slap the sticky tag on your shirt, and you'll be ready to go in no time. It's a fast, affordable, and quirky literary costume for those still struggling for excitement about the holiday.
Of course, with such a simple concept, it might not hurt to memorize a few interesting facts about Melville and Moby Dick to help solidify your status as a true connoisseur of the classics. Like, for example, did you know the 635 page novel only took Melville about a year and a half to complete? Or, aside from the famous opening line, that Melville's narrator is only referred to as 'Ishmael' once throughout the entire novel?
Hester Prynne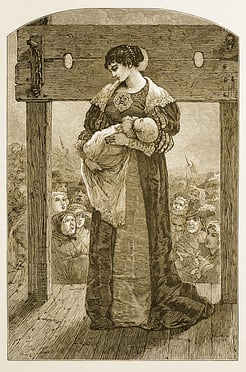 Another take on the inexpensive and the provocative comes in the form of the condemned woman at the center of Nathaniel Hawthorne's masterpiece, The Scarlet Letter (1850). Prynne, the narrator and protagonist, is forced to wear a prominent scarlet letter 'A' across her chest after the New England Puritan community in which she resides believes she committed adultery with the town pastor and bore his child.
The 'A' emblazoned across Prynne's chest is meant to serve as a reminder of her transgressions, but its versatility in costume-form allows for maximum creativity.
Want to dress it up? A period-looking dress for a seamstress or other local townsperson will suffice, and it's something easily found at most costume or Halloween supply stories. Want to dress it down? Just hit-up your local fabric store for a letter A and tape it on your chest the night of the party for maximum fun.
Either way, it might not be a bad idea to give The Scarlet Letter a second read before October 31 so you'll be sure to avoid any of Prynne's mishaps…
Huck Finn
First appearing in Twain's The Adventures of Tom Sawyer (1876) as the titular character's sidekick, the scraggly 13-year-old troublemaker, raconteur, and quintessential innocent has his own turn as Twain's protagonist with The Adventures of Huckleberry Finn, in 1885. Dressing up like America's most beloved vagabond does require some effort, although nothing a straw hat, old pair of blue jeans (hiked up high on the waist, of course, because Finn didn't have the luxury of a belt) and white t-shirt won't fix. Pinch a piece of straw between your teeth and even ditch the shoes for full-on authenticity, and you'll be set to drift down the Mississippi River to nowhere in particular in no time.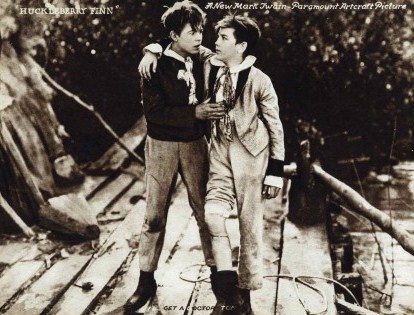 Jay Gatsby
If you're looking to make the scene as one of American literature's most tragic figures, then F. Scott Fitzgerald's Jay Gatsby is for you. Dapper, dashing, refined, and wholly put-together, emulating the title character from Fitzgerald's The Great Gatsby (1925) is no small feat. A resident of the glitz and glam of the 1920's Jazz Age, a Gatsby get-up will necessitate the following: white suit jacket and pants; dark blue or teal shirt; brightly-colored necktie; white shoes; and a decorative cane. Hell, it wouldn't be a bad idea to add a martini glass and pocket watch to help complete the vibe of opulence and excess for which Gatsby was so well-known. Make sure to give your Charleston a spiff and you'll be set to party like it's 1925…well, hopefully minus the pining for a long-lost love and vehicular homicide.
Nancy Drew
To capture the essence of young adult literature's most famous sleuth, one might shell out some bucks, but the number of heads you'll turn at your Halloween gathering will far outweigh the cost. First appearing on the literary scene in 1930, Drew has undergone a number of aesthetic and cosmetic upgrades through 175 volumes from 1930 through 2003. Author Edward Stratemeyer, who also created The Hardy Boys novels, originally wrote The Nancy Drew stories as a point-counterpoint to The Hardy Boys tales. Published under the pen name Carolyn Keene, Drew's iconic look is something of a hipster's dream: a vintage plaid and patterned dress; saddle shoes or 1950s Oxfords; and an antique-style magnifying glass. For those chilly October nights, add white tights or leggings and maybe a cloche-style hat, and you'll have captured the aura of one literature's most beloved heroines.
This Halloween, turn to your books for costume inspiration. Did we leave out a favorite character of yours? Share it with us below. We hope these ideas help you to make a big, bookish splash at your costume party. Have fun!