Charlotte Brontë, the oldest of the legendary Brontë sisters, is best known for her classic novel Jane Eyre. Celebrate her birthday this week by testing your knowledge about her life and works.
1. Charlotte Brontë based Lowood, the fictional school in Jane Eyre, on an institution that she attended with her sisters.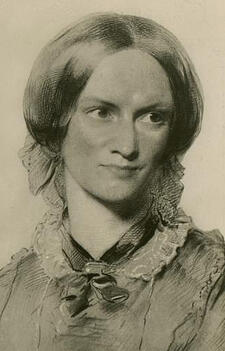 In 1824, Charlotte and her sisters Maria, Elizabeth, and Emily, enrolled in the Clergy Daughters' School. Strict to the point of cruelty, the school fed students rancid food, provided freezing water for washing, and beat students publicly. The sisters left the school in 1825 after a typhus outbreak killed several other students. Yet shortly after, Maria and Elizabeth died from tuberculosis. Charlotte believed that her sisters' deaths were a direct consequence of the poor conditions at the school.
When she wrote Jane Eyre, Charlotte based the character of Mr. Brocklehurst—the cruel and hypocritical director of Lowood—on Reverend W. Carus Wilson, founder of the Clergy Daughters' School. Wilson recognized himself in the book and threatened to sue Charlotte, forcing her to write a letter of apology.
2. Three years before writing Jane Eyre, Charlotte fell in love with her teacher--who was married.
While living in Belgium, Charlotte fell in love with her married teacher, Professor Constantin Heger. She wrote many letters to him that referencing these feelings, "If my master withdraws his friendship from me entirely, I shall be absolutely without hope." Heger tore up the letters and threw them away. His wife salvaged them, however, and sewed them back together. Charlotte's feelings for Heger served as the basis of her novel Villette, about the unrequited love of a woman for her instructor.
3. The mansion in Jane Eyre and its lunatic resident were modeled after a real house and a real "madwoman."
While working as a governess, Charlotte visited Norton Conyers, a historic house in North Yorkshire. Norton Conyers bears a strong resemblance to the fictional Thornfield, particularly with its secret staircase that leads to a hidden chamber in the attic. Some sixty years before Charlotte visited the house, a "madwoman" had been locked in the room. In her novel, Jane Eyre, Charlotte used the story of this woman as the basis for the character of Bertha, a dangerous lunatic locked away in the attics of Thornfield.
4. Charlotte was friends with celebrated writer Elizabeth Gaskell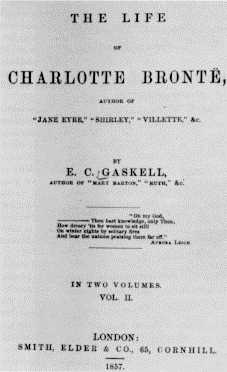 While only a casual friendship, Charlotte's relationship with famed author Elizabeth Gaskell was a significant one. Gaskell, a prominent writer in her day, did much to advance Charlotte socially. She also encouraged Charlotte to marry and helped improve the financial prospects of Charlotte's husband. After Charlotte's early death in 1855, Gaskell wrote The Life of Charlotte Brontë, published in 1857. The first biography about Charlotte, this work was pivotal in shaping the public perception of her. It was also unique at the time for focusing more on Charlotte's private life than her writing career.
5. Charlotte died of uncertain causes, possibly from extreme morning sickness.
Shortly after her marriage in June 1854, Charlotte became pregnant and very ill. Gaskell wrote that she experienced "sensations of perpetual nausea and ever-recurring faintness." It was during her pregnancy that Charlotte died. Her birth certificate cites "phthisis" as the cause of death; referring perhaps to tuberculosis or another wasting disease. In 1972, Philip Rhodes—a professor of obstetrics—put forth a different theory about Charlotte's death. He wrote, "The evidence is quite clear that she died of hyperemesis gravidarum… an excess of the nausea and sickness which most women suffer in early pregnancy." The condition would have been extreme: preventing Charlotte from eating and drinking and resulting in severe dehydration and malnutrition. While there is no consensus on the matter, many have come to accept Rhodes' explanation. If he is right, the tragedy of Charlotte's early death becomes even greater; with proper diagnosis and care, her condition could have been easily treated.