Born in April 4, 1928 as Marguerite Johnson in St. Louis, Maya Angelou had a difficult childhood. Her parents divorced when she was three, leaving Angelou to be raised by her grandmother. When she was seven, Angelou was sexually assaulted by her mother's boyfriend. After testifying against him, her attacker was beaten to death in an alley, causing Angelou to believe her voice was too powerful. She decided to remain nearly mute for the next five years. During this time Angelou connected with the written word, paving the way for her future as a writer.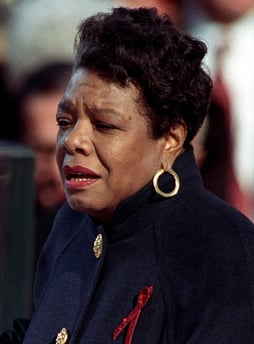 Angelou's importance cannot be overstated. We've compiled five interesting facts about her life below. This is just as overview because, as many know, a lifetime of study wouldn't be enough to unwrap all the layers of Angelou's life and work. And, she is sure to continue to impact many in generations to come. If you're interested in learning more, see the bottom of this post.
1. She is more than an author
Throughout her life, Maya Angelou accomplished many things. Before becoming an author at the age of 41, Angelou had worked as a cook, waitress, sex-worker, performer, playwright, editor, and director. She won three Grammys for best spoken word albums and was nominated for a Tony Award in 1973. By the age of 16 she was the first African-American and the first female streetcar conductor in San Francisco.
2. She wrote a poem for a Presidential Inauguration
Angelou was the second author to write a poem for a Presidential Inauguration, following Robert Frost's "The Gift Outright" presented at John F. Kennedy's inauguration. She wrote "On the Pulse of Morning" for President Clinton's inauguration. Clinton, himself, was inspired by I Know Why the Caged Bird Sings. Angelou grew up near Clinton's birthplace in Hope Arkansas, and her work reminded Clinton of his grandfather and his life in Arkansas.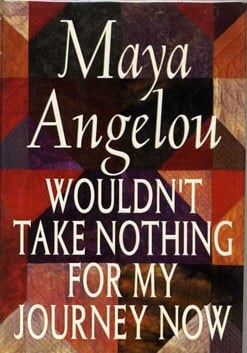 When asked in an interview with Bryant Gumbel about the work that went into the poem, Angelou shared that she hoped to write "for the American people." It was her dream that we would all "look at each other," and "find trust in each other's eyes." Angelou claimed in the same interview that she was anxious about reciting the poem and managing the emotions of the day. Her recitation proved to be flawless. On that brisk January 20 morning in 1993, her poem resonated deeply and earned her critical acclaim. Read more about Angelou's inaugural poetry here.
3. She comes from a long line of strong women
Angelou's mother and grandmother both were examples of strong female role models in Angelou's life. In addition to being a nurse and helping deliver her grandchild, Angelou's mother worked as a seaman. When the union said they would not let women join, she only became more determined, becoming the first women to join and go to sea. Angelou's grandmother, who ran a grocery store, helped instill a confidence of being loved. She also taught Angelou not to lie to herself or others, not to boast, and not to complain.
4. Her first book was an instant best seller
I Know Why the Caged Bird Sings, published in 1969, is an autobiography covering Angelou's childhood from the age of 3 through 17. In her work, Angelou discusses racism, trauma, and rape, and how she was able to overcome and grow from these challenges. Since its publication, the book has never been out of print, proving its continued relevancy 50 years after its publication.
5. She wrote in a hotel room
In order to concentrate on work, Angelou would rent out a hotel room near her home when she was writing. She would arrive by six, taking a thermos of coffee with her, working until noon or one before returning home to work further. After taking the room, she had all of the decorations and furniture removed so there was only a bed and table and chair in addition to a thesaurus, dictionary, legal pad and pens, and a bottle of sherry.
Looking for a thorough overview of Angelou's life? Read on!
Marguerite Ann Johnson was born in St. Louis, Missouri on April 4, 1928. When she was three years old, her parents divorced, sending both Maya and her brother, Bailey, to live with their paternal grandmother in Stamps, Arkansas. Here, she was exposed to the harsh realities that African Americans faced in the South; however, her time in Stamps introduced her to the rich Southern African-American culture and community. Her grandmother instilled profound values and resilience in the young Maya, which would pervade her writings and make her the woman she is today.
When she was about seven years old, Angelou and her brother returned to their mother in St. Louis. At the time, her mother was living with a boyfriend who would later sexually abuse Angelou. She confided in her brother, who then informed the family of Freeman's transgressions. He was taken to court. Freeman was found guilty--and served only one day in jail for his crime.
Several days after he was discharged, Freeman was found dead—presumably murdered by Angelou's uncles. Being so young, she believed that her words had the power to kill Freeman and was traumatized. From this ordeal, Angelou refused to speak for almost five years. Through her silence she was able to open her mind to new things, allowing her imagination to grow. She read classics such as Shakespeare, Edgar Allan Poe, and Charles Dickens, in addition to reading contemporary poetry written by women of color.
At the age of fourteen, Angelou moved to Oakland, California with her mother and attended the California Labor School for dance and drama. Before graduating, she received a job as the first African-American streetcar conductor in San Francisco. When Angelou was seventeen years old, she gave birth to her only child, Clyde (Guy) Johnson.
In 1949, despite the disapproval of interracial marriage in society at the time, Maya married Greek electrician and aspiring musician Anastasios Angelopoulos. She continued to dance, taking classes, forming groups, and performing at various venues in San Francisco. In 1954, her marriage with Angelopoulos failed, and Angelou took a job singing and dancing professionally in night clubs. She had various stage names; however, she was encouraged to use the name Maya Angelou as her permanent stage name due to its genuine "Calypso" sound. Read more >>
Sources:
Grossman, Lev. (May 28, 2014). Maya Angelou: A Hymn to Human Endurance. Retrieved Feb. 22, 2019, here.
More, Lucinda. Growing Up Maya Angelou. (April 2003). Retrieved here.
Waxman, Olivia B. 5 Things to Know About Maya Angelou's Complicated, Meaningful Life. (April 4, 2018). here.