Born in 1939, Trina Schart Hyman spent her childhood in Doylestown, Pennsylvania. As a young adult, she studied at the Philadelphia Museum College of Art, the Boston Museum School of Art, and the Swedish State Art School in Stockholm, Konstfackskolan. She published her first work in 1961. From 1972 to 1979, Hyman started working as an artist and illustrator for Cricket magazine for children, eventually becoming the art director. Throughout her career, Hyman won the Caldecott Medal once and Caldecott honors three times. She illustrated more than 150 books.

Below, we've compiled a list of some of our favorite Trina Schart Hyman books.
1. Saint George and the Dragon
Written by Margaret Hodges, illustrated by Hyman, and originally published in 1984, this Caldecott Award winning book tells a portion of Edmund Spencer's The Fairy Queen. It follows Red Cross Knight as he is sent out to fight the dragon threatening the countryside. On his journey, during which he is accompanied by the Princess Una, he learns of his English heritage and that his name is George. After defeating the dragon and marrying Una, Red Cross Knight continues to serve the Queene of Faeries and becomes Saint George.
2. Little Red Riding Hood
Published in 1983, Hyman's retelling of the Brothers Grimm's classic fairytale was nominated for the Caldecott Medal in 1984. Like most retellings, Hyman's follows the original plot of Little Red Riding Hood, whom Hyman named Elizabeth, visiting her grandmother and having issues with the wolf. What sets Hyman's adaptation apart is her illustrations. The details and use of color add a nostalgic feel to her work.
3. A Child's Calendar
This book, written by John Updike, consists of twelve poems that follow a family through a year, showing how each month is unique. Hyman based her illustrations for this work off of her daughter's family. A Child's Calendar was one of the first award winning books to feature an interracial family. The illustrations accompany Updike's poems and show the family participating in activities each month. This collaboration—a republication of the 1965 original—was published in 1999 and nominated for the Caldecott Medal in 2000.
4. Sense Pass King: A Story from Cameroon
Katrin Tchana tells the story of Ma'antah, a girl with such intelligence that she is called Sense Pass King since she has more sense than the king. Ma'antah goes through many trials once the jealous king hears of her talent, but she prevails and is made queen in his place. Hyman's artwork showcases her use of rich color to reveal the beauty and humanity of her subject.
5. The Serpent Slayer and Other Stories of Strong Women
This anthology of 18 stories written by Katrin Tchana tells the tales of heroines from different cultures as they use intelligence and courage to overcome their challenges. Hyman's illustrations use a variety of different styles, including elements from the different cultures from which the tales were drawn. Her art uses many different standards of beauty, showing that intelligence and courage are more important than beauty or youth.
Interested in the work of other famous illustrators of children's books? See below!
A picture is worth a thousand words, and the illustrations in children's books are no exception. While the author weaves enchanting tales that ignite our curiosity, the illustrator brings the story to life. Here are ten classic children's illustrators who have made their mark on literary history.
Kate Greenaway
Kate Greenaway was born in London in 1846, and her illustration style is highly reminiscent of the era in which she lived. Her characters exhibit qualities similar to those of porcelain dolls, often depicted in traditional Victorian style clothing and settings. Despite their proper dress, the children in her works embody an element of playfulness and movement. Some of Greenaway's most popular books include Mother Goose, Under the Window, The Birthday Book, and Little Ann.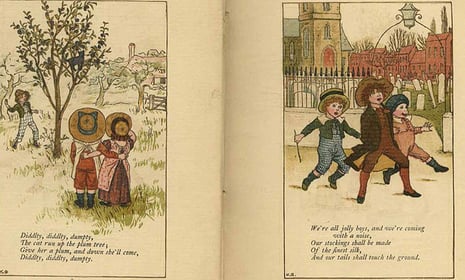 Randolph Caldecott
Randolph Caldecott was born in Chester, United Kingdom in 1846, and is the inspiration behind the Caldecott Medal for American Picture Books for Children; one need only look briefly at his work to understand why. His illustrations are filled with whimsy and humor, and include detailed backgrounds that set a captivating scene. Some of Caldecott's great works include Daddy Darwin's Dovecot, and the Hey Diddle Diddle Picture Book.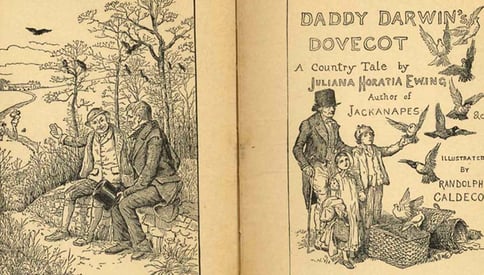 Walter Crane
In contrast to the element of chaos found in Randolph Caldecott's illustrations, Walter Cranepresents a more regal picture. His illustrations in The Baby's Opera: A Book of Old Rhymes with New Dresses and Beauty and the Beast exhibit more stoic representations of the stories, while still remaining true to the emotion of the text. Crane was born in Liverpool, United Kingdom in 1845, and experimented with several different medias to express his artistic talents throughout his life.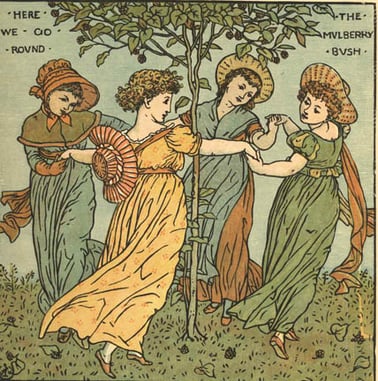 Arthur Rackham
Arthur Rackham's art provides a stark contrast from the first three illustrators. His use of predominantly dark colors gives the pictures a level of intensity that is not often found in children's books. The use of shading in his illustrations highlights specific details in the scene, while still presenting a very unified picture. Some of his great illustrative work includes Alice's Adventures in Wonderland, The Vicar of Wakefield, and Rip van Winkle. Rackham was born in England in 1867, but moved to Australia at the age of 17. Read more >>
Sources: Saxon, Wolfgang. (Nov. 24, 2004). Trina Schart Hyman, Book Illustrator, Dies at 65. Retrieved here.