With dozens of major works to his name, Rudyard Kipling was one of the most prolific writers of his time and a stalwart in the British literary landscape. Kipling was a master storyteller whose books transcended genre and audience, and his impact on the modern short story, children's books, poetry, and long-form narratives like the novel still resonates with writers today.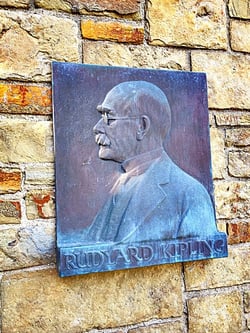 A Nobel Prize in Literature winner in 1907, Kipling's most famous works include The Jungle Book (1894), The Second Jungle Book (1895), and The Light That Failed (1891), as well as a number of seminal shorter works, most notably the poems Gunga Din (1890) and The White Man's Burden (1899).
Kipling's vast and expansive catalog of work—not to mention various editions of each major novel or collection—can make it difficult for the Kipling completist to discern which editions to search out, track down, or acquire. Whether you're looking for first editions, rare editions, illustrated volumes, or something else entirely, below are five unique editions of Rudyard Kipling books that are sure to entice the most die-hard fan and excite even the most seasoned rare book collector.
The Jungle Book (First American Edition)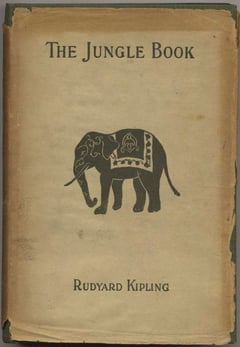 Published in 1894 by the Century Company in New York City, this first American edition of The Jungle Book is typified by its cloth binding and elegantly simple olive-green cover, complete with the silhouette of a small elephant. Perhaps Kipling's most famous work, The Jungle Book contains a number of interconnected children's fables centering on the adventures of Mowgli, an abandoned child raised by animals in the Indian jungle. This edition's simple, stark cover design is said to have pleased Kipling more than the British first edition for putting greater emphasis on the stories within the collection rather than the packaging itself.
The Second Jungle Book (First American Edition)
As with its predecessor, the first American edition of The Second Jungle Book is another beautiful volume complete with cover design and illustrations by Kipling's father, John Lockwood Kipling, an English art teacher, illustrator, and museum curator in India and London.
Published in 1895 only a few days prior to the British first edition, this rare incarnation features another understated terra cotta cloth cover, ornate amber-colored lettering for the title and author, and a hardcover binding as opposed to a cloth binding just one year prior with The Jungle Book. Kipling's second Jungle offering isn't quite the cohesive piece as the first, featuring only a handful of Mowgli-centered stories, but this edition as art or artifact is second to none.
Soldiers Tales
Soldiers Tales was published in 1896 as an illustrated collection of a handful of Kipling's previously published or collected stories and poems—something more of a collector's piece even during the author's heyday. Only about 5,000 copies of the edition were printed with full-illustrations and plates by Scottish painter Archibald Standish Hartrick, a well-renowned lithographic artist. While not necessarily know for his illustrations of literary works, Hartwick was a founding member of The Senefelder Club, a society established in London in 1909 to promote and advocate for the legitimacy of lithography as a valid and important form of artistic expression.
The Seven Seas (First American Edition)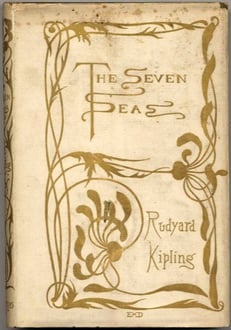 Kipling composed his poetry collection, The Seven Seas, hard on the heels of The Jungle Book and published the collection in 1896, dedicating the project to the city of Bombay, India where Kipling spent a number of years residing and drawing inspiration for his stories and poems. Published on the same day as the British first edition, the American edition is sought after for its hardcover binding and calligraphy-like lettering adorning the cover. This volume of poetry explores Kipling's relationship with travel, sailing, India, and his British roots—all of which are reoccurring themes throughout Kipling's adult-oriented writings.
Kim (First Edition)
Kim, published in 1901, is perhaps one of Kipling's more direct confrontations of the ramifications of British colonialism, all the while couched in something of a spy-thriller set against the backdrop of a political conflict between Great Britain and Russia in the years after the Second Afghan War. The novel contains some of Kipling's most intimate portraits of India's people, landscapes, cultures, and religions, and was originally published serially from December 1900 to October 1901 in London's McClure's Magazine. The first printing of the novel, in hardcover, features a red cloth spine and fine, detailed lettering, and particularly rare copies actually feature a six shilling price label on the bottom of the dust jacket.