Julia Child is arguably the most well-known cookbook author in America. Child launched her impressive career in 1961 with the publication of her book Mastering the Art of French Cooking co-authored with Simone Beck and Louisette Bertholle. The goal of the book was to make French cooking accessible to home cooks in America, and it was an unprecedented success. Its precise style and measurements changed the entire cookbook industry in the U.S., which had until then focused more on loose sketches of recipes. The success of the book as well as promotional television show appearances helped launch Child's career as a television cooking instructor.
Though people had cooked on TV before her, Child quickly became the most loved and well-known. Child went on to write seventeen more cookbooks, including The French Chef, The Way to Cook, and Julia's Kitchen Wisdom, as well as a successful autobiography, My Life in France. She continued to appear on television, starring in thirteen different cooking shows, spanning 1963 to 2000. Child passed away in 2004 at the age of 91, but her books continue to be published today, and her television shows still appear on public television stations. In an age of celebrity chefs, she is perhaps THE celebrity chef. Read on for more details about this beloved and enduring culinary powerhouse.
She Gave Her All During World War II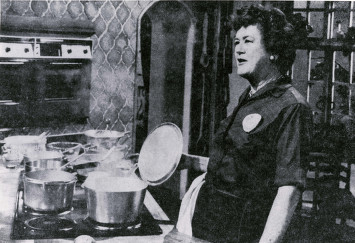 While primarily known for her cookbooks and public television programs, Child came to cooking somewhat later in life and had another career before she developed an interest in food. After graduating from Smith College, she worked in New York City for W. & J. Sloane as a copywriter. She left this job when the U.S. entered World War II. Due to her height (she was 6' 2'') she exceeded the maximum height for both the Women's Army Corps and the United States Naval Women's Reserve. Instead, she joined the Office of Strategic Services, an intelligence agency. Though she started as a typist, thanks to her education and skill, she was eventually promoted to the position of researcher directly under General William J. Donovan, the head of the Office of Strategic Service. She even received an award for her service and positive attitude. Her file detailing her work as part of the OSS was declassified in 2008 and is available in full online due to the extreme public interest because of her celebrity status.
Her Shark Repellent Recipe Is Legendary
During her time in the OSS, Child was part of a group tasked with helping to find a solution to the problem of sharks bumping into and accidentally detonating underwater explosives placed in the ocean by the Navy in the hope of blowing up German u-boats. Child helped devise a recipe made of copper acetate, black dye, and other ingredients. The mixture was formed into a cake which could be sprinkled into the water or placed in a box to be deployed automatically when submerged in water. The shark repellent mimicked the scent of a dead shark and reportedly deterred sharks from any treated area for up to seven hours. To this day the Navy still uses a formula based on her original recipe.
Jacques Pepin Was A Dear Friend
Chef Jacques Pepin is another French culinary powerhouse with numerous cookbooks and television programs under his belt, and one of the most popular shows he ever hosted was the one he shared with Julia Child. The two were introduced in 1960 when he had only recently moved to the U.S. They were introduced by Helen McCully, food editor of House Beautiful, and the two remained close friends until her death in 2004. Together they taught classes at Boston University in the hotel management program and helped create a masters in fine arts degree in gastronomy. Their lively rapport in these classes let to several television specials and eventually to their twenty-four episode series Julia and Jacques Cooking at Home. The series was awarded a Daytime Emmy in 2001.
The Julie/Julia Project Was A Smashing Success, but Julia Child Didn't Love It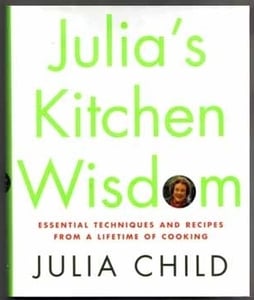 In 2002, writer Julie Powell started a blog chronicling her attempt to cook her way through the entirety of Child's seminal Mastering the Art of French Cooking. The project involved making all five hundred fifty-four recipes in just three hundred sixty-five days. The blog was a massive success, earning Powell a book deal with Little, Brown and Company. Her book, Julie and Julia: 554 Recipes, 365 Days, 1 Tiny Apartment Kitchen was published in 2005. The paperback edition was renamed Julie and Julia: My year of Cooking Dangerously. In spite of the success of the book and the attention it garnered for the already hugely successful cookbook, Child was reportedly not a fan.
According to her long term editor Judith Jones, she felt that trying to cram all of the recipes in one year was not the way to approach an education in French cooking. It seemed to Child like it was more of a stunt or gimmick rather than a dedicated effort to learn to be a better French cook. Powell's book and Child's own autobiography, My Life in France, were used as the basis for Nora Ephron's Julie & Julia in 2009. The film starred Meryl Streep as Julia Child, Amy Adams as Julie Powell, and Stanley Tucci as Julia Child's husband, Paul Cushing Child. Streep's performance earned an Academy Award Nomination and a Golden Globe win.