Fall is here, and that means Halloween is on its way. Whether or not you plan to dress up and party or stay home and pass out candy, we've gathered various middle-grade and young-adult books that are perfect for sharing with your family or with children in your life. These books will help you enter the Halloween spirit as we enter the spooky season. Join us as we take a look at some of these creepy books that are great for children and adult collectors alike:
The Halloween Tree by Ray Bradbury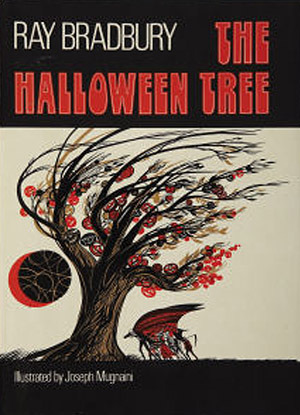 Ray Bradbury's 1972 novel The Halloween Tree began as a screenplay for an animated feature penned by Bradbury in 1967. When the movie never ended up moving past preproduction, Bradbury transformed it into the classic novel we know today. Featuring a group of friends who follow one of their number on a potentially deadly journey on Halloween night, this book is both adventure and history of the world's traditions surrounding death and the end of summer and how those traditions melded together to form how we celebrate this spooky holiday today. The book was eventually adapted into an Emmy-winning animation in 1993, but one of the best ways to enjoy the tale this Halloween is to read it aloud with the family, scary voices optional.


Something Wicked This Way Comes by Ray Bradbury
Bradbury's first Halloween novel, Something Wicked This Way Comes, was released in 1962. Less educational than The Halloween Tree, this book about growing up focuses on a battle between good and evil at a Halloween Carnival one year. The collaboration between father and son in this novel makes it ideal for families, though themes of evil and reflections on parents' mortality could make it too frightening for younger readers. A fantastic adaptation of the film was released by Disney in 1983.


Coraline by Neil Gaiman
Neil Gaiman's 2002 novella, Coraline, was given the Hugo Award, Nebula Award, and Bram Stoker Award. The popularity of the 2008 stop-motion film adaptation means this story is likely familiar to children who might not realize that it was based on a book. This dark fantasy horror story tells the story of Coraline, a girl who goes through a small door in her apartment to find a different version of her mother and father with buttons for eyes and plenty of time to play with her. The Other-Mother's sinister purpose is to chill and delight readers of all ages.


The Graveyard Book
Gailman's Newbury-winning novel 2008 novel The Graveyard Book, is split into short story-sized chunks, each focusing on an event in protagonist Nobody Owens' life after his family is murdered and he becomes the ward of ghosts in the graveyard, learning their secrets and special abilities. While some aspects of this novel may be frightening to younger children, the short structure makes it easy to pick and choose what parts are right for individual children.
Dragonfly by Frederic S. Durbin
Dragonfly, a horror portal fantasy novel published in 1998 by Frederic S. Durbin, follows a young girl who becomes lost in a strange world called Harvest Moon when her uncle hires a mysterious man to investigate strange events in the basement of his funeral home near Halloween. Part allegory of good and evil, part coming-of-age story, this novel features traditional Halloween imagery and is scary enough to be enjoyable for all ages.


Small Spaces by Katherine Arden
While Katherine Arden is best known for her young adult Winternight trilogy inspired by Russian folklore, she also has a delightfully spooky quartet of middle-grade novels starting with 2018's Small Spaces. Featuring themes of grief, urban legends of a mysterious Smiling Man, century's ghosts, a mysterious book, and a school field trip, this quartet is perfect for families hungry for Halloween stories and don't want to stop at just one book.