Herman Wouk has been described as America's Leo Tolstoy for the enduring power of his detailed, vividly imagined, and expertly researched historical epics. While that's not a comparison to be taken lightly, it's also worth noting that he has had more time than most in which to accomplish his various literary feats. Wouk, who turns 102 today, has published more than a dozen works of fiction and non-fiction alike over the course of an illustrious career dating back to the early 1940s. And, he's won a Pulitzer Prize in the process. For fans of historical fiction, it would be foolish to ignore the writer who NPR described as "a man who made American literature a kinder, smarter, better place."
The Caine Mutiny (1951)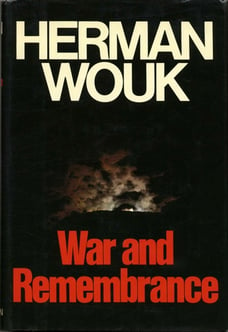 Wouk, who joined the Navy following the attack on Pearl Harbor in 1941, began his first notable work on the USS Southard, drafting what would become Aurora Dawn (1947). He sent the first few pages from his post in the Pacific back to a former professor of his in the U.S., who arranged for a publishing contract to be sent to the ship. After the war, the book was published, but it would be a few more years before Wouk fully established his literary reputation with the publication of The Caine Mutiny (1951).
Winner of the 1952 Pulitzer Prize, The Caine Mutiny was in large part based on Wouk's own experiences on a minesweeper ship in the Pacific. It builds to the court martial following its titular mutiny, which comes as a result of the ship captain's decision paralysis during a typhoon. The work would be adapted for the screen three years later, with the resultant film earning Humphrey Bogart an Academy Award.
The Winds of War (1971) & War and Remembrance (1978)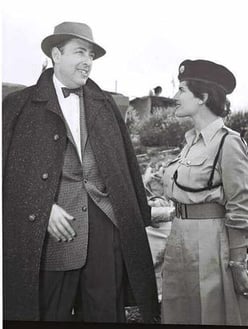 Few writers of historical fiction have the opportunity to draw from their own first hand accounts in their works. For Wouk, however, doing so was not only possible, but imperative in the case of his early novels. But as the scope of artistic ambition widened, his own personal experience had to give way to rigorous research. For his most well known novels, The Winds of War and its sequel, War and Remembrance, Wouk tried to capture the breadth of the Second World War in Europe, following the family of Victor Henry, a fictionalized confidant to Franklin Roosevelt. Over the course of the two 800-plus page opuses, Wouk gives a detailed and multi-layered depiction of some of the defining moments of the 20th century, including the horrors of the holocaust. Both too long for the silver screen, the books were ultimately adapted into popular mini-series. Though Wouk would produce other acclaimed works of fiction over the decades, like Marjorie Morningstar (1955) and Inside, Outside (1985), none would eclipse The Winds of War.
This is My God (1959)
While Wouk's best known works are undoubtedly his novels, he was also a frequent author of nonfiction. Perhaps his most well-known nonfictional work is This is My God (1959), which is styled as something of a 'field guide' to Modern Orthodox Judaism from the point of view of a deeply religious author. In fact, many of Wouk's works of nonfiction dwell on the topic of religion. And while they are not as frequently read as his fiction, reading these works lends context and perspective to Wouk's novels, giving a more complete portrait of an author who had religious devotion, in addition to a propensity for epic historical sagas, in common with Tolstoy.