Legendary illustrator Hilary Knight famously brought to life the impish Eloise. The son of two artists, Knight was born in Hempstead, Long Island. He lived next door to the public library for the first six years of his life and spent many hours among the books that later shaped his artistic style. Knight was particularly influenced by illustrators Edmund Dulac and E. H. Shepard. "These are probably my most favorite books of all," he said. "They are so funny. Shepard's pen-and-ink drawings [in Winnie the Pooh] are so simple and direct; he was a truly remarkable artist. Dulac, on the other hand, was sheer fantasy. He was glamorous and exotic."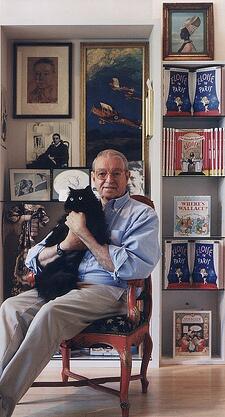 Knight's parents encouraged his artistic talents. According to Knight, his parents "had incredible technical training, which is rare these days." His mother "was always very busy and would give me a paper and colors and I would work too." While much of his style derived from his mother, his technical sense came from his father, an aviation illustrator. Knight never felt pressured by his family to become an artist. "I never thought I would be anything else," he said.
Knight trained under George Grosz and Reginald Marsh at the Art Students League in New York City before serving as ship's painter in the United States Navy in 1944. After leaving the navy, Knight studied architecture, interior design and theater design. Knight's drawings were first published in Mademoiselle in 1952. He sold humorous sketches to House & Garden and Gourmet the same year.
At the age of 28, after years of scrimping, Knight met actress and singer Kay Thompson. Thompson had long been entertaining friends with her invented character, Eloise. She would regale them with anecdotes about the precocious six-year-old and
even answer the phone with her "Eloise voice." Knight and Thompson immediately hit it off and developed a rough draft of the book, Eloise, describing the antics of a little girl living in the Plaza hotel. Simon and Schuster published Eloise in 1955 to overwhelming success. Thompson and Knight subsequently produced a series of children's books around the character: Eloise in Paris, Eloise at Christmastime, and Eloise in Moscow. Public demand for Eloise was tremendous. There were Eloise dolls, a clothing line, and even a hit song.
A decade later, Thompson suddenly brought the franchise to a halt. She was tired of sharing Eloise with the world and decided to leave only the original book in print. This unexpected shift was difficult for Knight, whose livelihood depended on his royalties from Eloise. Thompson had retained control of Eloise along with the majority of the royalties in a contract they signed before the book's initial publication. Knight defended Thompson, saying "I was never thwarted by Kay. Yes, it was a wicked contract, but you have to understand, I adored her."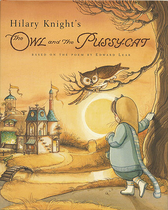 Since the end of his collaboration with Thompson, Knight has become an established illustrator and author in his own right. He has illustrated over 50 books, written nine, and completed many other projects from Broadway posters to drawings in Vanity Fair. Many of his beautifully illustrated children's books have become collector's items, particularly The Owl and the Pussy-Cat, The Twelve Days of Christmas, and The Circus is Coming. Contemplating his career, Knight reflects, "The success of Eloise spoiled me a little. Perhaps I had too much, too soon. My technique was not quite mature at the time of Eloise's publication. I believe that my work has improved since that initial success."