Today, we remember the life of minister, Nobel Peace Prize winner, and civil rights activist, Martin Luther King, Jr. King was a man of action and moral conviction. He led by his example and sought a better world for his children and his fellow man. We would all do well to follow his lead and work towards his goals which are, sadly, yet to be realized. However, his legacy remains one of courage and nonviolence in the face of hatred. We've rounded up several of our past posts to pay tribute to the late, great MLK Jr. We've also included the video of King's I Have a Dream speech. We hope this post inspires you today.
In the United States on the third Monday of every January, we have the opportunity to come together as a nation and celebrate the life and legacy of Martin Luther King Jr. In the midst of the chaos and oppression that accompanied the Civil Rights Movement, Martin Luther King Jr. rose above hate and violence to guide a broken nation toward a future where people "will not be judged by the color of their skin but by the content of their character." As our country once again navigates divisiveness, we are faced with two choices: to be silent, or to lean into the discomfort and work for change. To celebrate this important holiday and find inspiration for continuing King's work, consider these ten books.
The first five pertain directly to Martin Luther King Jr. and the Civil Rights Movement, while the last five cover racism and oppression in America today. So pick your book, find your voice, and dive into the narratives of advocates past and present. Together we can continue MLK's mission to create a more just and loving world.
1. Strength to Love
Written by Martin Luther King Jr. and published in 1963, Strength to Love is a compilation of several of King's sermons that speak out against racial inequality.
2. The Autobiography of Martin Luther King Jr.
What better way to learn more about Martin Luther King Jr. than to delve into his autobiography? Editor Clayborne Carson compiled interviews, recordings, correspondence, and writings to create an incredible first-person account. The book was published over 30 years after King's assassination.
3. My Life with Martin Luther King Jr.
Published in 1969, Coretta Scott King's memoir details her life experiences during the Civil Rights Movement as King's wife and confidant, and the immense heartbreak brought on by his assassination. Read More >>
Have you been following news about civil rights activism on social media and in your community? Are you wondering more about how current protests for equality have ties to the Civil Rights Movement of the 1950s and 1960s in America, as well as similar movements in other parts of the world? We want to say up front that we couldn't possible write about, in a short article, all of the significant biographies and autobiographies that concern leaders of civil rights and freedom movements in the twentieth and twenty-first centuries. With that being said, we have selected a handful of texts that we think are not only important to read, but also offer interesting and distinct modes of autobiography from the Civil Rights Movement.
Clayborne Carson's The Autobiography of Martin Luther King, Jr.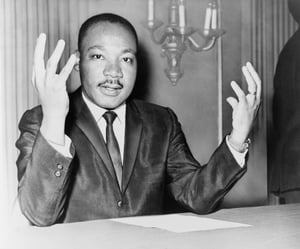 Martin Luther King, Jr. didn't exactly write an autobiography as a stand-alone book. What he did write, however, were numerous letters, essays, and other materials that are now housed at Stanford University in The Martin Luther King, Jr. Research and Education Institute. That institute grew out of the Martin Luther King, Jr. Papers Project. In 1985, Coretta Scott King selected Clayborne Carson, the current Martin Luther King Jr. Centennial Professor of History at Stanford, to edit and publish King's papers. In the late 1990s, he edited The Autobiography of Martin Luther King, Jr.
It's not an autobiography in the traditional sense, but rather a collection of documents from the Institute that are put together in autobiographical form. Read more >>
We don't often think about where a particular novelist or poet was when she or he wrote a well-known work. When we do, most of us are unlikely to imagine the confines of a prison cell. However, many canonical works of fiction, as well as significant twentieth-century political texts, were drafted while their writers were incarcerated. In some cases, the texts directly address the writer's imprisonment, while in others, the claustrophobic walls of a prison cell appear to have enabled the imaginative capacities of the novelist.
Martin Luther King, Jr., Letter from a Birmingham Jail (1963)
In 1963, Martin Luther King, Jr. was arrested for peacefully protesting discrimination against African American citizens in Birmingham, Alabama. While in jail, he wrote one of the most significant texts of the Civil Rights movement:
"My Dear Fellow Clergymen:
While confined here in the Birmingham city jail, I came across your recent statement calling my present activities 'unwise and untimely.' Seldom do I pause to answer criticism of my work and ideas. If I sought to answer all the criticisms that cross my desk, my secretaries would have little time for anything other than such correspondence in the course of the day, and I would have no time for constructive work. But since I feel that you are men of genuine good will and that your criticisms are sincerely set forth, I want to try to answer your statement in what I hope will be patient and reasonable terms . . . .Read more >>