Lolita – the simple, one-word title carries so much weight. The nickname that narrator Humbert Humbert gave to 12-year-old Dolores Haze now drips with sex, sin, and shame. The novel by Vladimir Nabokov, published during the 1950s, still causes controversy today. Although Lolita has never been formally banned in the United States, it's the kind of book that mothers warn their teenage children about. And yet Lolita has become a classic in its own right. In the hands of a different author, the story of Humbert and Dolores could have been a racy, flash-in-the-pan fad success like today's Fifty Shades of Grey. In the artful hands of Nabokov, Lolita stands as one of the best novels of the 20th century.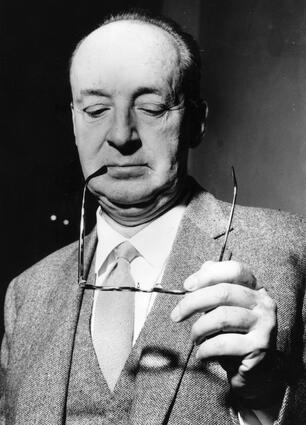 Nabokov's biography is filled with interesting tidbits, not the least of which is that he spoke and wrote in three languages (Russian, English, and French) and had a passion for butterflies (making him a lepidopterist). Nabokov and his family left his aristocratic home in Russia during the Bolshevik revolution. Nabokov studied at Cambridge, lived in Germany and France for many years, and became a naturalized U.S. citizen during the twenty years he taught at Wellesley, Harvard, and Cornell. While living in Europe, Nabokov wrote in Russian and published novels and poetry under the pseudonym Vladimir Sirin. When he began writing in English around 1939, he used his own name.
Nabokov drafted the majority of Lolita on index cards during road trips across America. Nabokov was in search of butterflies, his wife Vera and son Dmitri were along for the ride, and Lolita was taking shape. In later interviews, Nabokov always expressed great affection for his novel, acknowledging it as his finest work, even though difficulties and doubts during the revision process almost led him to burn his drafts in the garden incinerator (his wife stopped him and helped him reconsider).
Finding a publisher willing to take a chance on Lolita was difficult. Publishers in the U.S. and U.K. steered clear of Lolita, fearing the consequences of printing what could be seen as pornographic material. Nabokov finally received an acceptance from Olympia Press in France, though he was misled about the nature and mission of the press. Olympia's editor, Maurice Girodias, had a knack for mixing semi-literary titles with blatant pornography. Nabokov wanted to publish under his pen name, Sirin, but Girodias convinced him otherwise. Lolita by Vladimir Nabokov was published in France in 1955. It is one of only a few bestselling books to be released first in paperback (as a set of two).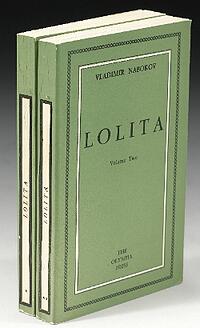 The pair of little green paperbacks sold out quickly, and would likely have been forgotten if not for Graham Greene, who wrote in The Sunday Times of London that Lolita was one of his favorite books of 1955. Another newspaper editor printed that, "Without doubt it is the filthiest book I have ever read. Sheer unrestrained pornography." Suddenly, everyone was talking about Lolita, but copies of the book weren't allowed through U.K. customs. Lolita was banned in the U.K. in 1955 and in France in 1956. Argentina, New Zealand, and South Africa also banned the book in later years.
The United States didn't take a political stance on the book, but there wasn't a U.S. edition until 1958 when G.P. Putnam's Sons stepped up to the plate. Lolita sold over 100,000 copies in the three weeks after publication, making it the first book since Gone with the Wind to do so. With so much controversy, mystery, and fuss over Lolita, it was the must-read of 1958.
Some people wonder what would inspire a man to write a book about a young girl and a sympathetic pedophile. Nabokov himself gave credit for the idea to a newspaper story about an ape that created the first drawing by an animal in captivity; the ape sketched the bars of its cage. Nabokov explained in an interview, "I would say that my baboon, Humbert Humbert… is doing exactly that, you see. He's drawing and shading and erasing and redrawing the bars of his cage, the bars between him and what he terms the human herd."
However, inspiration can come from many sources, including in this instance the real-life figures of Lewis Carroll and Charlie Chaplin--both connected to young girls as older men; the story of Florence Horner who was kidnapped by a 50-year-old man at age 11 and driven around America by her captor; and even a German short story published in 1916 titled "Lolita" with the same basic story premise. It's likely that Nabokov was aware of all of these stories (real or written) before writing his Lolita, yet the literary mastery of language that makes Lolita a classic is entirely his own.
While there were a great many writers whom Nabokov disdained, science fiction writer H.G. Wells and American poet Edgar Allan Poe were among his favorites. Poe's poem, "Annabel Lee", receives a heavy-duty reference in Humbert's story when he recalls his first teenage love, Annabel Leigh, and their romance that was not to be. Nabokov was so inspired by Poe that he initially wanted Lolita to be titled The Kingdom by the Sea (a reference to a repeating line in "Annabel Lee"). A professor of literature, Nabokov sprinkled many literary allusions into Lolita for the adept reader to find.
Nabokov continued to write after Lolita was published, although he knew that the book would be his lasting legacy. He retired with his wife and son to Montreaux, Switzerland, where he delighted in writing and hunting butterflies until his death in 1977.