Britain has a very long literary history, indeed. Yet when we think about British literature, the recent and rich supply of British immigrant fiction doesn't immediately jump to mind for most readers. We'd like to change that. What does British literature in the twenty-first century look like? In large part, it reflects the harms of British imperialism and the effects of decolonization in the twentieth century. At the same time, works of immigrant literature from England also reflect the advantages of a globalizing world and the possibilities of movement to, from, and around the metropole of London.
Monica Ali's Brick Lane (2003)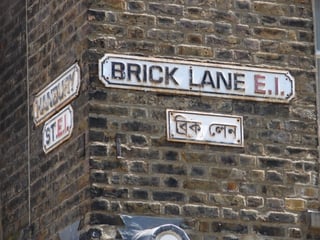 Named for the street in the area of London known for its Bangladeshi immigrant community, Brick Lane (2003) traces the immigration of Nazneen, a Muslim woman born in East Pakistan (now Bangladesh), from the Indian subcontinent to London in order to marry a Bangladeshi immigrant living in Tower Hamlets. Part narrative and part epistolary novel, the text is a multi-voiced one that helps us to think through the complexities of immigration in postcolonial London.
The novel was shortlisted for the Man Booker Prize and was adapted into a film in 2007. Like Nazneen, Monica Ali was born in Dhaka and emigrated from what was then East Pakistan with her parents when she was three years old. Her family settled in England, and she currently resides in London.
Simi Bedford's Yoruba Girl Dancing (1991)
Advertised as a book for young adults, Yoruba Girl Dancing (1991) follows the story of Remi Foster, a Nigerian Yoruba girl who leaves her home in Lagos to study in Liverpool. In England, Remi experiences stark episodes of racism and xenophobia. However, the protagonist remains in the U.K. and indeed never returns to Nigeria.
Like Remi, Simi Bedford was born in Lagos, Nigeria and immigrated to England at a very young age. Her novel Yoruba Girl Dancing is semi-autobiographical.
Xiaolu Guo's A Concise Chinese-English Dictionary For Lovers (2008)
In A Concise Chinese-English Dictionary For Lovers (2008), our protagonist "Z" travels from mainland China to study and to learn English. Written in the vernacular of a London immigrant for whom English is (becoming) a second language, the novel introduces us to a new mode of reading immigrant fiction.
Guo is a filmmaker, fiction writer, and essayist. She was born in China and currently resides in London, England.
Zadie Smith's White Teeth (2000)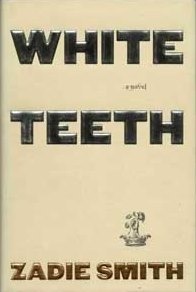 Zadie Smith's White Teeth (2000) pivots between London in 1975 and present-day London. The narrative stems from the friendship between Archie Jones and Samad Iqbal, a Muslim from (the nation that has become) Bangladesh. The two friends served together in World War II, after which Iqbal immigrates to London. Through Iqbal's children, as well as other second-generation immigrant characters, the novel addresses issues of migration from the former colonies and the sociocultural exclusions that persist in Britain. Like many of the characters she writes, Zadie Smith is a second-generation immigrant. Her mother immigrated to the U.K. in the late 1960s.
These are just a handful of examples of some of the more recent works of British immigrant literature. We invite you to explore the texts we've mentioned, and to continue seeking out works of fiction, poetry, and drama by British writers of color. Beyond the authors and books we mentioned here, we also love Andrea Levy's Small Island (2004), Kazuo Ishiguro's A Pale View of Hills (1982), and Hanif Kureishi's The Buddha of Suburbia (1990). Happy reading!