Born in Cuba on October 15, 1923, Italo Calvino became one of Italy's most famous writers. He was one of a family of scientists; his parents, Mario and Eva, were botanists and his brother, Floriano, became a geologist. When Calvino returned to Italy as a young boy, he faced considerable familial pressure to pursue a life of science. Suppressing his interest in literature, Calvino studied agriculture at the University of Turin and the University of Florence between 1941 and 1943.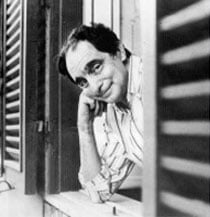 The onset of World War II derailed Calvino's studies. Upon the creation of Mussolini's puppet state in late 1943, Calvino went into hiding to avoid military service. At the urging of his mother, Eva, Calvino joined the Italian Resistance several months later. The Nazis captured his parents as a result and on several occasions feigned shooting his father in front of Eva. The dignity with which Eva comported herself impacted Calvino greatly. He later wrote, "The historical events which mothers take part in acquire the greatness and invincibility of natural phenomena." Calvino fought for the Resistance until the surrender of Nazi Germany in 1945.
Calvino's experiences in the Italian Resistance formed the basis of his early political beliefs and writings. He joined the Italian Communist Party and returned to school, graduating in 1947 with a degree in literature. The same year, he published his first novel, The Path to the Nest of Spiders, an account of an adolescent boy struggling to understand the effects of World War II in his small town. Calvino's collection of stories, Adam, One Afternoon, and Other Stories (1949) also draws heavily on his time in the Resistance.
Despite the successful publication of these works, Calvino felt increasing frustration at his inability to complete another novel. He worked at a publishing house and over several years composed three novels, though he was dissatisfied with them all. He finally decided, "Instead of making myself write the book I ought to write, the novel that was expected of me, I conjured up the book I myself would have liked to read, the sort by an unknown writer, from another age and another country, discovered in an attic." Following this breakthrough, he wrote The Cloven Viscount in a mere month, completing it in 1951.
With the publication of The Cloven Viscount, Calvino's unique style was set: a mixture of fantasy and allegory. The Cloven Viscount is the tale of a man split in half by cannon, one of these halves becoming "the Bad" and the other "the Good." The people of the village dislike both halves: one is evil, the other is interfering; in short, it is a warning against extremism of any kind. In 1957, Calvino formally resigned from the Italian Communist Party and never had a political affiliation again.
Calvino won the Viareggio Prize, Feltrinelli Prize, the Austrian State Prize for Literature, and the Legion of Honor. He is best known for Our Ancestors Trilogy (1952-1959), Cosmicomics (1965), and Invisible Cities (1972). He died unexpectedly in 1985 of a cerebral hemorrhage. Upon hearing of Calvino's death, John Updike said, "Calvino was a genial as well as brilliant writer. He took fiction into new places where it had never been before, and back into the fabulous and ancient sources of narrative."