J. K. Rowling has published a new short story about Harry Potter on her website, Pottermore.com. The story, entitled "Dumbledore's Army Reunites at Quidditch World Cup Final" is written as a gossip column by character Rita Skeeter and describes many of the Harry Potter characters as adults.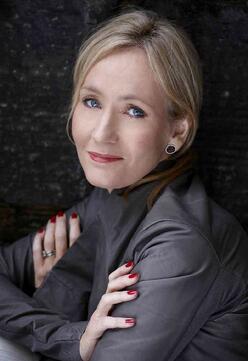 Harry Potter, now age 33, appears alongside his family. Graying and still wearing his characteristic round glasses, Potter has achieved his childhood ambition and become an Auror. Sporting a fresh cut on his cheek, Rita Skeeter speculates that he and the Ministry of Magic are "embroiled in fresh mysteries that will one day explode upon us all."
Skeeter also theorizes that the injury could be the result of a "curse" from his wife, Ginny. Skeeter writes, "Should we read anything into the fact that his [Potter's] wife Ginevra has been perfectly happy to leave her husband and children behind in London whilst reporting on this [Quidditch] tournament?"
Ginny's brother, Ron Weasley, has become co-manager of Weasley's Wizard Wheezes, the joke store founded by his twin brothers. Skeeter reports that his wife, Hermione Granger, has had "a meteoric rise" in the Ministry of Magic where she works as Deputy Head of the Department of Magical Law Enforcement. Skeeter writes, "Does Hermione Granger prove that a witch can really have it all? (No—look at her hair.)"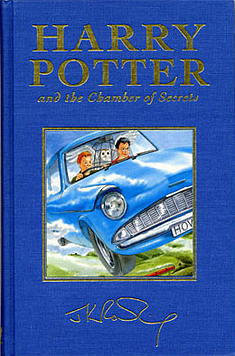 Neville Longbottom has become "a popular Herbology teacher at Hogwarts School of Witchcraft and Wizardry." Luna Lovegood is still "delightfully eccentric" and Potter's godson, Teddy Lupin, is now a lanky sixteen-year-old with "bright blue hair."
Rowling's piece is unmistakably satirical. Given her own personal struggles with the press, one suspects that her new story is both a way to reconnect with Harry Potter fans and a means by which to blow off steam. The story is but one in a series on the fictional Quidditch World Cup, intended to parallel the World Cup in Brazil. It can be found here.