Many Americans familiar with Pop Art or Conceptual Art might know of Jim Dine's role in creating "Happenings" throughout New York City alongside other artists such as Claes Oldenburg and Allan Kaprow. Given that he has been such a prolific painter, experimenting with conceptual forms and new media, Dine often is thought of first and foremost as an artist. Yet, as a Fall 1969 issue of The Paris Review* made clear to readers, Dine is also a poet.
Learning More About Jim Dine as Poet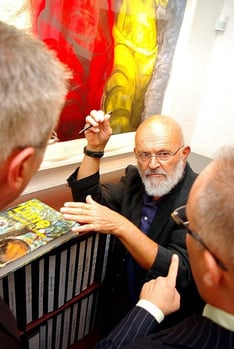 Jim Dine was born in Cincinnati, Ohio in 1935. Before moving to New York, he earned a B.F.A. from Ohio University in addition to studying at the University of Cincinnati and the Boston Museum School. He had his first group exhibition in New York in 1959, while his first solo exhibition followed closely in 1960.
According to a biography from Cuneiform Press, one of Dine's publishers, the artist and writer began creating poetry in the mid-1960s after reading the words of Ted Berrigan. He wrote poetry until the early 1970s, when he simply just "stopped." Dine then began writing books of poems again in the early 1990s. Cuneiform Press released Dine's Poems To Work On: The Collected Poems of Jim Dine in 2015.
The Confluence of Dine's Art and Books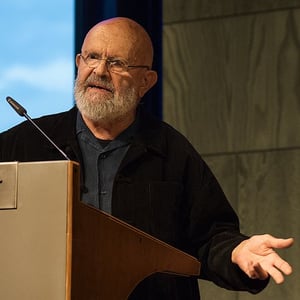 Since 1976, Dine has been represented by the Pace Gallery, where an exhibition of his book-related art was recently exhibited. The Pace Gallery describes the exhibit, Hot Dream (52 Books), as a "multi-layered exhibition [that] juxtaposes poetry, audio, books, collage, drawings, photographs, sculpture, and digital prints on canvas from 1999 to the present." According to the gallery, the exhibit grew out of Dine's "desire to produce a series of books—one for each week of the year." Throughout the exhibit, visitors could hear the artist's voice over a loudspeaker, reading his own poetry.
And Dine's book-related art and poetry are not the only reason that book collectors associate Dine with printed text. To be sure, he has designed numerous books for well-known writers. For example, Alastair Reid's English translation of Pablo Neruda's We Are Many (1972) was published by Cape Goliard Press in London, England, with a cutout of a hammer designed by Dine. In addition to the Neruda book, Dine has illustrated numerous texts over the last several decades, such as Guillaume Apollinaire's The Poet Assassinated (1968). More recently, Dine created the illustrations for Carlo Collodi's Pinocchio (2006).
In an ArtNet interview published shortly after the latter text was completed, Dine spoke about the connections he has experienced between poetry and art. When asked if he sees himself as part of an artistic community, he answered:
"I always got along better with poets [than artists]. Now most of the ones I knew are dead, so I don't have a lot of people to talk about poetry with . . . . I was very good friends with Robert Creeley and Kenneth Koch. I've known them for a long time."
Dine on Book Collecting
In terms of book collecting, Dine had this to say about a new piece of art and poetry that he was working on at the time: "It's 24 portraits, and I've made 24 poems to go with them. We'll publish it in Paris, because my printer is there, and though it's published in English the printer has already sold his lot to French collectors. The French collect books. It's not a great tradition here [in the U.S.]."
We'd like to think book collecting is just as important in the U.S. as in France or in other parts of the world! In an effort to get to know Jim Dine's work better and perhaps to prove him wrong about the tenacity of American book collectors, why not pick up a book of his poetry today?
*More from the Paris Review here.