American author and journalist John Hersey is best known for his journalistic triumph, Hiroshima, which was published in The New Yorker in 1946 and described the effects of the atomic bomb through the lens of six survivors. Poignant and understated, Hiroshima continues to resonate with readers to this day, and its publication can be considered the journalism event of the 20th century. It has inspired a whole generation of journalists to write in a way that evokes feelings, emotions, and images which will stick with their audiences. But how did Hersey end up writing a war piece such as Hiroshima, and where did he go from there?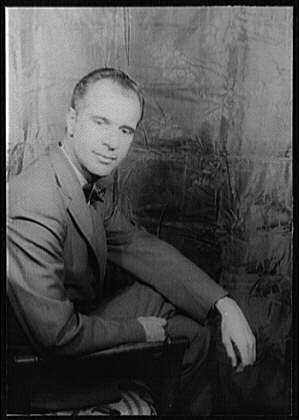 John Hersey was born in China in 1914 to missionary parents. He and his family moved back to the United States when he was 10 years old, and Hersey began his schooling in Barcliff Manor, New York. He went on to high school in Connecticut before attending Yale University. At Yale, Hersey played football and was a member of the secret society for seniors (exclusively white, protestant males), Skull and Bones. Following his time at Yale, Hersey was a Mellon Fellow and studied at the University of Cambridge.
The way in which Hersey eventually got a job writing for Time magazine is a funny one. According to a Newsweek article published a week after Hersey's death, "he got his first steady job, as a Time reporter (in 1937), with an essay 'on how rotten the magazine was." He served as a war correspondent for Time during World War II, and at the same time, he wrote freelance articles for Life and The New Yorker.
In 1945, he published his novel, A Bell for Adano, a war-story which won the Pulitzer Prize for Fiction and was Hersey's first true literary success. A year later, when he was abroad, researching and writing for The New Yorker, he stumbled upon the written testimony of a Jesuit priest's experience during and immediately following the atomic bombing of Hiroshima. Hersey tracked down the priest who introduced him to other survivors. Their stories became Hiroshima, a most moving work about people and the effects of the bomb.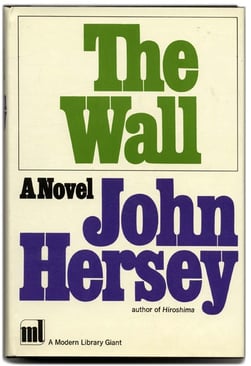 Following its publication, Hersey went on to write The Wall (1950) which details life in the Warsaw Ghetto in the form of a discovered journal. He published The Child Buyer in 1960. In it, he details his downbeat opinions about the school system. He had previously written an article for Life magazine about the same subject and titled it, "Why Do Students Bog Down on First R? A Local Committee Sheds Light on a National Problem: Reading". Interestingly, that article inspired Theodor Geisel to write something that wouldn't be boring and would instead inspire children to learn and love reading. You may recognize the title of the resulting reader as Dr. Suess's The Cat in the Hat, now a modern day, beloved learning-to-read staple.
Hersey continuously influenced others with his writing and his teaching. He served as master of Pierson College at Yale from 1965-1970, and he taught writing and advised students during those five years. He was a critic of the Vietnam War, which found him favor with the student population, but set him at odds with some of his fellow alumni. In 1970, he wrote Letter to the Alumni following the Black Panther trials. In his letter, Hersey sought to inform the alumni of the student perspective and bridge the gap between the two communities during a tumultuous period in the University's (and country's) history.
Reading through paragraphs of what other's thought of John Hersey and their experiences with the journalist makes it clear that the man left a strong mark, not only through his written work, but in the way he saw people and saw the world around him (check out the Yale Alumni Magazine archives for more proof). He had a knack for writing in a way that shed light on a muddied reality. And he gave people—students, writers, friends—the time of day. Indeed, John Hersey's legacy will remain bound up in works like Hiroshima and The Wall, but furthermore, we can all learn from the way he brought civility, clarity, and humility to the craft.
Sources: Amsaw.org, Yale Alumni Magazine, Newsweek, Learningfirst.org