We are rapidly approaching the 35th annual Florida Antiquarian Book Fair and it promises to be a good one! It's the oldest book fair in the Southeastern United States and can be relied upon for fascinating books and literary conversation. If you find yourself in the Tampa/St. Petersburg area between March 11-13, be sure to stop by. We'll even provide you with free tickets.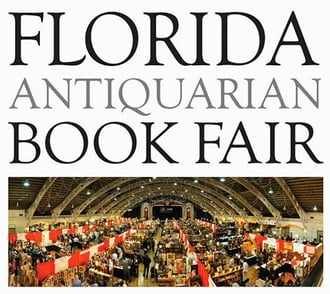 The theme of the fair is "Written Relics." Click here to find out more about the fair and preview the books that we will be exhibiting.
We'll bring a fine selection of our stock including classics of US & Latin American literature, children's books, and antiquarian high points. See first editions of Caldecott Medal winners, Ernest Hemingway, and Winnie the Pooh. Browse fine press and new arrivals by Charles van Sandwyk.
Let us know if you'd like to reserve a title. Or conversely, if you're interested in a different book from our store, send us an email and we'll do our best to bring it along.
Don't be a stranger. Sign up for your free tickets and visit us in alcove #7!