English fantasy writer and J.R.R. Tolkien is widely considered to the be the father of the modern fantasy genre. The Hobbit and The Lord of the Rings trilogy are some of the most enduring and beloved novels in the genre. In the years since readers were first introduced to Middle Earth (The Hobbit was published in 1937), the novels have served as in inspiration to countless writers, filmmakers, video game creators, and even the creator of the Dungeons & Dragons tabletop role playing game. His most famous works have remained in print since their publication, and even some of his lesser-known posthumous publications have garnered attention. For example, The Silmarillion, a history of the mythology of Middle Earth, won the Locus Award for Best Fantasy in 1978. One volume that has remained mostly under the radar, however, is the charming Tree and Leaf. What exactly about this book makes it such a treasure?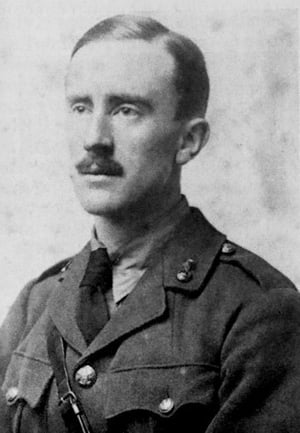 Tree and Leaf was published in 1968, just three years before Tolkien's death. It is a small book that collects two of his previously published works.
The book includes a version of "On Fairy-Stories," a 1947 essay that originally appeared in Essays Presented to Charles Williams, and a short story "Leaf by Niggle" which appeared in Dublin Review. These works, though published prior to the Tree and Leaf compilation, appeared in smaller circulation publications and were not distributed to nearly as wide an audience as his novel-length works.
Tree and Leaf then represents the first time that these smaller works were made available to many Tolkien fans.
More About "On Fairy-Stories"
"On Fairy-Stories" was printed in Essays Presented to Charles Williams in 1947. Interestingly, the essay was originally written to serve as Tolkien's presentation for a lecture on folklorist Andrew Lang at the University of St. Andrews in Scotland. This academic work focuses on the key point of contention between Lang's views on fairy tales and Tolkien's views. While Lang posited that the definition of fairy tales should include beast stories like Aesop's Fables and travel stories like Gulliver's Travels, Tolkien disagreed, and throughout the essay, he defends his belief that a fairy tale is only a fairy tale if it takes place in the realm of the Faerie, or an enchanted locale.
The lecture was well-received enough to merit inclusion in Charles Williams' memorial book, but the collection was overall unsuccessful and was soon out of print. While the essay has appeared in numerous other collections since, including The Tolkien Reader, Poems and Stories, and Tales from the Perilous Realm, it's inclusion in Tree and Leaf is particularly important because it was truly the first time an audience was successfully introduced to Tolkien's idea of mythopoeia. Mythopoeia, or the act of creating mythologies, is seen in all fantasy and science fiction, and it forms much of the basis of fantasy and science fiction writing, as seen particularly in books by authors like Tolkien, C.S. Lewis, H.P. Lovecraft, George R.R. Martin, Ursula K. Le Guin, and Anne McCaffrey.
Diving in to "Leaf by Niggle"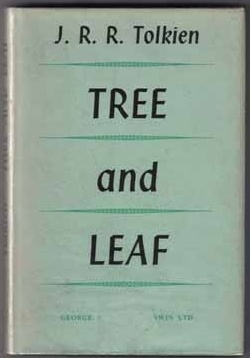 Tolkien's "Leaf by Niggle" appeared originally in the literary magazine Dublin Review in 1945. The short story shows the life of an artist named Niggle who devotes himself to painting in excruciating detail every leaf on a particular tree that he can see at a distance. He devotes so much time to his painting that he neglects other duties, like packing for a trip. This sets into motion a chain of events that leads to him being incarcerated in some sort of prison that demands menial labor, thus taking him away from his painting.
After earning parole, he travels to a country and discovers the forest and tree from his painting and experiences it in its entirety, which proves to him to be much more beautiful than the myriad of paintings he'd created to try to encompass the nature of the forest. He and his former neighbor dedicate the rest of their lives to caring for the forest.
Though Tolkien himself is not a fan of allegory, the story is widely considered to be an allegory for death, purgatory, and heaven, as well as for his own quest for literary perfection. Tolkien, however, wrote that he considered the story to be more of an embodiment of the act of creation and sub-creation, or rather, God's act of Creation and man's act of creating art as a means to honor the ultimate act of creation by the Lord, feeding back into the idea of mythopoeia as defined in his essay "On Fairy-Stories."
Special Significance: Illustrations by Pauline Baynes
Tree and Leaf is also notable for its illustrations by famed English illustrator Pauline Baynes. Baynes began her professional career drawing maps for the Ministry of Defense. She did not begin working as an illustrator until Tolkien, unhappy with the illustrations in his Farmer Giles of Ham, went to the publisher to complain and plucked her sketches from the slush pile while demanding that this was the artist he wanted illustrating his work. He was thrilled with what she produced and the two became lifelong friends and collaborators. Baynes is most well known for her work with Tolkien as well as for C.S. Lewis' Chronicles of Narnia, A Dictionary of Chivalry by Grant Uden, and The Borrowers Avenged by Mary Norton.
In her life she illustrated more than one hundred books and was the recipient of the Kate Greenaway Medal for best children's book illustration. Baynes' illustrations in Tree and Leaf are a particularly poignant inclusion considering that Tolkien saw her work as most clearly representing what he imagined when he created his characters. Baynes creations illustrate his creations in a book about creation.