Kaye Gibbons's debut novel Ellen Foster (1987), which she wrote at the age of 26, opens with the sentence, "When I was little I would think of ways to kill my daddy." In a letter to her readers Gibbons explains, "Since Ellen Foster is autobiographical, it shouldn't come as a shock that when I was little I would think of ways to kill my daddy. My mother...became too sad and died when I was almost ten..." Back to the book, the fictional character, 11-year-old Ellen Foster says a few lines later, "But I did not kill my daddy. He drank his own self to death a year after the County moved me out." This raw, honest tone penetrates Kaye Gibbons' works, making them poignant reads and lenses into the power of writing through and about pain.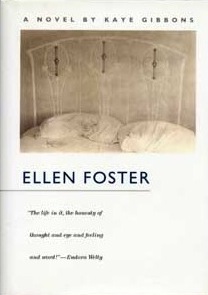 Bertha Kaye Batts was born on Bend of the River Road in Nash County, North Carolina in 1960. She studied American and English literature at both North Carolina State University and the University of North Carolina at Chapel Hill. Her mother had bipolar disorder and committed suicide in 1970. Gibbons's father was an abusive alcoholic whose alcoholism killed him three years later. So, from the age of 13, Gibbons was raised by her brother and sister-in-law, David and Barbara Batts. Ellen Foster is a fictionalized account of the difficult early years of her life. "Writing in many ways is an existential form of revenge and correction, a way of reconciling wounds," Gibbons says. "My emotional goal with this book [Ellen Foster] was to heal my mother's suicide."
Not only did Gibbons attain her emotional goal, the debut launched her to literary fame. The novel earned praise from literary giants such as Eudora Welty and Walker Percy. It won the Sue Kaufman Prize from the American Academy and Institute of Arts and Letters as well as numerous other awards, and it was made into a Hallmark Hall of Fame movie. Ellen Foster along with Gibbons's second novel, A Virtuous Woman, were also selected for the Oprah Book Club.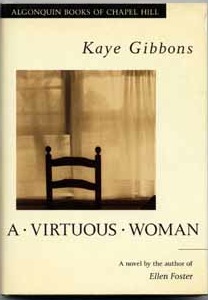 After Ellen Foster, Gibbons went on to write seven other acclaimed novels, and her writing has been compared to that of William Faulkner, Flannery O'Connor, and Lillian Hellman. Her most recently released novel, The Life All Around Me (2005), is the sequel to Ellen Foster. However, Kaye Gibbons didn't always believe literary success was possible for her. She recounts, "I didn't think people would be interested in the very limited range of things a girl like me who lived on a rural road like mine had to say..." She credits the introduction to James Weldon Johnson's Book of American Negro Poetry as giving her the courage to begin writing in earnest saying, "...his notions of the integrity of the colloquial voice, how symbols from within rather than symbols from without are best used to convey the highest aspirations of mankind, meaning he freed me from my fear of the burden of Southernisms, showed me that I could ignore the stereotypical dependence on regionalisms, dialect spellings, the cliché, and use metaphor and symbol to bear the weight of any story I wanted to tell."
Like her mother, Gibbons struggles with bipolar disorder. In 1997 she wrote Frost and Flower: My Life with Manic Depression So Far. This piece of nonfiction is a privately published work about Gibbons's own mental health struggles and the ways they relate to her creativity. She currently lives in Raleigh, North Carolina and continues to write.