We recently visited the Nobel Prize Museum in Stockholm, Sweden, hoping to catch a glimpse of some objects or rare first editions by some of our favorite Nobel Prize-winning authors. Despite awarding more than 100 prizes to literary giants alone over the last century or so, the museum is actually a bit smaller than you might expect. As a result, you'll find most literary objects on display at the museum as part of temporary or traveling exhibitions. There are a handful of what we suspect are permanent exhibits—including Maya traje belonging to Rigoberta Menchú Tum and a small hippopotamus figurine belonging to Mario Vargas Llosa. What are some of the recent temporary exhibits that gave visitors access to other objects and books of winners of the Nobel Prize in Literature? Let's take a look.
Wisława Szymborska's Postcard Collages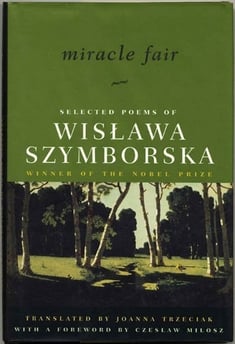 In 1996, the Polish writer Wisława Szymborska won the prestigious award for her poetry. According to the Academy, Szymborska writes "poetry that with ironic precision allows the historical and biological context to come to light in fragments of human reality." Three collections of her poetry have been translated into English. But what many readers don't know about Szymborska is that she is also a collage artist.
From April 2014 until April 2015, the Nobel Prize Museum hosted a mini exhibit on the poet's collage art, described by the museum as "thousands of quirky postcard-sized collages, which she gave and sent to people that she liked." One of the primary recipients of Szymborska's tiny collages was Anders Bodegård, a close friend of the poet as well as her translator. Bodegård is a Swedish translator who has provided numerous translations of Polish writers for Swedish readers.
The Life and Works of William Butler Yeats
Just a few years before unveiling the exhibit of Szymborska's postcard collages, the museum held an exhibition dedicated to the life and works of William Butler Yeats, who was honored as a Nobel Laureate in 1923. The exhibit was on loan to Stockholm from the National Library of Ireland. What kinds of objects could you see? In addition to short films about Yeats's life and work, visitors could view numerous manuscripts and drafts of Yeats's poems, including an original manuscript of "Easter, 1916."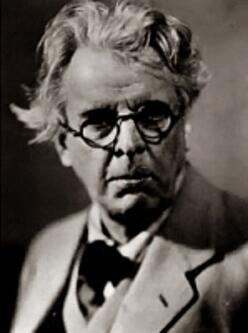 The Academy honored Yeats "for his always inspired poetry, which in a highly artistic form gives expression to the spirit of a whole nation." Indeed, in Yeats's Nobel Lecture, he discussed the recent history and fate of Ireland, and the harms of colonization and ensuing losses of language. He cited the oft-repeated question in Ireland, "What is the origin of evil", and its answer, "England." Yet he ended his lecture on a note of hope for the future of Ireland:
"We are burdened with debt, for we have come through war and civil war and audiences grow thin when there is firing in the streets. We have, however, survived so much that I believe in our luck, and think that I have a right to say I end my lecture in the middle or even perhaps at the beginning of the story."
The Yeats and Szymborska exhibits are just a couple examples of temporary collections at the Nobel Prize Museum in Stockholm, Sweden. We encourage you to plan your own visit to Scandinavia to see what you might find.