This week we celebrate Mitch Albom, bestselling author, playwright, musician, and philanthropist. Best known for his memoir, Tuesdays with Morrie, Albom's books have sold over 35 million copies and have been translated into 45 languages.
Born May 23, 1958, Albom's childhood ambition was to become a musician. He taught himself to play piano and was a member of several bands throughout high school. In 1979, he earned his bachelor's degree from Brandeis University and afterwards traveled throughout Europe and the United States pursuing a music gigs. "I wanted to be a musician," Albom said. "I did everything that you're supposed to do for that, and I was a total flop."
Before long, he turned to writing as a steadier source of income; it was quickly apparent that this was Albom's true talent. He contributed to Sports Illustrated, The Philadelphia Inquirer, and GEO, while also earning a master's degree from the Columbia University Graduate School of Journalism. After winning the 1985 Associated Press Sports Editors award for best Sports News Story, Albom became a sports columnist for the Detroit Free Press. His writing became so popular that it was soon syndicated across the nation. He has won hundreds of awards for his journalism, including seven awards for best feature writing from the Associated Press.
Albom's life changed in 1995 when he saw a Ted Koppel interview on ABC News. "I happened to be flipping the television and happened to see my old college professor, Morrie Schwartz, who I hadn't seen in 16 years. And he's on TV and he's talking about what it's like to die." Albom called Schwartz, who had been diagnosed with a terminal illness, and began meeting with him every Tuesday. He wrote a book about their time together, Tuesdays with Morrie, hoping to help Schwartz pay his medical bills.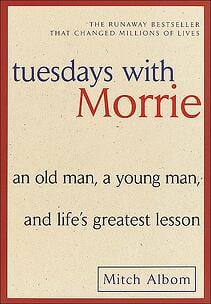 According to Albom, "It wasn't supposed to be a big book. They printed 20,000 copies. I thought I'd have them in the trunk of my car for the rest of my life." Those 20,000 copies sold, however, along with more than 14 million more. A tremendous success, the book spent four years on The New York Times bestseller list. The book was adapted into a television movie, starring Jack Lemmon in his final role. It won four Emmy awards and was the most watched television movie in 1999.
Albom later wrote three novels: The Five People You Meet in Heaven (2003), For One More Day (2006), and Have a Little Faith (2009). All three were bestsellers and adapted into television movies. Albom has written several plays: an adaptation of Tuesdays with Morrie and three original works, Duck Hunter Shoots Angel, And the Winner Is, and Ernie. He also realized his childhood dream of being a musician. Two of his songs were featured in movies—one directed by Arnold Schwarzenegger and another directed by Kevin Smith. Additionally, he performs in a band along with Stephen King, Dave Barry, Amy Tan, and Scott Turow.