The enormity of Nelson Mandela's influence on the world is undeniable. He fought for years against apartheid in South Africa, suffering a long imprisonment and a constant stream of indignities en route to dismantling the South African National Party's legally codified racism, becoming the first black president of South Africa, and winning the Nobel Peace Prize. Given the number of lives he touched in carrying out his work, it should come as little surprise that his influence has extended beyond politics and human rights to the world of literature.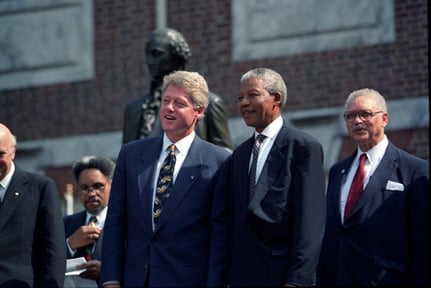 The most obvious, and perhaps the most prestigious exemplar of Nelson Mandela's literary influence is fellow South African Nobel laureate Nadine Gordimer. Gordimer's novels are frequently explicit in their anti-apartheid sentiments (so much so that even while they were garnering praise in other parts of the world, they were being censored in her native land), but their specific link to Mandela runs even deeper.
During her Nobel Lecture, Gordimer discussed the psychological effects of making art in such a violently oppressive (and repressive) society, specifically suggesting that South Africa's policies made great art seem impossible to produce. In that regard, Mandela's 1962 trial for treason was something of a turning point in Gordimer's thinking. It was at those trials that Gordimer first saw Mandela in person, and she would quickly strike up a friendship with his defense attorneys. The fact that her 1979 novel Burger's Daughter was loosely based on the attorney and his family suggests the extent to which those trials were pivotal in giving Gordimer an inroad for creating meaningful works of literature in a setting that seemed to run contra to everything she valued.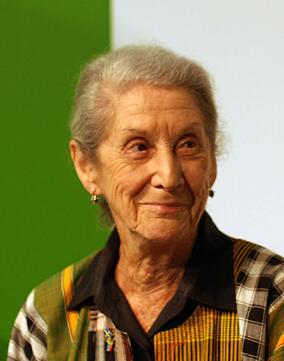 In Gordimer's case, Mandela's influence was hardly a one way street. After Burger's Daughter was published and banned by the government, a copy of it was smuggled to Mandela's prison cell, where he read it and responded to Gordimer in a letter that she described as showing "deep, understanding acceptance."
Most other Mandela-influenced writers were not lucky enough to have much contact with the visionary statesman (Gordimer even met and spoke with Mandela shortly after he was released from prison), but virtually every South African writer who has dealt with the effects and after-effects of apartheid owes a literary debt to Mandela, from J.M. Coetzee (whose novels The Childhood of Jesus (2013) and Age of Iron (1990) paint a brutal portrait of the nation), to Afrikaans poet Ingrid Jonker (whose poetry was read by Mandela in his first speech to parliament), to Njabulo Ndebele (author of 2013's The Cry of Winnie Mandela, which deals with the sacrifices made by women under apartheid).
Of course, the literary impact of Mandela's inspiring activism went far beyond the writers of his native South Africa. One of the broadest examples of his international impact may be the Jacques Derrida-edited anthology For Nelson Mandela (1987), which collects work inspired by the South African visionary while he was still imprisoned and officially considered a terrorist by some governments. The volume includes work by William S. Burroughs, Samuel Beckett, Mustapha Tlili, Allen Ginsberg, Joyce Carol Oates, and a host of others. It may not be the most important accomplishment of Nelson Mandela's life, but the fact that he was able to speak to such a broad range of literary citizens certainly speaks volumes about his extraordinary capacity as a statesman and a human being.