The John Newbery Medal was given in 1922 to honor books by American authors that represent the best contributions to children's literature the previous year. It is the highest honor for children's authors in the United States. Each year, there are many books to choose from, as all age categories, from picture books to young adult, qualify. Today in our Newbery Medal Winning Authors series, we take a look at the 1923 winner, Hugh Lofting, creator of the beloved Dr. Dolittle:
Who is Hugh Lofting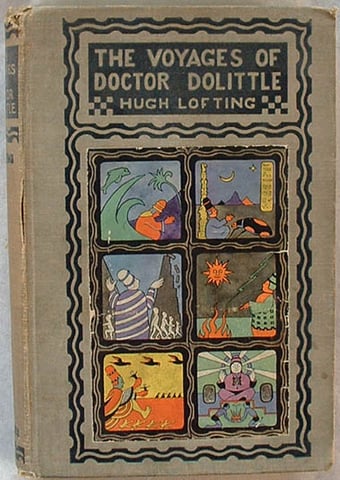 Hugh Lofting was born in England in 1886. He studied civil engineering at St. Mary's College in Derbyshire and later at the Massachusetts Institute of Technology. He traveled widely due to his work. These travels would later serve as the inspiration for his best known character, Dr. Dolittle, a doctor and world traveler he invited during his service in World War I as a means to entertain his children in letters to home, giving them something to enjoy without subjecting them to the horrors of his true situation. After sustaining a major injury, he was released from the army. He and his family immigrated to America shortly after. Inspired by the illustrated stories he'd sent his children, he published his first book, The Story of Doctor Dolittle: Being the History of His Peculiar Life at Home and Astonishing Adventures in Foreign Parts Never Before Printed in 1920 and which posthumously earned the Lewis Caroll Award in 1958. The second book in his Dr. Dolittle series, The Voyages of Dr. Dolittle, won the Newbery Medal in 1923. His beloved Dr. Dolittle series contained twelve books and has been adapted into film several times with varying degrees of success. He passed away in 1947.
Collecting Loftin
The Story of Doctor Dolittle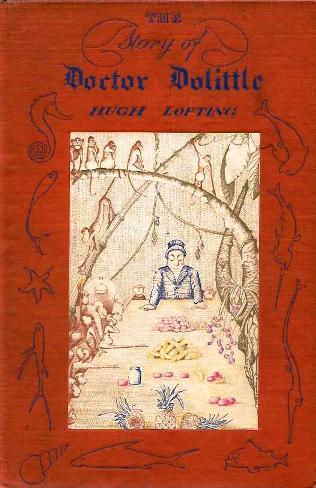 Lofting's first book, The Story of Doctor Dolittle: Being the History of His Peculiar Life at Home and Astonishing Adventures in Foreign Parts Never Before Printed, was written and published shortly after his discharge from the British army. This charming story contains original illustrations by Lofting. It introduces us to his legendary character, Dr. Dolittle, a doctor who loves animals so much that all of his pets eventually scare away his human patients. Once he learns the secret of talking to animals from his beloved parrot, he transitions his practice into a veterinary clinic. He sets out on an adventure to rescue the kingdom of monkeys. While this story introduces such classic characters as his gazelle and unicorn hybrid, the two headed pushmi-pullyu, readers should be warned that in editions published before 1988, several racial slurs appear, and Dr. Dolittle does bleach the face of a brown-skinned price so he can appear European. Most editions after 1988 have these slurs and subplots removed.
The Voyages of Dr. Dolittle
Lofting's Newbery Award winning children's novel, The Voyages of Dr. Dolittle, is the second in his Dr. Dolittle series. It is much longer than the first novel and contains more detailed illustrations. It tells the story of Tommy, Dr. Dolittle's assistant, beginning to learn how to speak with animals, their voyage to rescue Dr. Dolittle's friend Long Arrow, and introduces the Great Glass Sea Snail.
Victory for the Slain
Victory for the Slain is Lofting's only work, not written for children. Rather, it is a seven part long rhyming anti-war poem detailing Lofting's journey toward pacifism and his belief that in war, the only victors are the slain. Lofting had frequently written articles in support of continued peace and paused his work on a Dr. Dolittle book to pen this poem as the threat of World War II drew closer. Inspired by his own experiences in World War I, he hoped it would turn the hearts and minds of the citizens of Great Britain, but it did not. Released in 1942, just after the blitz, it was a commercial and critical failure. However, this poem, released only in Britain, speaks toward Lofting's personal belief and perhaps lends greater insight into the author himself than his greater body of children's works.


A Selection of This Year's Newbery Honors
There are no recorded Newbery Honors books for the 1923 prize. Based on the careful recordkeeping of other years, it is assumed that Lofting's second Dr. Dolittle novel was the unanimous choice and a resounding favorite. In compensation for the lack of Honor books from this year, consider these other American books published the same year.


Bannertail: The Story of a Gray Squirrel

by Ernest Thompson Setting
Bannertail, The Story of a Grey Squirrel tells the story of a young orphaned squirrel who loses his mother as a baby. A barn cat adopts him, but when he is still young, the barn burns down. Bannertail is forced to return to the forest and learn to live as a squirrel should. Interestingly, Bannertail was adapted into an anime by the Japanese animation studio, Nippon, which ran for twenty-six episodes. It was also dubbed and released in Germany.


Kabumpo in Oz

by Ruth Plumly Thompson
One of the canonical Oz books not written by Frank L. Baum, Kabumpo in Oz, was released in 1922 by Ruth Plumly Thompson and is her second Oz book. The book tells the story of Price Pompadore, who travels to Oz with his beloved elephant Kabumpo to marry Ozma of Oz in hopes of saving his kingdom. They encounter many classic Oz characters, such as Ozma and the King of the Nomes (spelled Gnomes in Thompson's works). They are introduced to Wag the Rabbit and Peg Amy, a wooden doll who turns out to be the transformed princess of Sun Top Mountain and whom Pompadore weds upon her restoration.