John Steinbeck's timeless novella Of Mice and Men was published in 1937 to considerable acclaim, and the reading public's appreciation of the text has hardly diminished since. What began as a perplexing work eyed warily by Steinbeck's agents has gone from being a Book of the Month Club selection on its initial publication to one of the most widely read and assigned books on high school curricula throughout the country. Here are a few interesting facts about it.
1. It was adapted into an opera in 1969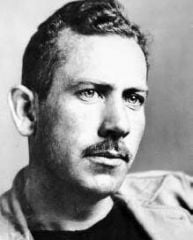 It has been widely noted that Steinbeck's novella reads almost like a hybrid between drama and prose (one critic even called it a "play-novelette"), owing to an abundance of dialogue, a relative paucity of locales, and a tight, three-act plot that takes place over the course of only three days. The work was, fittingly, soon adapted for the stage (to say nothing of film, tv, and radio), but it's most striking adaptation to date seems to have come in the form of the 1969 opera of the same name, which features the George/Lennie duet, "An' we'll live off the fat of the land."
2. Steinbeck's dog ate his first draft
Of Mice and Men's flurry of adaptations would have been impossible, however, if the book had not been completed in the first place. Though the danger was apparently averted, the world came very close to losing out on one of Steinbeck's masterworks when his dog, Max, ate the first draft.
3. Its "anti-business" agenda and "morbid and depressing themes" have faced challenges
Because of its immense popularity, Steinbeck's novella has attracted more than its share of critics and would-be censors. In fact, it is often cited as the country's fourth most challenged book, with disgruntled readers and parents (unsurprisingly) objecting to its obscene language and its use of racial slurs, as well as (more surprisingly) its alleged "anti-business" bias, it's apparent pro-euthanasia stance, and its "morbid and depressing themes."
4. And there was a time when Steinbeck's agents would have agreed
More specifically, they would have suggested that the scope of the novel did not justify its morbidity. Indeed, the manuscript that Steinbeck sent them in 1936 was not especially to their liking. Steinbeck, for his part, was having none of it, and wrote a letter defending the work. In it, he said, "I'm sorry that you do not find the new book as large in subject as it should be. I probably did not make my subject and symbols clear. The microcosm is rather difficult to handle and apparently I did not get it over – the earth longings of a Lennie who was not to represent insanity at all but the inarticulate and powerful yearning of all men."
5. "Of Mice and Men" was not its original title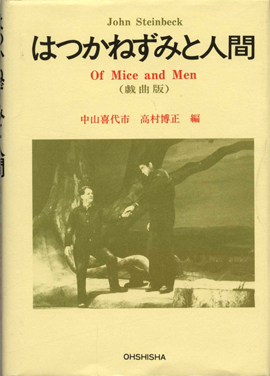 Steinbeck initially dubbed the manuscript "Something That Happened," which was presumably his attempt at winning the understatement of the year award. The title it wound up with would instead be an homage to the Scottish poet Robert Burns, who notes that the best laid schemes of mice and men "Gang aft agley."
6. The book drew extensively from Steinbeck's own life
Just like Lennie and George, Steinbeck worked for a time as a "bindle-stiff," or ranch hand in California. While on a work site not dissimilar to George and Lennie's, Steinbeck would meet the intellectually disabled man on whom Lennie was based. According to Steinbeck, "he killed a ranch foreman. Got sore because the boss had fired his pal and stuck a pitchfork right through his stomach."
7. It also inspired a popular metalcore band
So much so, in fact, that they named their band Of Mice and Men, noting somewhat glumly that the title reflects the things that have not gone according to plan in their respective lives. Still, their homage to American literature is second only to that of San Diego-based metalcore act As I Lay Dying.
8. To say nothing of countless films, TV shows, and books
The Looney Tunes famously recast Lennie as a yeti in 1961's The Abominable Snow Rabbit, but a host of other allusions, from full-on parodies to subtle references have graced shows like Futurama, Archer, How I Met Your Mother, and dozens of others. Of particular interest to readers of this blog, however, may be the fact that Ian Fleming described one of Le Chiffre's guards as "rather like Lennie from Of Mice and Men" in Casino Royale (1953).
9. The house where the book was written is now a historic landmark
From 1936 to 1938, Steinbeck and his wife lived in a house near Salinas, in Monte Sereno, California. There, the prolific author composed two of his best known works: Of Mice and Men, and The Grapes of Wrath (1939). The house was added to the National Register of Historic Places in 1989, though it remains a private residence closed to the public.