Poet Bjørnstjerne Bjørnson is considered one of the "Four Greats" of Norwegian writers. Besides writing the lyrics to the Norwegian national anthem, his peasant stories are renowned and well loved for their devotion to presenting the peasant class in a new light. Chief among his numerous honors is the Nobel Prize in Literature, which he was awarded in 1903. Interestingly, Bjørnson was one of the original Nobel Prize Committee members and was serving on the committee at the time he was given the award.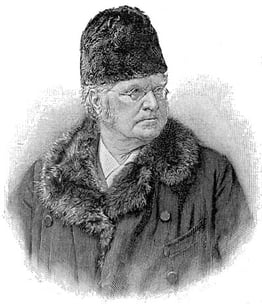 Bjørnson was born in Kvikne, Norway in 1832. His father, the town pastor, sent him to Heltberg Latin School where he prepared to enter the University of Oslo. Upon completing his studies, he began his career as a journalist in 1852. By 1857 he had been appointed director of the Bergen theater, though he kept working on novels, poetry, and drama. It was his goal to create a whole new way of viewing the peasant story which he believed would be best served by expanding to include national dramas. He produced his first drama, Between the Battles, at the Bergen theater in 1857 not long after he was appointed director.
Shortly after, he began publishing his peasant novels and left the Bergen theater. He traveled for several years before taking control of the Christiania theater where he continued to produce his national plays. It was around this time that he published much of his poetry. His works often considered topics like society and his beliefs as a supporter of the Norwegian Left-wing movement.
In addition to his work to promote and grow Norwegian cultural literature, Bjørnson was very outspoken both in person and in his writing on a variety of political issues. For a time, his main cause was a belief that Norway should adopt a national language outside of the Danish language widely written at the time. He attempted to learn Landsmål, a language based on Norse that directly translates to New Norse and which was developed exclusively for this purpose, but after writing one unsuccessful story, he abandoned the effort.
Throughout the beginning of his career, Bjørnson featured farmers in much of his peasant stories, seeking to create a more positive narrative for them as exemplary symbols of patriotism. His position on this, too, however, seemed to change later in his career, some say after a disagreement with a farmer. His political statements at one point caused him to be accused of treason. He left his native Norway to spend time in Germany. Some of his best and most important works were written after his return to Norway when he focused more on novels than drama, specifically Flags are Flying in Town and Port and On God's Path.
In the later years of his life, Bjørnson's productivity in literature waned somewhat in favor of his more political writings but his position as one of the most important Norwegian writers had already been established. When he died in 1910, he was buried with full honors. His work continues to be read and studied throughout Norway and the rest of the world.